The Best of ChessMaine.net 2010
12.31.10 It's time again for our annual Best of ChessMaine.net end-of-the-year review--an entertaining romp through the thrills and spills of Maine chess in 2010. We'll remember the tournaments, the champions, the upsets, the directors and much more in this illustrated retrospective.
It's 12/31/2010 and the clock is ticking! It's time for The Best of ChessMaine.net 2010!
2010 was another banner year for chess in Maine. Players and directors chalked up an unprecedented forty-seven USCF-rated events. To see crosstables of all USCF-rated tournaments played in Maine this year please click here.
ChessMaine.net received honors from the Chess Journalists of America as Runner-Up in the Best (USCF) State Chapter Website category for 2010. This is the fourth time in four years that ChessMaine.net has earned either fist place or the runner-up position in this national awards program. Thanks to all ChessMaine.net contributors for helping us again place amongst the best of the best in chess journalism! Congratulations to this year's CJA award winner calchess.org, the Northern California State Affiliate. Detailed results of the 2010 CJA awards including the judges' vote tally are here. An interesting historical perspective of all CJA awards dating back to 1996 can be found here.
Winningest Players
The top three winningest players in Maine for 2010 are Roger Morin, Steve Abrahams and Matthew Fishbein. For our purposes winning a section is considered a tournament win and credit is given to all players involved in a tie. Click on the tournament name to view the accompanying ChessMaine.net report and/or the USCF crosstable.

1. Roger Morin: 12 event wins

2. Steve Abrahams: 6 event wins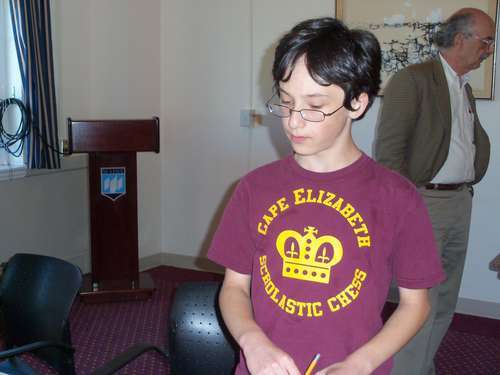 3. Matthew Fishbein: 5 event wins
Fishbein-Reale-Hatem Blitz Show
Junior High School Team Championship
High School Individual Championship

Most Active Players
Here's a list of our most active players in 2010. Click on the player's name to visit their USCF Member Details page.
1. Steve Abrahams 32 events
2. Roger Morin 19 events
3. (tie) Matthew Fishbein 18 events
3. (tie) David Plotkin 18 events (David is officially a USCF member from Massachusetts. He does, however, attend Bowdoin College in Brunswick.)
5. (tie) Richard Judy 17 events
5. (tie) Matthew Reale-Hatem 17 events

State Champions
Congratulations to all of our 2010 Maine State Chess Champions! To see the names of all Maine state champions since 1942 please click here.

Maine State Champion Lucas McCain

High School Champion Matthew Fishbein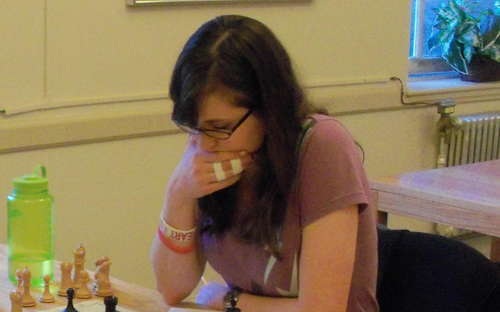 Girls Co-Champion Miriam Nielsen

Girls Co-Champion Haley DeLuca Lowell

K-8 Co-Champion Colin Smith

K-8 Co-Champion Haley DeLuca Lowell

K-8 Co-Champion Wesley Parker

K-6 Champion Bethany Humphrey

K-3 Champion Ritvik Kumaran

The Fabulous Five! Bangor High School's state championship team (left to right): Henry Chai, Andrew Audibert, Keji Xu, Scott Dennis and Kellon McDonald.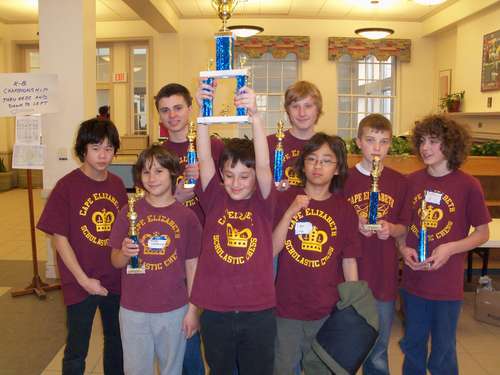 Junior High School (K-8) Champions Cape Elizabeth (left to right): Arden Wing, Wesley Parker, Dannt Brett, Matthew Fishbein, Ethan Duperre, Leo Wing, Nick Shedd and Matthew Reale-Hatem

Elementary (K-6) Champions Deer Isle - Stonington Elementary (left to right): Isaac Vaughn, Tyson Rice, Kris Melanio, Kinsey Bartlett, Noah Davis, Ethan Shepard, Soozin Cha, Mason Oliver, Bethany Humphrey, Orly Vaughn and Brendan Penfold

Primary (K-3) Champions Breakwater School of Portland (left to right): Ian Youth, Samuel Rallis and Eric Youth
Most Popular ChessMaine.net Stories of 2010
ChessMaine.net is closing in on 200,000 hits since its inception on March 11, 2006. Based on web traffic to the site this year we've determined the following stories as the most popular of 2010.
1. The Eighteenth Annual Deer Isle - Stonington Lacy Greenlaw Chess-a-thon
2. ChessMaine Interviews: 2010 Maine State Champion Lucas McCain
3. Maine State Scholastic Team Chess Championships
4. State Scholastic Championship Dates Chosen
5. Matthew Fishbein Wins Eastern Maine Open
Biggest Upsets
Congratulations to the winners of the biggest upset games played in Maine in 2010. The losers of these games can take heart in the sage words of Jose Raul Capablanca, "One can profit more from a single loss than a hundred wins."
Here are the top ten biggest upsets in USCF-rated play in Maine for 2010:
1. Bradley Workman (875) over Aaron Spencer (1724) = 849 points, UMaine Championship
2. Joshua Burden (1193) over Roger Morin (2008) = 815 points, 2nd Presque Isle Open
3. John Ellison (1105) over Ray Haines (1816) = 711 points, 2nd Millinocket Open
4. Deanna Power (882) over Dan DeLuca (1538) = 656 points, Downeast Open
5. Lois Morin (681) over James Francomano (1300) = 619 points, 6th Presque Isle Open
6. Bradley Workman (875) over Max Berube (1481) = 606 points, UMaine Championship
7. Brian Brett (388) over Colin Smith (965) = 577 points, Cape Elizabeth Winter Open
8. (tie) Bradley Workman (1261) over Roger Peterson (1836) = 575 points, Aurora Winter Solstice
8. (tie) Brian Roderick (966) over Kathy Richards (1541) = 575 points, Augusta Open
10. Ben Hansel (603) over Robert Freccero (1170) = 567 points, Individual High School Championship

Tournament Directors
Maine had sixteen active tournament directors in 2010. To determine the most active tournament directors, we used a summation of three factors: number of tournaments directed, number of sections directed and number of players served. Based on this criteria the following tournament directors are listed based on their directing activity in Maine for 2010. Thanks to all TDs in Maine for their hard work, dedication and service to the Maine chess community.
1. Lee Doucette: 5 events, 13 sections, 214 players = 232
2. Dan DeLuca: 6 events, 16 sections, 159 players = 181
3. Andy Bryan: 7 events, 17 sections, 156 players = 180
4. Phil Lowell: 4 events, 7 sections, 115 players = 126
5. Alex Relyea: 2 events, 9 sections, 109 players = 120
6. Roger Morin: 11 events, 11 sections, 81 players = 103
7. Lois Morin: 6 events, 6 sections, 41 players = 53
8. Akagi Kayashima: 6 events, 10 sections, 28 players = 44
9. Tom Sandford: 2 events, 3 sections, 32 players = 37
10. Steve Wong: 1 event, 4 sections, 27 players = 32
11. Ethan Dininno: 1 event, 3 sections, 20 players = 24
12. Matthew Reale-Hatem: 3 events, 3 sections, 16 players = 22
13. Steve Abrahams: 1 event, 4 sections, 15 players = 20
14. (tie) Barry Magda: 1 event, 2 sections, 13 players = 16
14. (tie) Brian Roderick: 1 event, 2 sections, 13 players = 16
16. Kathy Richards: 1 event, 1 section, 4 players = 6
Thanks to all who have made 2010 a great year for chess in Maine!
---