Ivanov and Vigorito Share First at Freeport Open
04.27.10 Grandmaster Alexander Ivanov and International Master David Vigorito tied for first with 3.5 points at the Freeport Open played on April 24, 2010 at the Hilton Garden Inn in Freeport. The four round, G/65 tournament attracted 65 players in three sections--Open, U1900 and U1300.
GM Alexander Ivanov (left) plays IM David Vigorito in the last round of the Freeport Open. The players agreed to a draw and shared first place in the Open section.
Thanks to Nita Patel, Alex Relyea and Peter Hatem for contributing to this report.
With ratings up in the stratosphere GM Ivanov (2602) and IM Vigorito (2526) plowed through a strong field and drew their last round game with each other to share the combined first and second place prize of $425 and the title of Freeport Open Champion. Just off the leaders' pace scoring 3.0 points and sharing 3rd-4th place were Graham Cooper and Alan Schalk. Ruben Babayan was the sole 2.5 point getter in the Open section; he was followed by Frank Sisto, David Plotkin and Phil St. Jean with 2.0 points. Kerry Coffin, Richard Judy and Curt Brock put up 1.5 points and Adam Schaff and Michael Eldridge each scored a point. Rounding out the Open section were Robert Clawson, Donald Plummer, and Dana Prescott who went scoreless.
Steve Abrahams and Phil Lowell shared first in the Under 1900 section each scoring 3.5 points. They were trailed by a pack of players scoring 3.0 points including: Andrey Savov, John Gaspar, Edward Nevells, Matthew Reale-Hatem and Wesley Parker. (Reale-Hatem and Parker shared the top scoring U1600 prize.) Jim Dubois, Chuck Cannone, Edward St. Jean, Ethan Dininno and Alex Wallach scored 2.5 points. The 2.0 point scoring bracket was the most populated and included: Nathaniel Bryans, Donald Plummer (who switched sections after round 1), Frank DiRenzo, John Watters, Arnold Panciera, Jeffery Bean, Jose Lugo, Mark Seedner and Steve Kaluzynski. Following Jon Buxton and Rob Shore who scored 1.5 points were: George Zimbas, Lee Doucette, Zachary Coombs, Brett Parker, Jason Phelps and David Armstrong with 1.0 point. Denis Nadeau and Jason Davis finished the tournament with 0.5 points.
The Under 1300 section saw the only perfect score of the day with Dan Lavallee scoring 4.0 points and taking clear first. Lavallee was trailed by Robert Freccero, Gary Brimstin and Elias Daiute (top U1000 prize winner) who each scored 3.0 points. Charles Rotmil, Ethan Bergeron, John Xiang and Olympia Serban (the tournament's only female player) finished with 2.5 points. Donald Landry, Ted Serban and Ian Hovde put up 2.0 points. Four players occupied the 1.5 point group: Gheorghe Teodorescu, Cam Prescott, Alec Leng and Benjamin Hansel. Jasper Hansel finished the day with 1.0 point and Journey Jorstad rounded out the crosstable.
Thanks to organizers, directors and players for making this new tournament a bright spot on the Maine chess calendar!

The tournament room at the commencement of round 4.

David Vigorito (left) receives his prize from TD Alex Relyea.

Alan Schalk shared third place with Graham Cooper (not pictured).

Steve Abrahams tied for first in the U1900 section with...

Phil Lowell.

Wesley Parker shared the U1600 prize with his teammate Matthew Reale-Hatem.

Wesley Parker at the board

U1300 section winner Dan Lavallee

U1000 prize winner Elias Daiute

Rob Shore emitting a Karpov-like persona.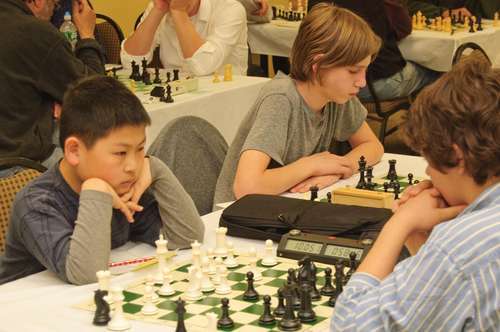 And if that was Karpov-like this stare has to be Tal-like.

Olympia Serban considers her position vs Ben Hansel.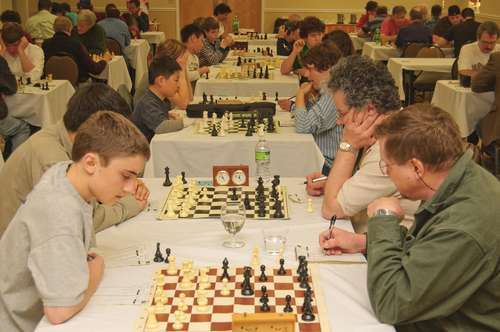 Players enjoyed fine conditions.

Thanks to the Hilton Garden Inn in Freeport for hosting.
---