The Eighteenth Annual Deer Isle - Stonington Lacy Greenlaw Chess-a-thon
11.13.10 The Eighteenth Annual Deer Isle - Stonington Lacy Greenlaw Chess-a-thon took place on November 10th-11th, 2010 at Deer Isle - Stonington Elementary School. From 6:00 p.m. until 6:00 a.m. all kinds of chess was played including: blitz, bughouse, crazyhouse, live, simultaneous, blindfold, pairs and just plain skittles. This great event is held to raise money for DIS chess teams participating in the national championships and to honor the memory of former DIS chess player Lacy Greenlaw who passed away at the age of twenty-one.
Players excited to start in on the chess just after the opening ceremony and ribbon cutting for the Eighteenth Annual Deer - Isle Stonington Lacy Greenlaw Chess-a-thon.
You could say that the Deer Isle - Stonington Mariners are crazy about their chess--but that would be a huge understatement! Year after year the community comes out in support of their young chess players. For fundraising (over $2,000 was raised), transportation, cooking and baking, and just being there as a support, the Deer Isle - Stonington Chess Boosters, parents and community are always willing to lend a hand to support Mariners Chess!
This year's chess-a-thon schedule was similar to last year's with a few modifications. Players began arriving around 6:00 p.m. on Wednesday evening November 10th and got right into some warm-up skittles games. After that the schedule went as follows:
7:00 p.m. Official Start and Ribbon Cutting
7:00 p.m. - 9:00 p.m. Simultaneous Play vs. "The Masters"
9:00 p.m. - 9:30 p.m. Snack/Gym Break
9:30 p.m. - 10:30 p.m. Live Chess: Bryant Ciomei vs Mark Woida
10:30 p.m. - 12:00 a.m. Midnight Bughouse
12:00 a.m. - 12:30 a.m. Snack/Gym Break
12:30 a.m. - 2:00 a.m. Blitz Tournament
2:00 a.m. - 2:30 a.m. Snack/Gym Break
2:30 a.m. - 4:30 a.m. Pairs Tournament
4:30 a.m. - 5:00 a.m. Last Break
5:00 a.m. Breakfast
5:30 a.m. - 6:00 a.m. Last Chess and Clean Up
6:00 a.m. Goodbyes!
This event was organized by Dick Powell with assistance from a number of parents and friends of Deer Isle - Stonington Chess.
Here's the game Ciomei - Woida played with thirty-two live chess pieces!
Bryant Ciomei (1571) - Mark Woida (1665) 1-0
Deer Isle - Stonington Lacy Greenlaw Chess-a-thon
November 10, 2010
Live Chess
Replay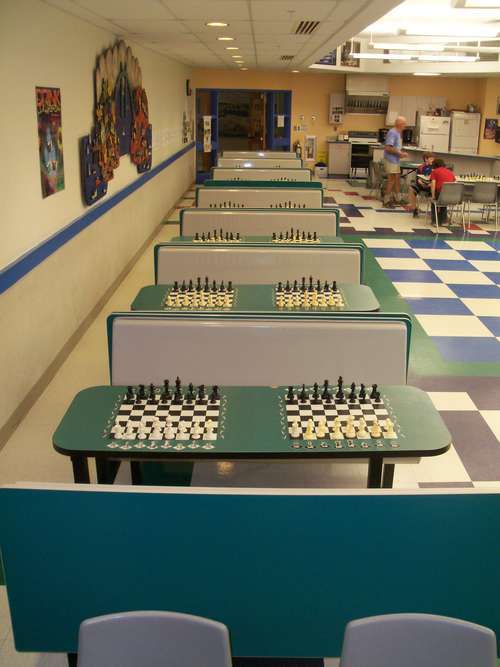 Before the onslaught: A few games are already underway between some early birds at around 5:30 p.m.

Noah Davis and...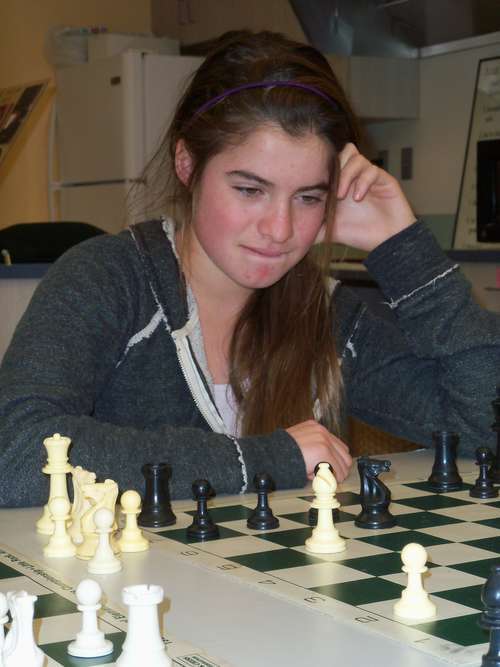 Haley DeLuca Lowell are some of the first players to start pushing pawns.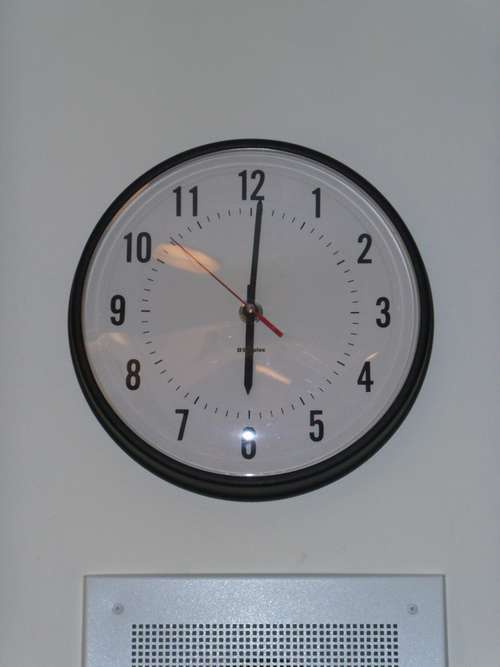 That's 6:01 p.m. The chess-a-thon has begun!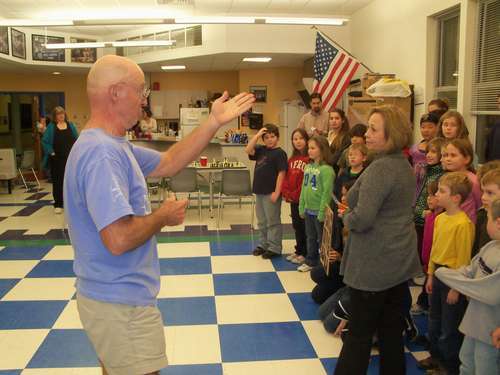 Organizer and director Dick Powell welcomes participants and introduces Debbie Greenlaw who will cut the ribbon to officially start the chess-a-thon.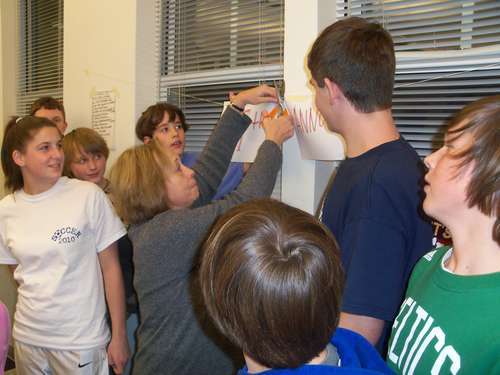 There goes and...

let the chess begin!

Lacy Greenlaw will be missed and remembered as a great person, a great student and a great chess player.

Krisford Meliano thinks through his position.

What to do about those doubled rook pawns?

Future chess players!

Cody Eaton plays the white side of a Giuoco Piano.

All ages and skill levels turned out to play chess and have fun. Here Mchenna Martin considers her position.

Father and son Papianne have a friendly game.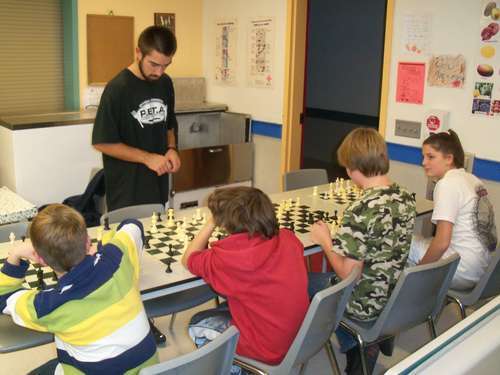 From 7:00 p.m. - 9:00 p.m. it was play "the masters." Here Ian Pellitier gives his opponents a few "lessons."

Before his much acclaimed live game with Mark Woida, Bryant Ciomei warms up with a game.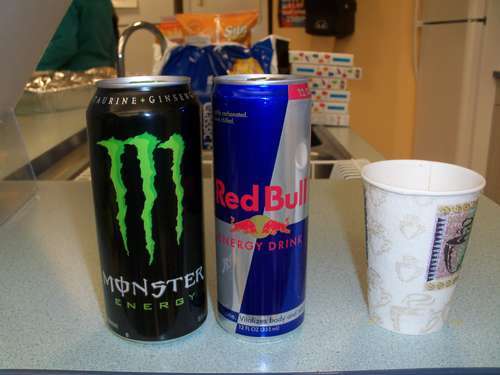 How are we going to get through this night? Monster, Red Bull and coffee!

9:00 p.m. time for the live chess game.

Commanding the white army: Bryant Ciomei

Playing the black pieces: Mark Woida

White's d-pawn moves to d4 and we'll have a Queen's Gambit Declined Slav.

Only a pawn but Henry Penfold takes his role very seriously.

The white Queen heckles the black pieces.

This player's-eye view might explain why on move 16 Black played 16...Qd5?? allowing 17. Qxh7 mate. Is that a Knight or a pawn or maybe a Queen?

No hard feelings: the players shake after the game.

Sam Grindle explains the rules of the upcoming bughouse tournament.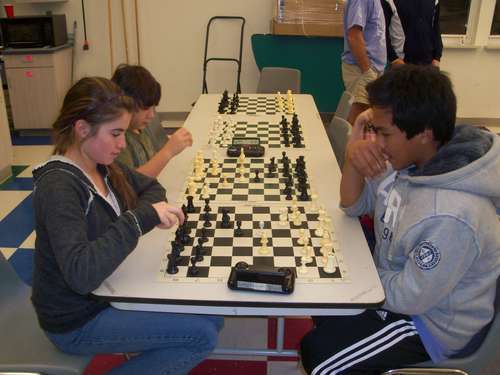 And they're off! For those of you unfamiliar with bughouse a few groundrules: players have partners of different colors, when a player's partner captures a piece s/he passes that piece to her/his partner to be "placed" on their board, checks can not be placed nor can pawns be placed on the eighth rank. The game ends in checkmate, when one team's time expires or when a player leaves her/his King in check and her/his opponent captures the King (these are blitz chess rules after all).

From the serene, confident look on this player's face you would never guess she is playing blitz bughouse at 11:00 p.m.

pressure, pressure, pressure...

What to do in this position?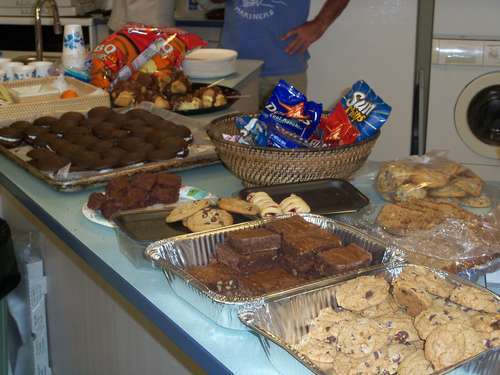 Tons of great food was available all night long.

Players sitting next to each other are on the same team. When a player makes a capture he passes it to his partner to be placed on his board.

Orly Vaughn focuses like a lazer beam.

Where to place these pieces?

Sam Grindle and Dick Powell compare results of the blitz bughouse tournament. The winners are: Division I Andy Turner and Ian Pellitier, Division II Nick Eaton and Mark Woida, Division III Orly Vaughn and Avery Reynolds.

It's 12:30 a.m. and time for the blitz tournament. Mark Woida explains the rules and procedures.

Some players decide to opt out...

but for the rest it's blitz, blitz...

and more blitz. The championship game in the blitz tournament was a father-daughter battle between Dan DeLuca and Haley DeLuca Lowell. The old man was able to hold on through his opponent's tactical onslaught to get his rooks doubled on the seventh rank and give checkmate.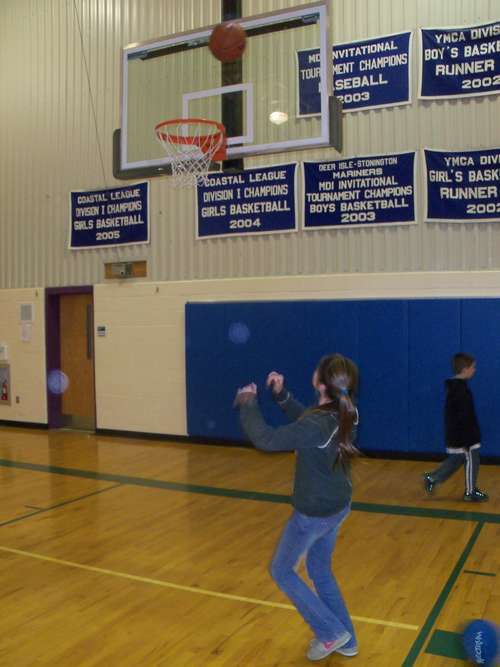 A quick gym break (this shot went in by the way) then it's on to the pairs tournament.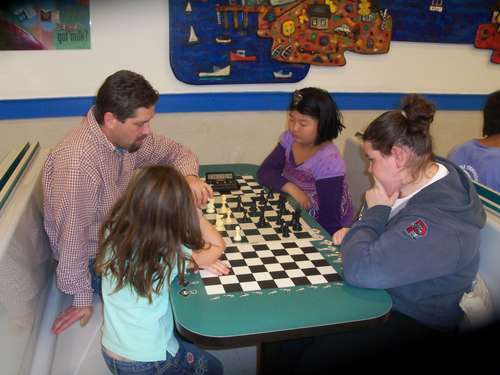 In the pairs chess tournament teammates alternate moves in G/15 games and no talking is allowed. The results of the pairs tournament were: Haley DeLuca Lowell and Kylee Atwood tied with Ian Pellitier and Ennis Marshall to take first place

Chelsea Brown plays 1. pawn to ZZZ4.

That's 5:00 a.m.

Bacon, eggs and pancakes are served !

Suzette Grindle, a major force behind the Deer Isle - Stonington Chess Boosters, readies the syrup.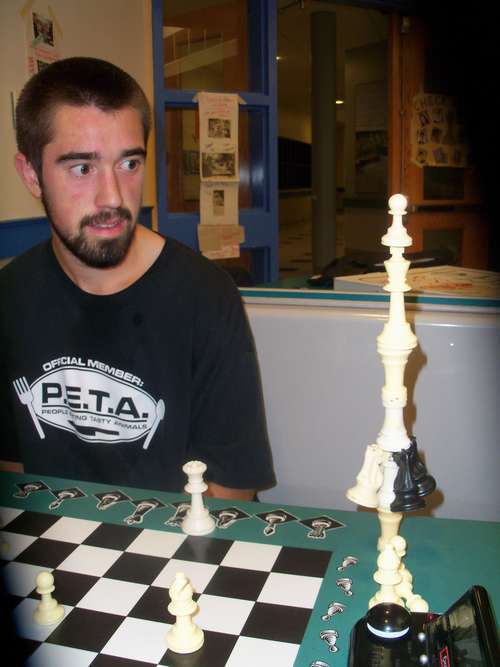 Ian Pellitier displays some of his handiwork.

The chess-a-thon is remarkably well organized. On this sheet of paper players record every result of the night and when the tally was computed those with the most wins were: High School Andy Turner, Junior High School Cameron Wendell, Elementary (grades 4-6) Tyson Rice, Elementary (grades K-3) Kylee Eaton.

Hang in there man! One hour left to go!

It's all down hill from here.

Just before 6:00 a.m. Dan DeLuca (left) and Mark Woida push the sanity barrier with a game of blindfold blitz. Each player called out his move and hit the clock with no pieces on the board.

After the game pieces were put on the board to analyze. In this position Woida played ...h6 and his flag fell.

After the chess-a-thon concluded Cameron Wendell says, "How about a game of Go?"
Thanks to all who participated in this outstanding event. We're already looking forward to next year!
---