Bapst End of Summer Tournament Report
09.09.18 The first tournament of the 2018-2019 Crusader Cup Series was played on Saturday, September 8, 2018 at John Bapst Memorial High School in Bangor, Maine. The Bapst End of Summer tournament attracted thirty-one players in four sections. Here's the illustrated tournament report with US Chess crosstables.
Some of the prizes that were up for grabs at the John Bapst End of Summer tournament held at John Bapst Memorial High School in Bangor on Saturday, September 8, 2018.
images courtesy Dell Hambleton, Michael Dudley, and Roger Morin
US Chess crosstable of this event
The Crusader Cup Series, now in its second year, consists of the following four tournaments:
Bapst End of Summer Tournament: September 8th, 2018
Bapst Fall Tournament: October 27th, 2018
Bob Solinger Memorial Tournament: January 5th, 2019
John Bapst Open: May 4th, 2019
Thanks to Mike Dudley for organizing and directing these events.
In the first tournament of the series, Wyatt Hendrix topped the crosstable in the Open section with 3.0 points. Phil Lowell, Dan Robbins, and Roger Hardison shared equal second with 2.5 points. In the 2.0 scoring group were Jacques Blanchette, Benjamin Mock, and Nathan Gates. Roger Morin and Dan DeLuca put up 1.5 points.
Tommy Owen took first in the U1600 section with three wins and a draw for 3.5 points. Evan Smith held on to sole second place with 3.0 points. Tristan Cousineau and Edmond Zeldon finished with 2.0 points. Brian Roderick and Lindsey Montana rounded out the section with 1.5 and 0.5 points respectively.
Evan Annis made a clean sweep of the U1200 section with 4.0 points in four games. The remaining four players in this section all tied for second with 2.0 points. They were: Luc Blanchette, Minh Nguyen, Jonathan Bayless, and Kenneth Park.
Alain Blanchette scored an unbeaten and untied 4.0 points on the U800 section for clear first. Tobais Coffey took sole second with 3.0 points and Leo Wlodkowski finished third with 2.5.
Thanks to all who participated in this great event and we hope to see you at the next Crusader Cup Series tournament on Saturday, October 27th 2018. Please see the ChessMaine.net events page for more details.

John Bapst End of Summer Tournament Open section winner Wyatt Hendrix (right) plays ChessMaine.net web editor Dan DeLuca in the third round.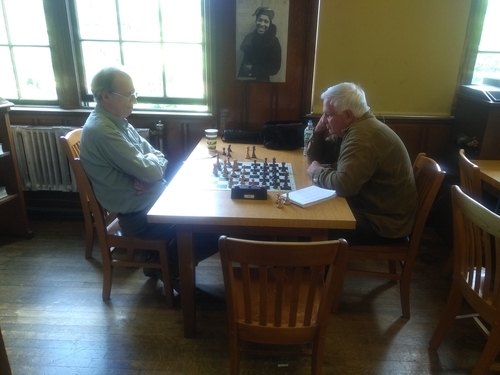 Phil Lowell (left) takes on Roger Hardison.

Ben Mock (right) considers his position in his game vs Roger Hardison.

Always a contender Roger Morin

U1600 and U1200 players head-to-head in the John Bapst Library

The U800 section contingent

Kenneth Park (left) plays New Brunswick K-8 champion Luc Blanchette

Brian Roderick (left) faces off against Tristan Cousineau.

Thaks to professional photographer Dell Hambleton for capturing these beautiful images of the U800 section.
---