The Best of ChessMaine.net 2012
01.19.13 "The worst enemy of the strategist is the clock. Time trouble reduces us all to pure reflex and reaction. Emotion and instinct cloud our strategic vision when there is no time for proper evaluation." -Garry Kasparov A year has past on the chess clock of life and it's once again time for the Best of ChessMaine.net-- a look back at the thrills and spills of the year in Maine chess.
Student artwork adorns the wall outside of the playing room at the Joe Brown Memorial Tournament--one of the many events that took place this year on the Maine chess calendar.
Thanks to Roger Morin for contributing to this report.
2012 was an outstanding year for chess is Maine. Players and directors in Maine participated in forty USCF-rated events. To see crosstables of all USCF-rated tournaments played in Maine this year please click here.
Winningest Players
The winningest players in Maine for 2012 were: Roger Morin, Jarod Bryan, Max Berube, Matthew Fishbein and George Spahn. For our purposes winning a section is considered a tournament win and credit is given to all players involved in a tie. Click on a player's name to view their USCF Member Detail page.



1. Roger Morin: 12 event wins
Roger Morin

2. Jarod Bryan: 6 event wins
Jarod Bryan

3. Max Berube: 5 event wins
Max Berube

4. (tie) Matthew Fishbein: 4 event wins
Matthew Fishbein

4. (tie) George Spahn: 4 event wins
George Spahn
Most Active Players
Here's the top three of Maine's most active players in 2012. Activity is defined as participation in USCF-rated tournaments both over-the-board and online. (The USCF currently hosts online quick-rated tournaments on their playing site World Chess Live.) Click on the player's name to view their USCF Member Detail page.
1. Matthew Fishbein 20 events
2. Lance Beloungie 17 events
3. Roger Morin 16 events
State Champions
Congratulations to all of our 2012 Maine State Chess Champions! To see the names of all Maine state champions since 1942 please click here.
Maine State Champions: Jarod Bryan, Matthew Fishbein and Aaron Spencer

Jarod Bryan

Matthew Fishbein

Aaron Spencer
High School Champions: *, Brett Parker

Brett Parker

Girls Champion: Haley DeLuca Lowell (right) with four-time Women's World Champion Grandmaster Susan Polgar

K-8 Champion: Matthew Fishbein

K-6 Champion: Michael Hayden

K-3 Champion: Vetri Vel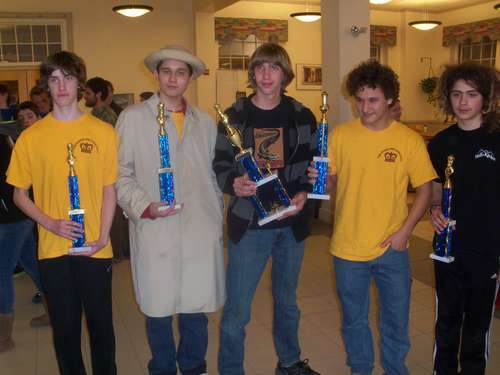 2012 State High School Champions: Cape Elizabeth (left to right) Colin Smith, Robert Freccero, Ben Hansel, Brett Parker and Matthew Reale-Hatem

2012 Junior High School Champions:Deer Isle-Stonington (left to right) Isaac Vaughn, Philomena Mattes, Alyssa Chesney, Krisford Melanio, Cameron Wendell, Bethany Humphrey and Ali Eaton.

2012 Elementary School Champions: Deer Isle-Stonington (left to right) Ennis Marshall, Brendan Penfold, Orly Vaughn, Rylee Eaton, Soozin Cha, Addie MacDonald, Cameron Stewart (kneeling), Benjamin Penfold, Kinsey Bartlett, Tyson Rice, Colby Haskell and Avery Renyolds.

2012 Primary School Champions: Deer Isle-Stonington (left to right) Ross Stewart, Myles Brown, Henry Penfold, Cole Stewart and Ariel Larrabee
Maine Chess Player of the Year
Congratulations to 2012 Maine Chess Player of the Year Jarod Bryan and to all who participated in this year-long event.
Jarod Bryan Wins 2012 Maine Chess Player of the Year Competition
Most Popular ChessMaine.net Stories of 2012
ChessMaine.net has surpassed 322,000 hits since its inception on March 11, 2006-- Based on web traffic to the site this year we've determined the following stories as the most popular of 2012. Take a second look, they're worth the read!
1. Scholastic Teams State Championship Report
2. Three Share Title at Maine Chess Championship
3. IM's Vigorito and Sarkar Tie at Saco Open
4. John Bapst New Year's Tournament Report
5. Susan Polgar National Invitational Day 5 Report
Biggest Upsets
Congratulations to the winners of the biggest upset games played in Maine in 2012. Losers take heart! Yasser Seirawan estimates it takes about 10,000 losses for a someone to become a strong player.
Here are the top four biggest upsets in USCF-rated play in Maine for 2012:
1. David Hunter (568) defeats Roger Hardison (1594) = 1026 points, Presque Isle Junior Open, December 15th
2. Demeca Roderick (225) defeats Angel Mathiew (918) = 694 points, UMA Chess Tournament, November 18th
3. Brian Hurst (1314) defeats Aaron Spencer (1856) = 542 points, Eastern Maine Open, September 19th
4. Haley DeLuca Lowell (1024) defeats Collin Calhoun (1478) = 454 points, St. Valentine's Day Massacre, February 11th

Tournament Directors
Maine had twelve active tournament directors in 2012. To determine the most active tournament directors, we used a summation of three factors: number of tournaments directed, number of sections directed and number of players served. Based on this criteria the following tournament directors are listed based on their directing activity in Maine for 2012. Thanks to all TDs in Maine for their hard work, dedication and service to the Maine chess community.

1. Phil Lowell: 6 events, 19 sections, 177 players = 192
2. Dan DeLuca: 5 events, 13 sections, 152 players = 170
3. Steve Wong: 4 events, 12 sections, 129 players = 145
4. Roger Morin: 10 events, 19 sections, 79 players = 108
5. Steve Abrahams: 3 events, 5 sections, 68 players = 76
6. Andy Bryan: 4 events, 8 sections, 46 players = 58
7. (tie) Barry Magda: 2 events, 11 sections, 44 players = 57
7. (tie) Brian Roderick: 2 events, 11 sections, 44 players = 57
9. Alex Relyea: 2 events, 3 sections, 46 players = 51
10. Tom Sandford: 3 event, 7 sections, 37 players = 47
11. Lee Doucette: 1 events, 6 sections, 22 players = 29
12. Akagi Kayashima: 2 events, 3 sections, 11 players = 16

MECA Officers and Board
We thank the following individuals for volunteering their time and energy to MECA.
Maine Chess Association Officers
President Andy Bryan bvbryan@aol.com
Vice President Dan DeLuca dcdeluca@yahoo.com
Secretary Lee Doucette lfdoucet@maine.rr.com
Treasurer Andrey Savov bagercheto@yahoo.com
Maine Chess Association Policy Board
Dan Keliher dpkeliher@gmail.com
Ron Lewis raltiger@aol.com
Phil Lowell lowellphilip@yahoo.com
Barry Magda bajmagda@juno.com

Thanks to all who have made 2012 a great year for chess in Maine!
---