IM's Vigorito and Sarkar tie at Saco Open
02.21.12 International Masters David Vigorito and Justin Sarkar topped a strong field scoring 3.5 points and tieing for first place at the Saco Open played on February 4-5, 2012 at the Hampton Inn in Saco. Trailing the leaders in the open section were Jarod Bryan (playing in his first USCF-rated tournament since 2006) and Joshua Quint each scoring 2.5 points. Donald Plummer won the U1750 section with 3.5 points. This event, possibly the first FIDE-rated event ever played in Maine, attracted twenty-seven players.
International Master David Vigorito (right) plays David Carter in the second round of the Saco Open. Vigorito tied for first place with International Master Justin Sarkar of New York.
Playing to a tie in their individual encounter, International Masters David Vigorito and Justin Sarkar scored 3.5 points to tie for first place in the open section of the Saco Open on February 4-5, 2012.
Just off the lead were Jarod Bryan and Joshua Quint with 2.5 points. David Carter, Frederick Kleist and Alan Schalk scored 2.0 points, John Phythyon and Phil Lowell put up 1.5 points, Matthew Fishbein and Joe Wrba netted a single point and Gregory Anderson and Nita Patel rounded out the crosstable with 0.5 and 0.0 points respectively.
In the U1750 section Donald Plummer went unbeaten to score 3.5 points and earn the top spot.
Curt Brock and Brett Parker tied for second place with 3.0 points apiece. Trailing the leaders were: Michael Corrigan and Rob Shore (2.5 points), Wesley Parker, Jon Malev, Bradley Workman, Daniel Franke and Gary Brimstim (2.0 points). William Bonney (1.5), Alex Wallach (1.0), Brian Roderick (1.0) and Sara Dinyari (0.0) closed out the section.
The U1500 prize and U1250 prize were split three ways between Bradley Workman, Daniel Franke, and Gary Brimstin each scoring 2.0 points.
This tournament was organized and directed by Alex Relyea and Nita Patel.
Thanks to Dan Fishbein and Alex Relyea for contributing to this report.

Co-champion Justin Sarkar (right) plays Frederick Kleist in round two.

After a long hiatus Jarod Bryan (left) gets back into tournament play. Here he is playing 2011 Maine State Champion Alan Schalk.

Joshua Quint (left) plays Saco Valley Chess club member Joe Wrba. Quint scored 2.5 points and tied for 3rd in the open section.

John Phythyon (left) tangles to a draw with Gregory Anderson in round two.

Master and Padawan: Phil Lowell (right) plays his former student Matthew Fishbein to a draw.

U1750 section winner Donald Plummer (left) plays Alex Wallach.

Curt Brock (right) and Brett Parker tied for second in the U1750 section with 3.0 points.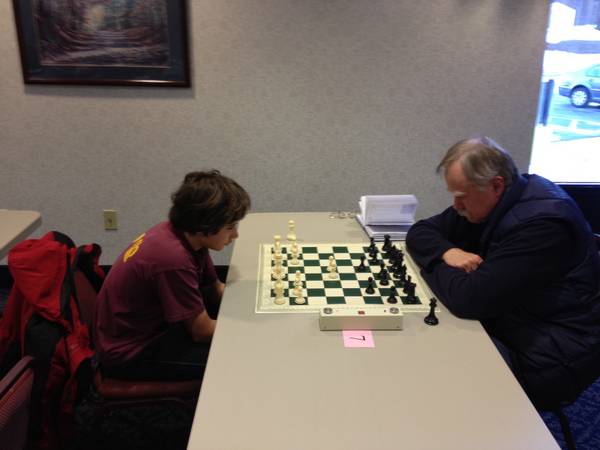 Brett's younger brother Wesley (left) crosses swords with Rob Shore.

William Bonney (left) plays Daniel Franke

Sara Dinyari (left) plays Bradley Workman.

Jon Malev (right) got the best of Brian Roderick in this U1750 section game.

At the controls: Tournament Directors Alex Relyea (left) and Nita Patel
---