Fred Irons Gives a Gift of Art to the Rockland Public Library
04.02.18 Former University of Maine professor of electrical engineering Dr. Fred Irons has donated one of his paintings entitled Last Game to the Rockland Public Library in honor and memory of Harold Dondis. Mr. Dondis was a native of Rockland, Maine who attended Bowdoin College and Harvard Law School.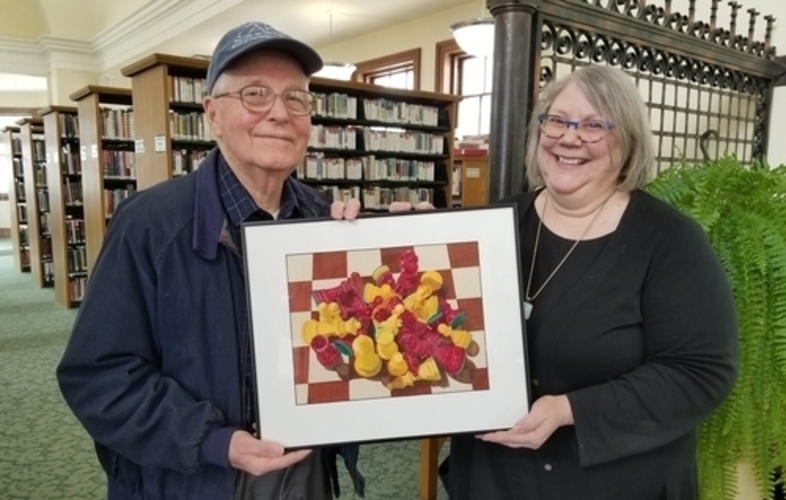 Dr. Fred H Irons presents the Director of the Rockland Public Library, Amy Levine, with his painting
Last Game.
When Rockland native and Boston Globe Chess Columnist Harold Dondis passed away in December of 2015, Fred Irons wanted to recognize, remember, and honor him. After he created Last Game, Dr. Irons aspired to donate the painting to the Rockland Public Library in Mr. Dondis's name. The Library was a special place for young Harold Dondis as he spent many hours there playing and learning chess while still a high school student.
After contacting the Library's director Amy Levine, we were notified that the Rockland City Council would have to approve the gift at the Council's next monthly meeting. The gift was unanimously accepted by the Council during their March 2018 meeting and the Library informed Dr. Irons that they would be delighted to receive his artwork. On Monday, April 2nd, the painting was presented to Director Levine who will find a suitable display location in the Library.
After Mr. Dondis completed his studies at Bowdoin College and Harvard Law School, he began a career as lawyer with the Boston-based firm Rich May--an affiliation that would last 70 years. Mr. Dondis wrote the Boston Globe's chess column Chess Notes for over 50 years. He was a founder of the US Chess Trust, recipient of the US Chess Distinguished Service Award, and president of the Massachusetts Chess Association. Dr. Irons fondly remembers Harold Dondis as intellectually sharp, kind, and always willing to engage in conversations about his home state of Maine.
Dr. Irons has also led a long and distinguished career. On the occasion of receiving the distinguished title of Professor Emeritus of Electrical Engineering from the University of Maine, Dr. Irons's students submitted testimonials describing their appreciation of his passion, his caring, and the great influence that he has had (and still has) on so many.
You can view these testimonials >>here<<.
ChessMaine interviewed Dr. Irons in 2011. You can view the interview here: ChessMaine Interviews: Fred Irons
Our ChessMaine.net memorial to Mr. Dondis is here: In Memorial: Harold Dondis (1922-2015)

Last Game by Fred Irons

The artist, Dr. Fred H Irons, outside the Rockland Public Library. The good doctor was named after his Uncle Alfred, therefore his full first name is Fred not Frederick. In addition, he was given the first initial of his mother's before-marrage name as his middle name (without the period). His full name, then, is Fred H Irons. (You read it here first!)

We were invited into the Library director's office

where we were warmly welcomed by Amy Levine.

The Library has many delightful places to read and study.

This room is equipped with a cozy working fireplace.

The Library's main atrium is well lit and spacious.

After the presentation and while we were still in town, we headed over to the Rock City Cafe for some lunch.

We indulged in a delicious Vietnamese-style tofu sandwitch with homemade potato chips.

The Rock City has great desserts and some of the best coffee to be found anywhere in the Pine Tree State!

In the back of the Cafe is the Hello Hello Books--small but powerful since 2011--where we picked up some interesting reading material.

Thanks again to Amy Levine and the Rockland Public Library!

---