Spring Scholastic Chess Season Gets Underway
12.21.11 The spring scholastic chess season unofficially got underway with the first Ellsworth K-8 Chess Afternoon at the Ellsworth Middle School on Monday, December 12th, 2011. Over one hundred scholastic players from seven schools participated in this annual harbinger of the competitive scholastic chess season.
Airline Community School student Jacob Pung sizes up his position during a game at the K-8 Chess Afternoon at the Ellswoth Middle School on December 12th, 2011.
Amid hundreds of chess games onlookers could hear players asking, "wanna play?" and saying after a match, "good game" as volunteers paired students with one another while making sure all were well fed and happy. This event was the first of three K-8 Chess Afternoons planned to serve as a warm-up to the competitive scholastic chess season culminating at the scholastic state championships that will take place at the University of Maine, Orono in March.
For more information and registration forms (when they become available) on spring scholastic events, chess afternoons and all chess events in the state please visit the ChessMaine.net events page.

Event organizer Dick Powell welcomes players and makes a few announcements.

And we're underway!

Players in grades K-8 participated. (A few grown-up were seen pushing pawns as well.)

This player uses an interesting technique for organizing his captured pieces.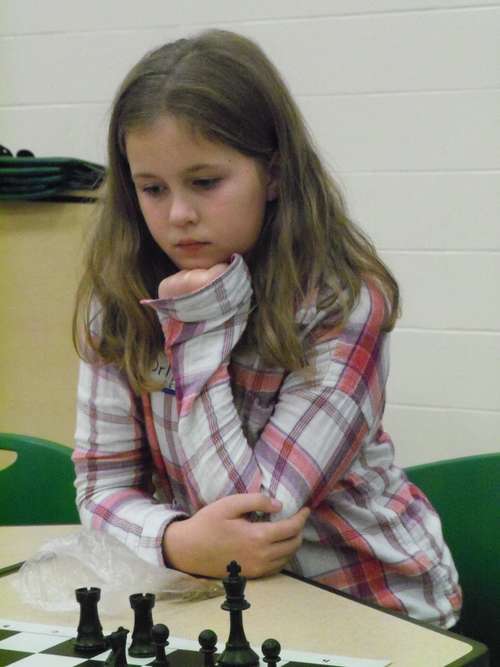 Deer Isle-Stongington chess team member Orly Vaughn.

Thanks to volunteers the refreshments were plentiful.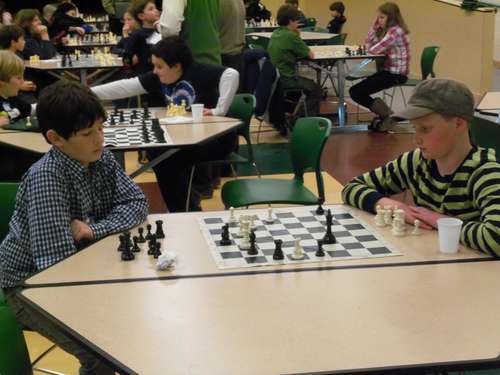 Max DeLuca Lowell (left) and Stewart MacKay find themselves in a minor-piece + rook endgame situation.
Thanks to all who participated in this great event! The next K-8 Chess Afternoon is scheduled for Wednesday, January 11th, 2012 from 3:30 p.m. - 5:00 p.m.
---