Skowhegan Fall Classic Tournament Report
11.13.22 Twenty-seven players came out for the Skowhegan Fall Classic chess tournament played on Saturday, November 12, 2022 at Skowhegan Area High School. Players competed in two sections. The U1200 section was won by Joshua Lorenzo with a perfect 4.0 points in four rounds. Anthony Benoit followed suit putting up a perfect 4.0 in his first US Chess rated tournament. Here's the illustrated tournament report.
The Media Center at Skowhegan Area High School served as the tournament room for the Skowhegan Fall Classic Chess Tournament.
US Chess Crosstable of this event
Our thanks to all players, parents, drivers, and volunteers for making this tournament a great success, and to Skowhegan Area High School for providing an outstanding venue for the event.
Joshua Lorenzo beat all comers and took first in the U1200 section with the unbeaten and untied score of 4.0 points. Tied for second with 3.0 points were Jack Donoghue (who received the second-place trophy on tiebreaks) and Christian Zhang (who took home the third-place trophy). J. Paul Ciarrocchi and Ethan Marquis scored 2.0 points and Theo Reichl and Zachary Wilson finished the day with one point apiece.
In the twenty-player U800 section, tournament first timer Anthony Benoit submitted an impressive performance of 4.0 points in four games. He was trailed by Owen Isenhour who finished in clear second place with 3.5 points and four players who tied for third with 3.0 points including: Eli Marquis, Avery Zhang, Derrick Johnson, and Lilly Tripp.

U1200 tournament winner Joshua Lorenzo makes a move and presses the clock in his game vs second-place finisher Jack Donoghue.

Skowhegan Area High School's own Jack Donoghue tied for second place with 3.0 points in the U1200 section.

Tied for second in the U1200 section: Christian Zhang

Always a fierce competitor: J. Paul Ciarrocchi

Ethan Marquis

Theo Reichl

The U1200 contingent

U800 section winner Anthony Benoit on the move in his final-round game vs Eli Marquis

Owen Isenhour (left) plays Riley Richardson in the U800 section

Avery Zhang (left) does his best to hold off Marcus Vargus-Kononenko.

Derrick Johnson (left) plays Lucien Paradis.

Lilly Tripp (right) who tied for third in the U800 section plays Son Le Quan.

Owen Barnes (left) matches wits with Kalani Kokotovich.

Isaiah Smith (right) considers how he will reply to his opponent's Philidor Defense.

Skowhegan Area High School's Dillon Moore (right) was able to notch a victory in this game vs Braddock Stansauk.

Zeke Bushey (left) does battle vs Eddie Larochelle.

Myles Dery (left) plays Aiden Byrne.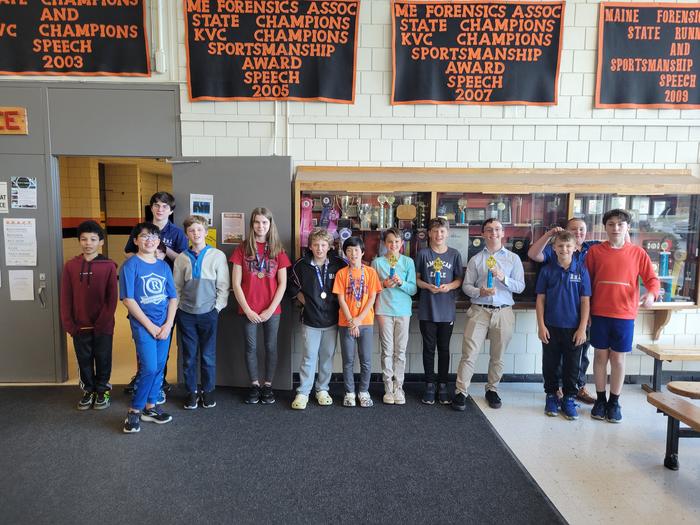 The Under 800 contingent

Thanks to the outstanding crew staffing the concession stand!

Keep a weather eye on ChessMaine.net/events for upcoming chess tournaments!

---