Bowdoin/USM Chess Action Tournament Report
02.28.2022 On February 26, 2022, seventeen players from Bowdoin and the University of Southern Maine gathered at Curtis Memorial Library in Brunswick, Maine, for a series of Scheveningen System matches. Four teams, an A team and a B team, gathered up for US Chess rated matches and competition for trophies and prizes.
The players at the Curtis Memorial Library in Brunswick
Thanks to Mike Dudley for contributing to this report.
US Chess crosstable of this event

In the spirit of friendly competition, Bowdoin lent two of its players to the USM club to fill out two teams of four for each side. A spare player from Bowdoin served as a substitute. The team breakdowns were as follows:
BOWDOIN TEAM A
Board 1: Jason Bussgang
Board 2: Alessandro Orjuela
Board 3: Paul Boardman
Board 4: Juan Atehortua
USM TEAM A
Board 1: Bilal Hussein
Board 2: Emily Curtis
Board 3: Shamani Zabot-Hall
Board 4: Alexander Kozic (Bowdoin)
BOWDOIN TEAM B
Board 1: Nathan Bailey
Board 2: Aidan Connnorly
Board 3: Alex Wu
Board 4: Yi Yang
Substitute: Noah Saperstein
USM TEAM B
Board 1: Leonardo Bintabara
Board 2: Aidan Graham
Board 3: Jacob Beaulieu
Board 4: Rawsthorne Grundy (Bowdoin)
In the Bowdoin/USM Team A matchup, Bowdoin scored 12.0 points with strong 3.0/4 performances from all four players. The only points scored by USM Team A came from Alexander Kozic, notching a perfect 4.0/4.
In the Bowdoin/USM Team B matchup, Bowdoin Team B scored an impressive win with a perfect 16.0/16 score against USM B.
Both teams and leaders from both clubs worked tirelessly to fill their rosters, coordinate funding for US Chess memberships, and prepare for a day of rated chess. They also went above and beyond to help coordinate an event that fulfills the MECA mission of Connecting Mainers through chess. We would like to thank them for their participation, and Curtis Memorial Library for playing host to bring the event together! We also hope that other college teams in Maine would be willing to engage in more collegiate competition in the future!

The full group. Top row: Alex Wu, Noah Saperstein, Nathan Bailey, Jason Bussgang, Juan Atehortua, Alexander Kozic, Rawsthorne Grundy, Aidan Graham, Shamani Zabot-Hall, Emily Curtis. Second row: Page, Yi Yang, Aiden Connorly, Paul Boardman, Sandro Orjuela, Bilal Hussein, Jacob Beaulieu, Leonardo Bintabara.

Bowdoin Team A: Boardman, Orjuela, Bussgang, Atehortua (second place)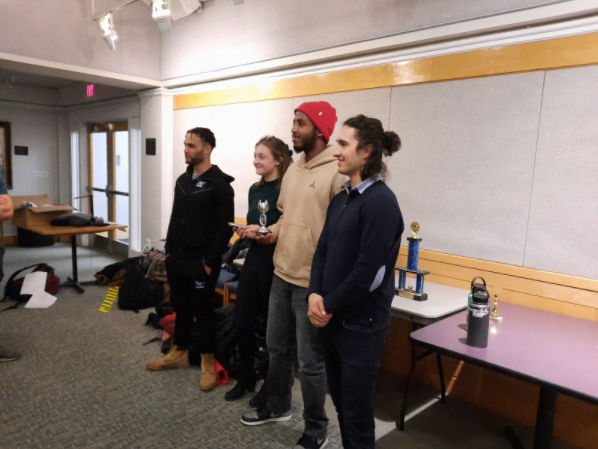 USM Team A: Zabot-Hall, Curtis, Hussein, Kozic (third place).

Bowdoin Team B: Yang, Connorly, Bailey, Saperstein, Wu. (first place)

USM Team B: Beaulieu, Graham, Bintabara, Grundy. (fourth place)
---