WCC Game 8: Carlsen Wins Again; Takes 2-Game Lead in Match
12.05.21 There have only been two World Championship Matches in which the Challenger came back to win after a two-game deficit: Max Euwe in 1935 and Bobby Fisher in 1972. That deficit is the unenviable position Ian Nepomniachtchi finds himself in during the current Match. With six games remaining in the classical Match, Nepo certainly has a uphill battle ahead of him. The Match score now stands at: Carlsen 5 Nepomniachtchi 3.
On a roll: Magnus Carlsen wins Game 8 for a two-point lead in the 2021 FIDE World Chess Championship Match. image FIDE
The game began as a Petrov in which Carlsen trotted out the rare 7.Nd2 a move described on various broadcasts as slightly more solid, a move that contains no risk, and a move that posed some problems for his opponent to solve.
GM Jan Ludwig Hammer, one of Carlsen's seconds in previous tournaments and matches, said he and the Norwegian chess press were disappointed when Carlsen thought for over 40 minutes and then played 10.Qe1 which they thought would quickly peter out to a drawn position.
Rather than elation, the friend and second of the World Champion expressed disappointment over the way the game panned out. To win in such a way, in which a crude blunder was played, left a mixed feeling.
Mixed feeling or not, Magnus Carlsen is clearly in the driver's seat with a two-point lead in this Match.

Nepomniachtchi thinks for 17:20 and plays 9...h5 demonstrating a fascinating knowledge of the position. Carlsen admitted that he, "Didn't know h5." and "If I did, I wouldn't have spent 40 minutes played something as insipid as Qe1." In fact, the Champion pondered for a full 41:11 on his 10th move Qe1 expecting 10...Qe7 and probably a draw. Then came Nepo's 10...Kf8, a move the Challenger called, "Artificial but still natural." When pressed in the post-game press conference about 10.Qe1 Carlsen said, "Most of all I was tired. My brain was fried. I'll play Qe1 and if he plays Qe7 it's probably going to be a draw.

After 15...c6 Carlsen gets a forcing line in which Black's problems become more clear. The move also limits the scope of Black's Bishop. 16.Rxe8+ Bxe8 17.Re1 Qf6 18.Qe3 Bd7 19.h3. Fabiano Caruana called h3 the prettiest move of the game.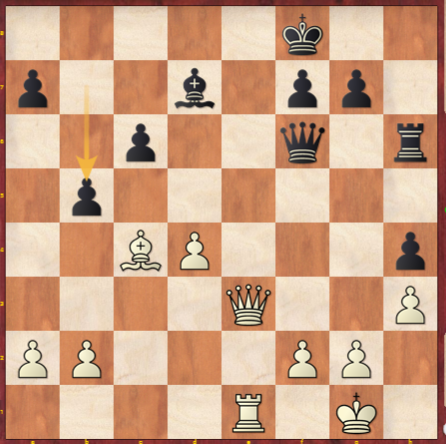 On the reckless 21...b5 the levee gets overtopped and then breaks on 23...Qd8. This sequence of moves was described by commentators as: a train wreck, from bad to dead lost, when it all fell apart, the position went downhill instantly and a move that shows no fight. Like in the game of basketball when you have a 20-point lead you have more options available to win. For example, you can exploit the clock by keeping possession. As it was in this game, after 23...Qd8 Carlsen had a palette of choices to bring home the full point.
The players continued until move 46 but, at this rarified level of super GM chess, after 23...Qd8 the result was never in doubt.
After the game, Nepomniachtchi apologized for, "playing below GM level." When asked about 21...b5 the Challenger admitted that it was a very bad blunder. In a humble response to a reporter asking, "How do you stay so cool after a loss?" Nepomniachtchi responded, "It's part of learning."
Carlsen, although quite happy to put up a two-point lead, appeared tired and said he was looking forward to the rest day and a day off. When asked to evaluate his chances for winning the Match the Champion stated, "Very good."
Tomorrow is a rest day.
Game 9 begins at 7:30 a.m. eastern Tuesday, December 7th.
Match Score
Watch The Games Live with Commentary on Chess.com
Games and Coverage from lichess
Official Site of the FIDE World Chess Championship
Game 8 Coverage on ChessBase.com

Regulations
The match will be played over 14 standard games.
The first player to reach 7.5 points wins.
At the opening ceremony, a drawing of colors determines who will start with the white pieces.
The time control is 120 minutes for the first 40 moves, followed by 60 minutes for the next 20 moves and then 15 minutes for the rest of the game with an increment of 30 seconds per move starting from move 61.
If the scores are level after the regular 14 games, four tie-break games will be played. These are rapid games with 25 minutes for each player with an increment of 10 seconds after each move.
If it's still equal, two blitz games will be played (5 minutes plus 3 seconds increment). If it's still equal, a second pair of two blitz games will be played. If there is still no winner after five such matches, one sudden-death game will be played.
The player who wins the drawing of lots may choose the color. The player with the white pieces shall receive 5 minutes, the player with the black pieces shall receive 4 minutes whereupon, after the 60th move, both players shall receive an increment of 3 seconds starting from move 61. In case of a draw, the player with the black pieces is declared the winner.
The players cannot draw a game by agreement before Black's 30th move.
A claim for a draw before Black's 30th move is permitted only through one of the arbiters in
the cases of a threefold repetition.
---