WCC Game 7: Match Midpoint Game Ends in Draw
12.4.21 Game 7 of the 2021 FIDE World Chess Championship ended in a 41-move amicable draw. After an exhausting battle in Game 6, Ian Nepomniachtchi was content to steer the game into well-known peaceable channels. The Challenger seemed to vent a bit of frustration over the previous day's game at the post-game press conference when he said, "It was quite a new experience to play two games in one day. Somehow I thought that at the World Championship level it should be like a little bit different than some open tournaments." Match Score: Carlsen 4.0 Nepomniachtchi 3.0
Ian Nepomniachtchi (left) and Magnus Carlsen over the board at Game 7 of the 2021 FIDE World Chess Championship Match being contested in Dubai, UAE. image FIDE
Although Ian Nepomniachtchi was largely criticized for his overly calm, measured play in Game 7 which lead to, for the most part, an uneventful draw, the Challenger may have been guided by the Ancient Greek aphorism know thyself and the two maxims that followed: nothing in excess and surety brings ruin.
After what must have been a heart-breaking loss in the 136-move marathon that was Game 6, Nepo again employed a Ruy Lopez Anti-Marshall set up as he has with his previous three outings with the White pieces in this Match.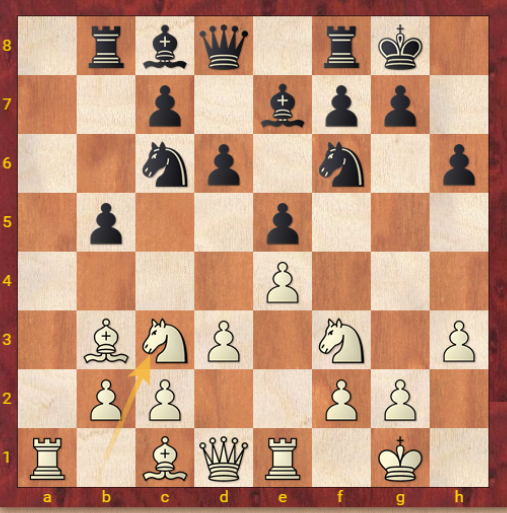 Nepomniachtchi goes for 12.Nc3 with the intention of Nd5 and Nxf6. A plan that was strongly questioned by GM Robert Hess commenting on the game for Chess.com. Hess claimed that the plan of swoping Knights on the f6 square makes life just too easy for Carlsen.

After 17.d4 exd4 and 18.cxd4 White gets a nice center but it turns out that Black has no problems equalizing.

Carlsen's 20...c5 heralded the oncoming trading down of pieces until both sides were left with Rook and three pawns apiece and a theoretical draw.
Game 8 begins at 7:30 a.m. eastern Sunday, December 5th.
Match Score
Watch The Games Live with Commentary on Chess.com
Games and Coverage from lichess
Official Site of the FIDE World Chess Championship
Game 7 Coverage on ChessBase.com

Regulations
The match will be played over 14 standard games.
The first player to reach 7.5 points wins.
At the opening ceremony, a drawing of colors determines who will start with the white pieces.
The time control is 120 minutes for the first 40 moves, followed by 60 minutes for the next 20 moves and then 15 minutes for the rest of the game with an increment of 30 seconds per move starting from move 61.
If the scores are level after the regular 14 games, four tie-break games will be played. These are rapid games with 25 minutes for each player with an increment of 10 seconds after each move.
If it's still equal, two blitz games will be played (5 minutes plus 3 seconds increment). If it's still equal, a second pair of two blitz games will be played. If there is still no winner after five such matches, one sudden-death game will be played.
The player who wins the drawing of lots may choose the color. The player with the white pieces shall receive 5 minutes, the player with the black pieces shall receive 4 minutes whereupon, after the 60th move, both players shall receive an increment of 3 seconds starting from move 61. In case of a draw, the player with the black pieces is declared the winner.
The players cannot draw a game by agreement before Black's 30th move.
A claim for a draw before Black's 30th move is permitted only through one of the arbiters in
the cases of a threefold repetition.
---