Mainers at the US Chess Scholastic Invitationals in Cherry Hill, NJ
08.10.21 The Maine Chess Association nominated four young players to represent the state at the national "Tournament of Champions." Each player won their respective individual qualifying tournament and was named state champion or co-champion. Maine Chess Association Director Elisabeth Mock attended the tournament and submitted this report.
Congratulations to the players who proudly represented Maine on the national chess stage!
Thanks to Elisabeth Mock for contributing to this report.
US Chess Crosstable Rockerfeller

2021 US Chess Scholastic Invitationals, Cherry Hill, NJ
July 31-August 3
From Camden, Miles Erwin Kaplan was the Elementary representative to the Rockerfeller. From Bangor, Gabriel Eaton was the Middle School player at the Barber. From Hampden, Delia Hill was representing the girls in the Haring. Also from Bangor, Benjamin Mock was the High School player in the Denker.
The first morning, an all-invitational Blitz was held in several sections, based on rating. One section was for over 2200; remember these are all school children! In the U1800 section, Benjamin scored 4.5/8 and Gabriel secured 3.0/8. In the U1400 section, Miles scored 4.5 and Delia secured one point. At the Opening Ceremony, all players received a medal to commemorate their state championship and participation in the national invitational. The tournament was a 6 round Swiss with 1-2 rounds per day. The evening rounds started at 7pm and at least one night, the high school section's last game finished at 11:15pm!
Every player was given a small state flag and at the beginning of each game, both players put their flags into a little stand at their board. Many players also brought trinkets representative of their state for their opponents, such as key chains, state-shaped stickers or playing cards.
In the Rockerfeller, Miles played opponents from Oregon, Kentucky, New Hampshire, New Jersey, Indiana and Oklahoma. He finished with 2.5/6, good for 32nd place. In the Haring, Delia finished with 0.5 points after playing girls from Georgia, Arkansas, Hawaii, Utah, Arizona and Idaho.
In the Barber, Gabriel faced Missouri, New Hampshire, South Carolina, Vermont, Arizona and Iowa to earn 1.5 points. In the Denker, Benjamin paired up with Oklahoma, Idaho, Missouri, Louisiana, Florida and Pennsylvania to achieve 3.5/6, good for 21st place. He was the only U2000 in the top 25 and won 2 "Largest Upset in Round" awards for beating 2046 and 2186 as a 1768. All players were given a board at the conclusion of the tournament. Key pointer for next year, turn in your submissions for best games as they had a dearth of entries for the $50 bookstore credit prizes.
Next year's scholastic invitationals will expand to 6 tournaments by adding K-1 and 2-3 sections. They will take place in Palm Springs, California. Unlike the travel to this year's tournaments--a family road trip or a bus trip away, participation in next year's invitationals will require more planning and, quite likely, fundraising on the part of the entire Maine Chess community. Stay tuned to hear plans from Maine Chess Association's Board regarding the entire academic year's scholastic plan which will lead up to the state individual and team championships.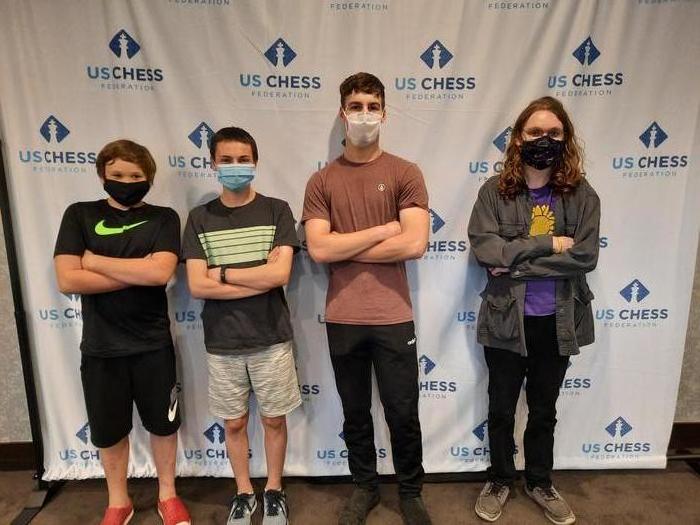 The Maine Contingent (left to right): Miles Kaplan, Gabriel Eaton, Benjamin Mock, and Delia Hill.

Maine Chess Association president Michael Dudley with Maine's Denker Representative Benjamin Mock

Gabriel Eaton, Maine's representative to the 11th Annual Dewain Barber National Tournament of Middle School State Champions

Benjamin Mock, Maine's Representative to the 37th annual GM Arnold Denker National Tournament of High School State Champions

Delia Hill, Maine's representative to the 9th Annual WIM Ruth Haring National Tournament of Girls State Champions

Miles Kaplan, Maine's representative to the 2nd Annual John D. Rockefeller III National Tournament of Elementary School State Champions

One of the numerous tournament rooms at the event.
---