WGM Sabina Foisor Training Session and Simul
02.09.20 The Maine Chess Association hosted 2017 Women's Chess Champion WGM Sabina Foisor as a special guest at the 2020 Maine Women's and Girls' Chess Championships played at John Bapst Memorial High School in Bangor on Saturday, February 8th. After the Championships concluded, WGM Foisor provided an exclusive training session geared especially for the players followed by a thirty-board simultaneous exhibition.
Players consider the best way to get the upper hand on a U.S. Champion at the WGM Sabina Foisor Simultaneous Exhibition hosted by the Maine Chess Association and played at John Bapst Memorial High School in Bangor on Saturday, February 8th.
The Maine chess community was honored by the presence of 2017 U.S. Women's Champion WGM Sabina Foisior on Saturday, February 8th as thirty players took on the Women's Grandmaster in a simultaneous exhibition.
The thirty intrepid competitors ranged in skill from novice unrated players to just shy of a US Chess rating of 1800.
When the dust had cleared after fours hours of intense concentration, the score was twenty-nine wins to one loss for the Champion. Only Dan Robbins, who happened to be the highest rated player in the field at US Chess 1759, was able to take a point away from Foisor.
Great fun was had by all and what a wonderful experience for young players and grown-ups too to have the opportunity to meet and match wits with a titled player.
Many thanks to our very special guest WGM Foisor for making the trip to Maine all the way from North Carolina and to Maine Chess Association President Michael Dudley for organizing this event.


WGM Foisor used one of her games from a European Women's Championship tournament to illustrate some interesting thinking methods in chess.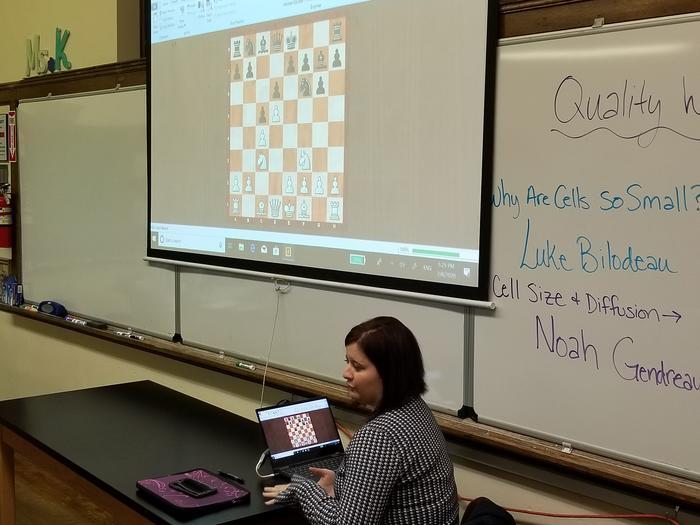 It was fascinating and illuminating to hear Foisor's thought processes as she guided the class though the decisions she made during the game.

Students listened with rapt attention.

You couldn't ask for a better role model for young chess players.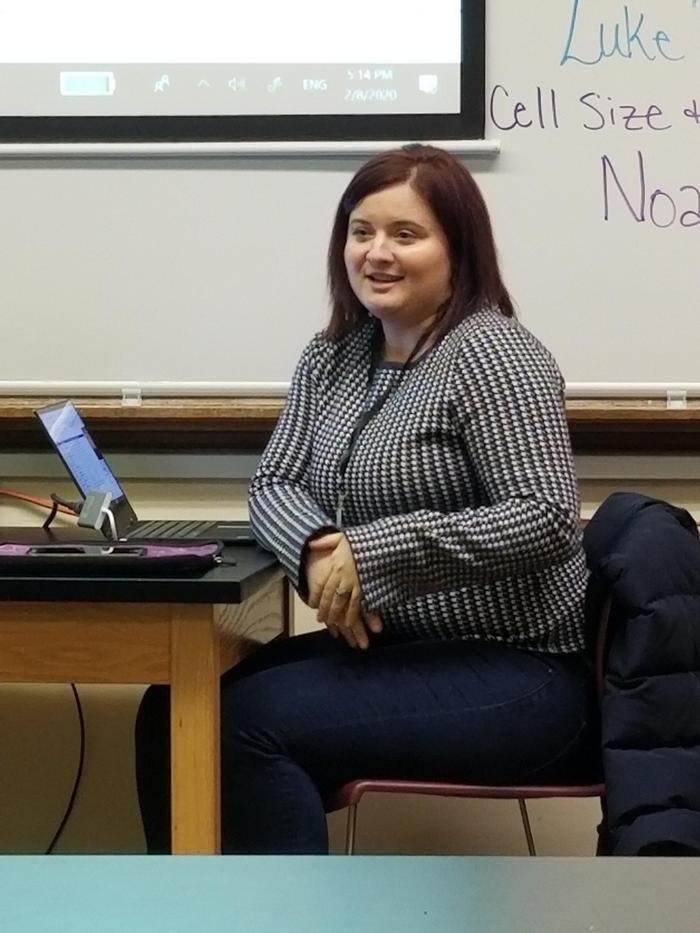 Foisor also regaled us with stories from her childhood and upbringing in Romania. Both of her parents are international masters.

Directly after the training session, Foisor began the simul. Maine Chess President Mike Dudley introduces the guest of honor.

Before beginning, Foisor reviewed basic simul rules and etiquette.

The players take their seats.

And the games begin!

To this young player, WGM Foisor was identified simply as a "cool person."

Curt Brock gave it his all.

As did Ebba Hidestrand.

But the only player out of the thirty to notch a victory vs the Women's Grandmaster was Dan Robbins.

Congratulations Dan! And thank you to WGM Foisor for making this event such a memorable one.
---