15th Annual Aurora Winter Solstice Tournament Report
01.27.20 In the out-of-the-way hamlet of Aurora, Maine (population: not many) the Airline Community School has been hosting the Aurora Winter Solstice Chess Tournament for fifteen consecutive years. This year's event featured four sections and forty-three players. Here's the illustrated tournament report with US Chess crosstables.
Players in the U400 section celebrate at the 15th Annual Aurora Winter Solstice chess tournament held at the Airline Community School in Aurora, Maine on Saturday, January 25, 2020.

US Chess Crosstable of this event
Rural public schools are a unique part of Maine's rich cultural heritage. The Airline Community School in Aurora, Maine is one shining example of the importance of local education and community involvement in the whole child development model for our kids. The pre-K through 8th grade school is alma mater to many students who have gone on to attend world-class colleges and universities around the globe. In addition, Airline Community School has produced no less than five individual state scholastic chess champions in its relatively short history. We are grateful for events like the Aurora Winter Solstice and many other scholastic chess tournaments in Maine that provide our children with opportunities to excel at the game of chess and the game of life.
The 15th Annual Airline Winter Solstice tournament offered four sections of US Chess rated play: Open, U1200, U800, and U400.
University of Maine first-year student, and 2019 Maine State Chess Co-Champion Wyatt Hendrix took first place in the Open section with 2.5 points in three rounds. Hendrix was nicked for one draw in the second round by the talented junior Zachary Brislin who finished in clear 5th place with 1.5 points. Just off the lead in the Open section were Dan Robbins, Nathan Gates, and Eli Slaughter who each put up 2.0 points.
Sam Winter and Mason Woodman shared equal first in the U1200 section on 3.0 points apiece. Miles Kaplan, Andrew Castellanos, and Jacob Klein rounded out the U1200 crosstable with 2.5, 2.0, and 1.5. points respectively.
Andrew Kaplan and James Lenke rose to the top of the U800 section with performances of 3.5 points in four games. Illustrating the level of stiff competition in the U800 section, five players scored 3.0 points for equal third place: Declan Schilling, John Hoang, Gavin Worcester, Henry Penfold, and Taylor Staples.
Edward Larochelle was all smiles after inking a perfect 4.0 points in as many games in the U400 section. He and the other top-three finishers, Preston Couto and Clara Polakowski received tournament chess sets, boards, and carrying bags for their efforts.
Thanks to all who participated, organized, directed, and volunteered at this tournament especially Andy Bryan, Kate Ervin, and all who helped out in the kitchen. We look forward to seeing you back in Aurora for the 16th Annual Edition!

Open section winner Wyatt Hendrix contemplates his next move. Which variation of the Sicilian Defense will it be?

Dan Robbins seems to always be at or near the top of the crosstable.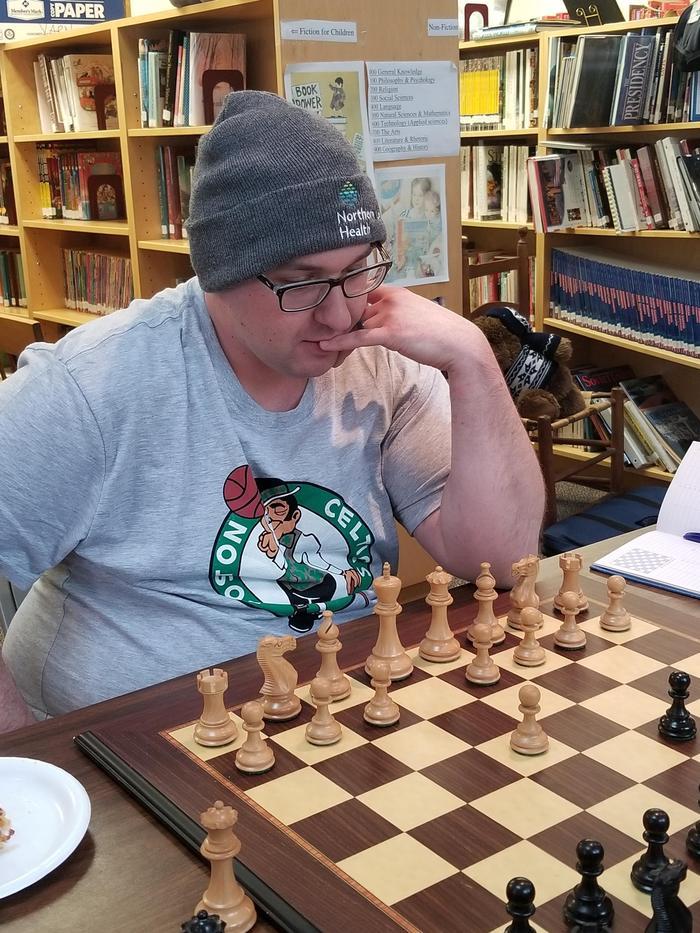 Former Airline Community School Chess Champion Nathan Gates.

Equal second place in the Open section: Eli Slaughter

Man on a mission: Maine Chess Association president Mike Dudley

Scholastic chess coach extraordinaire Bruce Haffner

Zach Brislin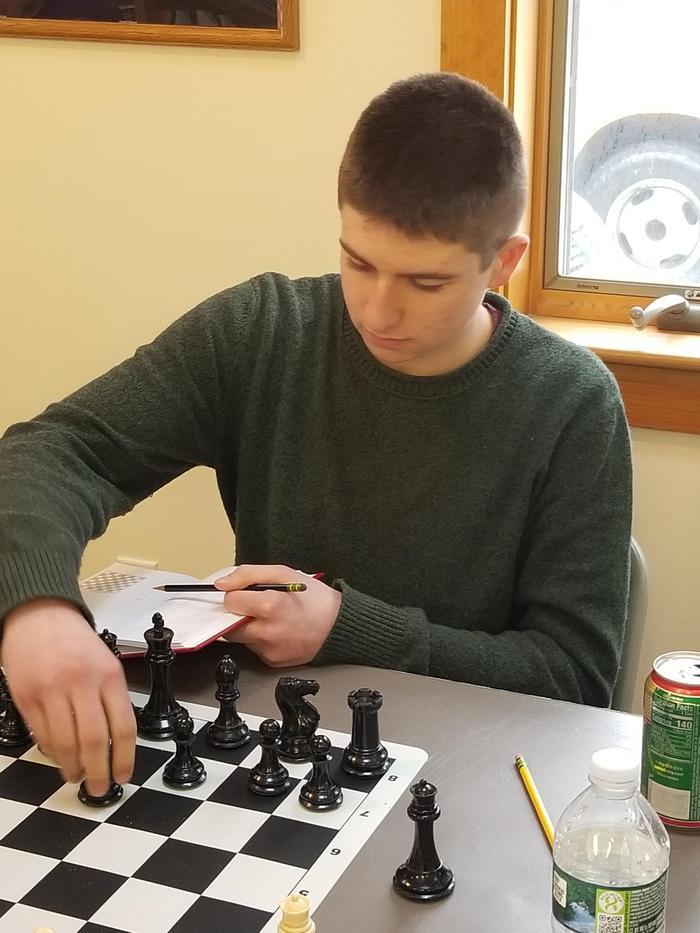 Ben Penfold

Mason Woodman plays in the U1200 section

Miles Kaplan

Andrew Castellanos

Jacob Klein

The U1200 contingent

The dark horse Co-Champion in the U800 section: Andrew Kaplan

U800 Co-Champion Machias High School chess coach Jim Lenke

Henry Penfold

Gavin Worcester

Declan Schilling

Dakota Brown

John Hoang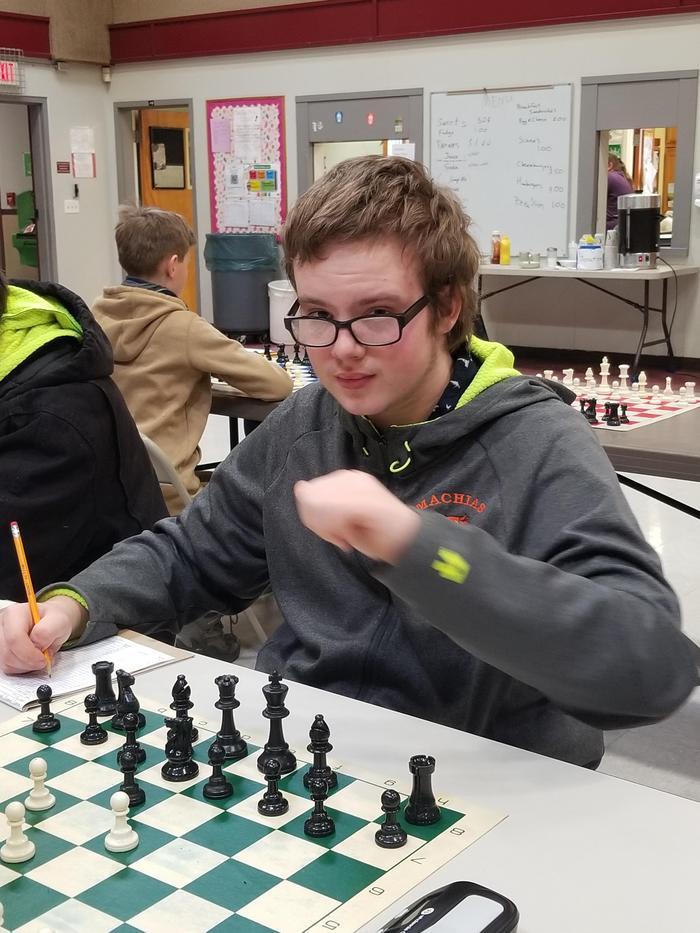 Kolby Henderson

Rachel Norment

Ebba Hidestrand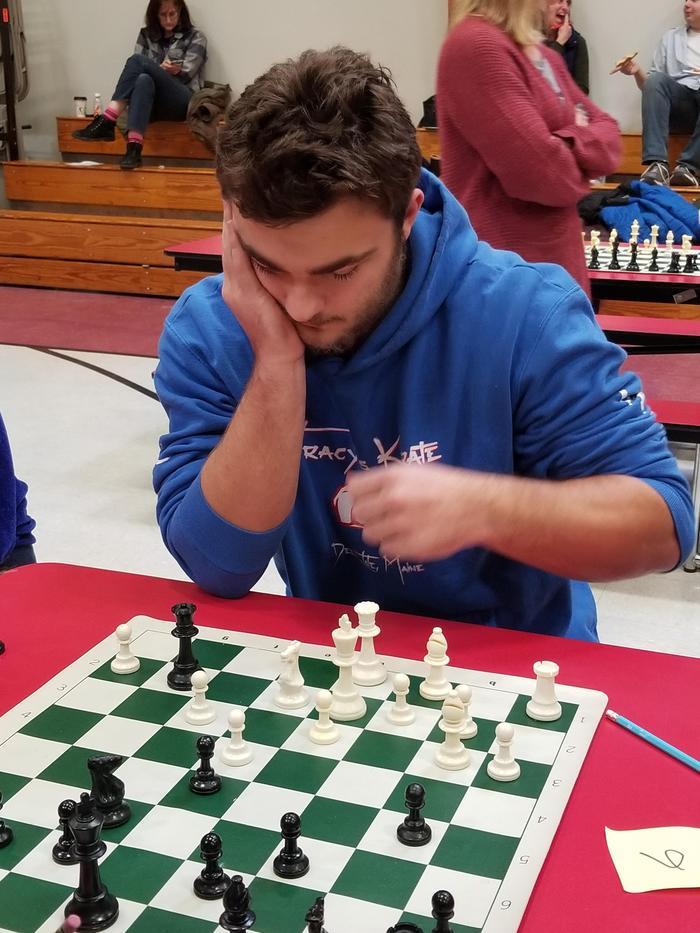 Andrew Wendell

Mikhail Clark

Taylor Staples

Hunter Willey

Khanye Cogdell

Sam Robbins

Alexander Keene

Khoa Dao

John Bapst Memorial High School student from Hamburg Germany Edgar Buchweitz

Ayden Brown

The U800 players at the awards ceremony

First place in the U400 section: Edward LaRochelle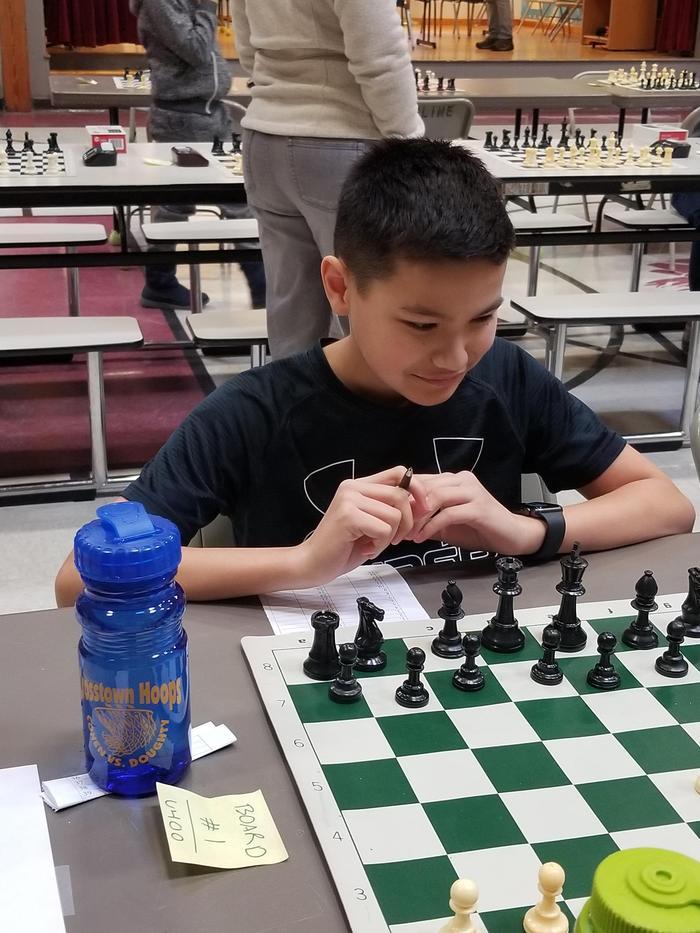 Mason LaPierre

Preston Couto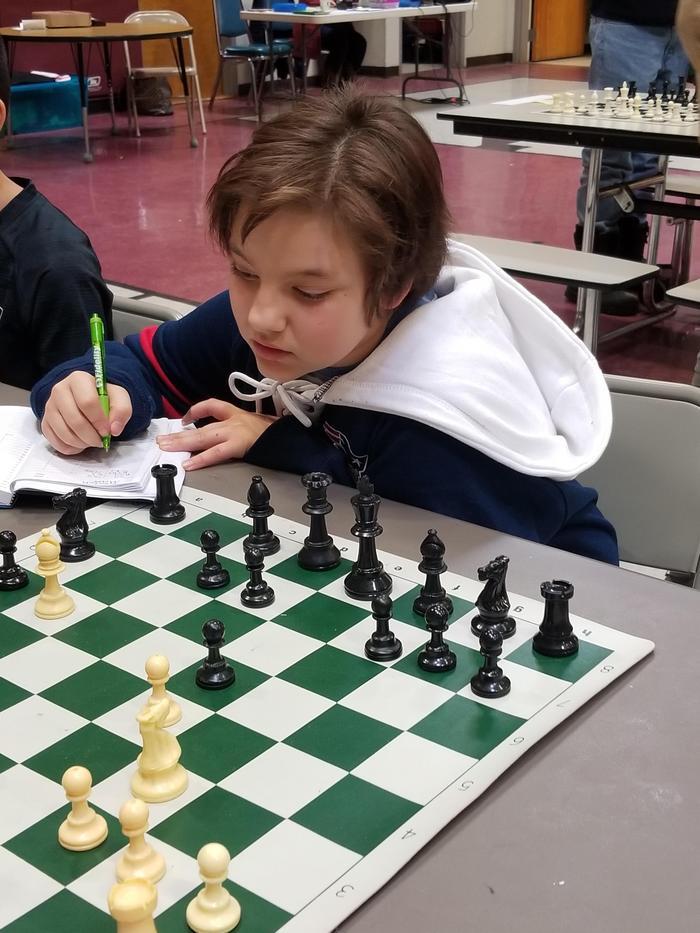 Matthew Davis

William Kaplan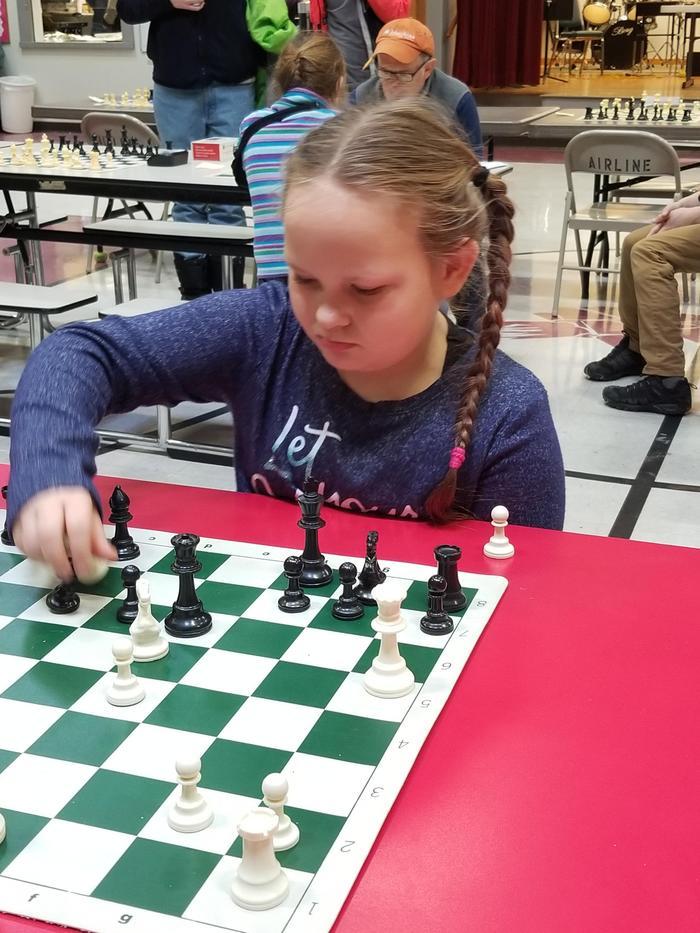 Gabby Grindal

Clara Polakowski

Eli Polakowski

Airline Community School teacher, principal, coach, and ombudsman Andy Bryan hands out awards at the prizegiving.

Mom Power!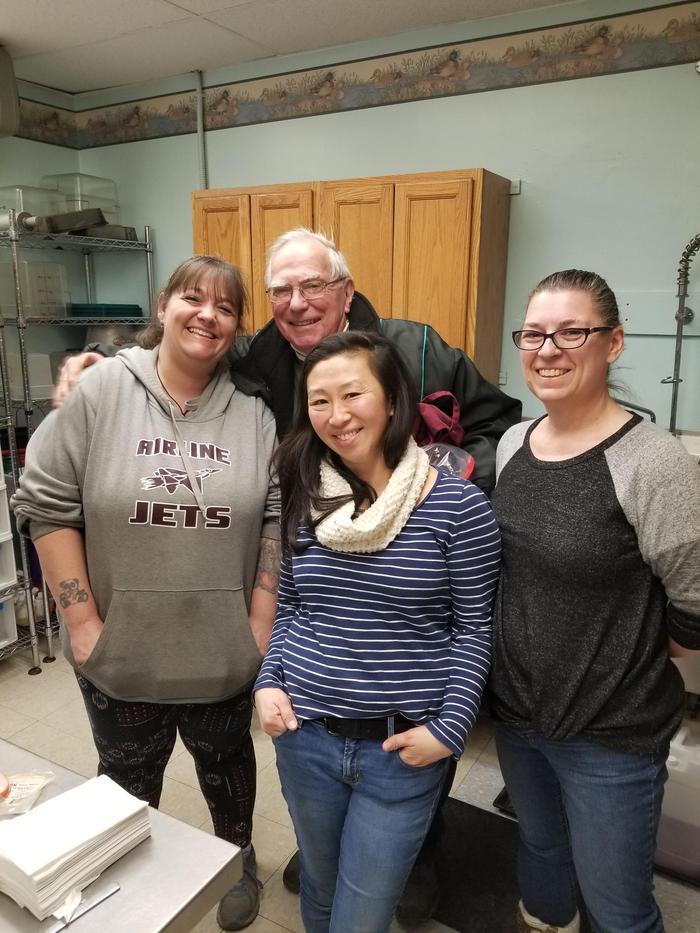 A big Thank You to the kitchen crew!

---