Deaflympics Team Chess Rounds 7-9: Kazakhstan, Germany, and Croatia Finish Equal First
12.21.19 The 19th Winter Deaflympics chess tournament has concluded with a three-way tie for first. By the narrowest of margins, Kazakhstan edged out Germany on game point tiebreaks to bring home the gold medal. Germany took silver and Croatia bronze. The women's tournament was won by Ukraine, followed by Russia, and Poland. The American team had some exciting victories in both the Blitz and Standard tournaments but in the end finished well out of medal contention.
Medalists from Germany (left) Kazakhstan (center) and Croatia (right) celebrate at the chess awards ceremony at the conclusion of the chess events at the 2019 Winter Deaflympics.
Team Chess Pairings and Results
Round 7 USA v Mongolia
Although Mongolia was not a particularly strong team, they handed the U.S. team their only 0-4 shutout of the tournament. Many of the games were close encounters--and at some points Team USA was clearly better or winning--but in the end Mongolia prevailed.
Abraham Glasser 0
Oscar Petrov 0
Branton Stewart 0
Byron Bridges 0
USA 0 - Mongolia 4
Round 8 v India
In Round 8, Team USA played the team from India to a 2-2 draw. After dropping games on Boards 3 and 4, the two American top boards (Abraham Glasser and Oscar Petrov) battled hard and managed to win both games leveling the match score to 2-2.
Abraham Glasser 1
Oscar Petrov 1
Branton Stewart 0
Byron Bridges 0
USA 2 - India 2
Round 9 v Germany
On paper, Team USA should have been routed by Germany as they were vastly out rated. The result on Board 2 shocked the tournament hall as fifteen-year-old Oscar Petrov, playing the black pieces, scored a victory over International Master Sergej Salov. Salov is a tough tournament competitor with many decades of international chess experience but chess is chess and he made some mistakes which the young American capitalized on. After Black's 29th move, the German IM stopped the clock and offered his hand in resignation. On Board 1, Abraham Glasser played a principled game vs Germany's top-rated player Artur Kevorkov. The endgame came down to Rook and five pawns for the German and Rook and four pawns for the American. After a draw offer from Glasser was turned down, the players made a few more moves and shook hand on move 43.
You can replay these games
Abraham Glasser 0.5
Oscar Petrov 1
Branton Stewart 0
Byron Bridges 0
USA 1.5 - Germany 2.5

Medalists in the Men's Standard (90m +30s) Team tournament (from left) Germany (Silver), Kazakhstan (Gold), and Croatia (Bronze).

Chess fans from Kazakhstan were thrilled with their team's performance.

Team Kazakhstan celebrates their gold medal with their nation's colors.

Germany was knocked out of first place on tiebreaks due in part to their loss and draw to the Americans in the final round. If they had received one more half point on game points (the first tiebreaker) they would have went home with the gold.

Team Croatia receives their medals and congratulations from the president of the ICSD (the International Committee of Sports for the Deaf).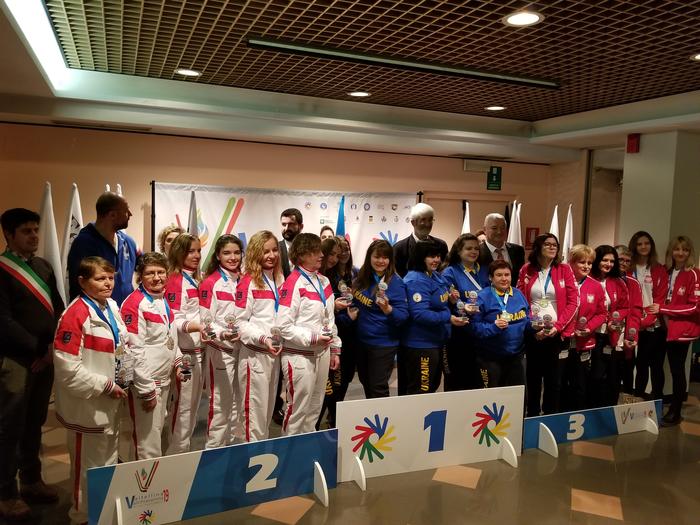 Winners in the women's section (from left) Russia (silver), Ukraine (gold) and Poland (bronze).

Ukraine receives their gold medals.

The Russian Women's National Deaf Team took home the silver.

Team Poland

The ceremony and announcements were interpreted into International Sign Language.

USA Hockey will face off against Canada in the Gold Medal Round later today.

After the awards ceremony we enjoyed some fine Italian cuisine at the popular Chiavenna restaurant L'Arca.

So long for now from northern Italy.
---