2019 Winter Deaflympics Hosts Chess Competition In Chiavenna, Italy
12.12.19 We're in the stunningly beautiful town of Chiavenna, Italy for the 2019 Winter Deaflympics. Sanctioned by the International Olympic Committee, the Deaflympics has attracted top deaf athletes from around the world since 1924. As of 2019, chess has been officially adopted as a sport in the Winter Deaflympics. While players arrive and last-minute preparations are being made, we bring you the first of a number of reports from the Italian Alps.
Chiavenna, Italy is the site of the chess and ice hockey competitions at the 2019 Winter Deaflympics.
Thirty-three countries and over five hundred deaf competitors are in the province of Sondrio, Italy for the 2019 Winter Deaflympics. The Games will run from December 11-21, 2019 in four locations: Madesimo (Curling), Sondrio (Opening Ceremony), Chiavenna (Ice Hockey, Chess, and Closing Ceremony), and Santa Caterina (Alpine skiing, Cross Country Skiing, and Snowboarding).
The chess competition will consist of two sections: an 11 round Individual Blitz and a 9 round Team Standard. Time controls will be: Blitz 3m+2s, Standard 90m+30s. A total of 115 players (85 men and 30 women) from 18 countries will compete in the chess events.
The 2019 Winter Deaflympics Opening Ceremony was held in Sondrio, Italy on 12 December.
Let the Games begin!

The 2019 Winter Deaflympics are being held in the province of Sondrio in northern Italy.

A closer look at the province of Sondrio and the location of various sporting competitions.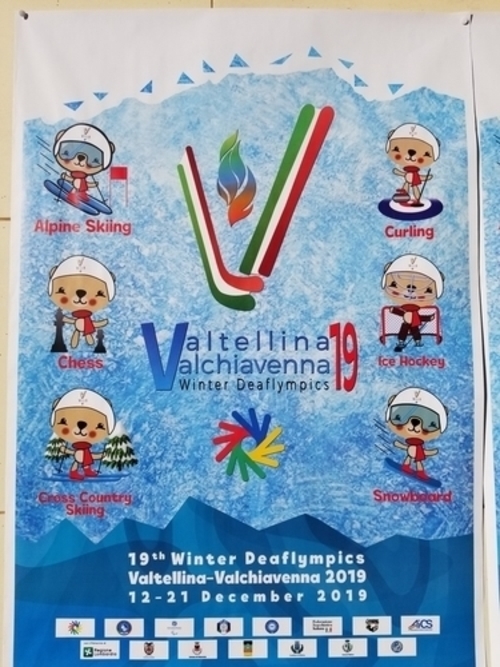 The official poster of the 2019 Winter Deaflympics showing the six sports of the Games and the mascot Valley.

The scenery along the way is breathtaking.

Chiavenna is just a few kilometers from the southern border of Switzerland.

A quintessential European village tucked into the Italian Alps.

In Italy, coffee making has been raised to a sublime art.

The chess competition will take place at the Hotel Aurora just outside the town center of Chiavenna.

To settle in and acclimatize we headed to Madesimo and the Valchiavenna Ski Resort.

International chess journalism is a tough job but somebody has to do it!

President of the International Chess Committee of the Deaf and Technical Director for the chess events at the Deaflympics, Phillip Gardiner, sits down to play a few skittles games with a member of Team USA.

An arbiter readies the DGT boards for the tournament.

Team USA Chess (left to right): Abraham Glasser, Oscar Petrov, Branton Stewart, and Byron Bridges.

The Opening Ceremony was held on 12 December with much pageantry and celebration.

Team USA making its way into the Opening Ceremony along the streets of Sondrio, Italy.

Players often trade pins or articles of clothing with their peers from other parts of the world.

We were greeted by many well wishers of all ages, races, and nationalities.

Ciao for now!
Official Websites
Full Schedule 2019 Winter Deaflympics.
International Sporting Committee of the Deaf
International Chess Committee of the Deaf

Official Chess Competition Schedule 2019 Winter Deaflympics
Tuesday, 10 December Training
Wednesday, 11 December Training
Thursday, 12 December 16:30 Opening Ceremony
Friday, 13 December 10:00 Technical Meeting I
Friday, 13 December 14:00 - 18:15 Blitz Tournament Rounds 1-11
Saturday, 14 December 15:00 Standard Tournament Round 1
Sunday, 15 December 09:00 Standard Tournament Round 2
Sunday, 15 December 15:00 Standard Tournament Round 3
Monday, 16 December 15:00 Standard Tournament Round 4
Tuesday, 17 December 09:00 Standard Tournament Round 5
Tuesday, 17 December 15:00 Standard Tournament Round 6
Wednesday, 18 December Rest Day
Thursday, 19 December 09:00 Standard Tournament Round 7
Thursday, 19 December 15:00 Standard Tournament Round 8
Thursday, 19 December 20:00 Technical Meeting II
Friday, 20 December 09:00 Standard Tournament Round 9
Saturday, December 21 19:00 Closing Ceremony
---