Roger J Morin Memorial Tournament Report
09.08.19 The Roger J Morin Memorial Tournament held on Sunday, September 8th at the University of Maine Orono, honored former Maine Chess Champion, artist, teacher, and friend Roger Morin who passed away on July 8, 2019. One of the goals of the tournament was to establish the Roger J Morin Scholarship Fund which will provide support for Maine chess players pursuing higher education. Thirty-four players competed in three sections. Winners were Jarod Bryan (Open), Zach Brislin and Joshua Starbird (U1600), and John Hoang (U1000). Here's the illustrated tournament report with US Chess crosstables.
This dedication appeared on a quilt lovingly made by Roger's wife Lois which was raffled off at the tournament.
US Chess Crosstable of this event
Selected games from this event

Jarod Bryan topped the Open section crosstable with 3.5 points in four rounds. After a third round nail biter in which Bryan pulled out a win in his game vs Nathan Gates with both players very low on time, he played Wyatt Hendrix to a draw in the final round to secure the tournament victory.
Daniel Robbins and Benjamin Mock, just a half point off the lead, finished equal second.
Zach Brislin and Joshua Starbird both put up 3.0 points to share first place in the U1600 section. Curiously, both players lost their first round games then came on strong and won three straight.
Prince Wang and Roger Hardison tied for third in the U1600 section with 2.0 points apiece.
The tournament's only player to finish unbeaten and untied was John Hoang who finished first in the U1000 section with 4.0 points in as many rounds.
Sean Hinkley, playing in his first US Chess rated tournament, finished the U1000 section in equal second with Tala Bayless and Miles Kaplan.
Many memories and stories of Roger were shared and enjoyed throughout the day.
Thanks to all who came out to honor one of the greatest players in the history of Maine chess.
The tournament was held on September 8th for a particular reason. Roger's wife Lois shared with us that the number eight held special significance in their relationship as a number of milestones in their life together happened on the eighth day of the month. For those of you interested in numerology (and even those not interested in numerology) consider the following:
Lois and Roger met on the eighth of the month.
They were engaged to be married on the eighth of the month.
Their wedding day is on the eighth of the month.
The couple moved to their new home in Houlton, Maine on the eighth of the month.
Roger passed away on July 8th.
The Roger J Morin Memorial Tournament was held on the eighth day of the month.
The money raised at the tournament for the Roger J Morin Scholarship Fund was $512.00. Not only is the sum of 5, 1, and 2 equal to eight but 512 is eight cubed (8 x 8 x 8).
Eight squared, by the way, is 64--the number of squares on a chess board.
Submitting the ratings report for this tournament, I noticed that the invoice from US Chess totaled exactly $17.00. That sums to eight too!
I can hear Roger chuckling as he says to me, "Yeah, that's quite a coincidence."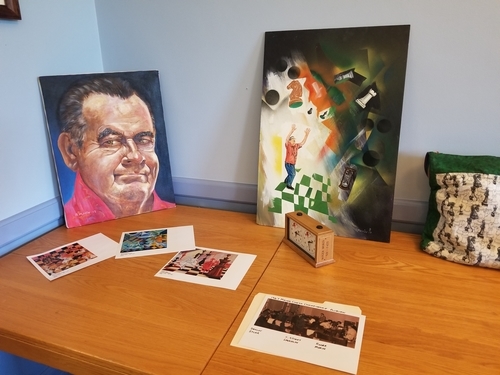 Roger was truly with us in spirit.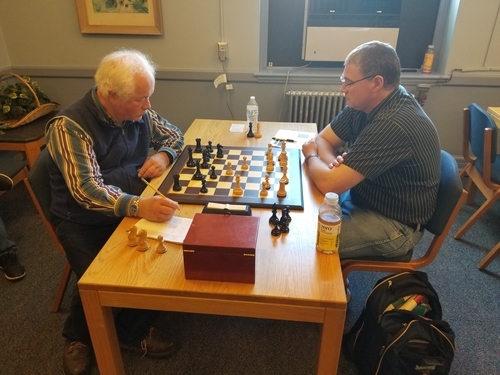 Tournament winner Jarod Bryan (right) on his way to 3.5 points and first place in the Open section plays Ray Haines in the first round.

Dan Robbins (right), who finished equal second in the Open section with 3.0 points, plays Lance Beloungie.

And then takes a look at what may have been.

Also second in the Open section: Ben Mock (right).

Tommy Owen (left) put up 2.5 points to tie for fourth place. He was able to take the full point from Curt Brock in this game.

A clash of titans: Nathan Gates (left) plays Wyatt Hendrix.

Evan Annis (left) takes on Tom Sandford.

Maine Chess Association president Michael Dudley (left) plays Tristan Cousineau in round one.

Tristan Cousineau puts on his game face before the start of the third round in the Open section.

Zach Brislin (left) tied for first in the U1600 section with

Joshua Starbird (left) here playing Roger Hardison.

A hooded Oisin O'Searcoid played Walker Bayless to a draw in round one.

U1000 winner John Hoang (right) plays Peter Clark.

First time tournament player Sean Hinkley (left) and Lois Morin agree to have a good game in the U1000 section.

As do Frances Bayless (left) and Khanye Cogsdell.

Tala Bayless (left) plays Lee Grover on board one in round two of the U1000 section.

Dakota Colson (right) and William Kaplan have a go.

Nancy Beloungie (left) was the lucky winner of the beautiful chess-themed quilt handmade by the expert seamstress (and chess player) Lois Morin.

A certain somebody shows off his socks (and legs) in the tournament room.

Players enjoyed between round eats at the Bear's Den in the University's Memorial Union.

Thanks again to all who made this tournament possible. Godspeed Roger!
---