Bapst End of Summer Tournament Report
09.19.19 On September 14th, thirty-three players bid summer adieu at the John Bapst Memorial High School End of Summer Tournament. The G/45 +5 event featured three sections: Open, U1500, and U1000. Here's is the illustrated tournament report with US Chess crosstables.
Congratulations to all who participated in the 2019 Bapst End of Summer Tournament!
US Chess Crosstable of this event
Thanks to Elisabeth Mock, Dan Robbins, and Michael Dudley for contributing to this report.
John Bapst student Benjamin Mock won the Open section of the Bapst End of Summer Tournament with 3.0 points. Despite a first-round loss to Wyatt Hendrix, Mock came back to win three straight and rise to the top of the crosstable.
Hendrix finished equal second in the Open section with Dan Robbins each putting up 2.5 points.
Benjamin Usadi of Vermont and Evan Smith shared fourth place with 2.0 points and Tristan Cousineau rounded out the crosstable scoreless.
Thomas Poole turned the U1500 section crosstable on its head. As the section's lowest rated player, Poole received a one-point bye in the first round. In the second round, he made a draw with the section's highest rated player Tobia Coffey and then went on to win his last two rounds to finish the section in first place with 3.5 points.
Just off the winner's pace and finishing second was Eli Slaughter with 3.0 points.
Walker Bayless and Devon Hunter shared equal third with 2.5 points apiece.
Miles Kaplan won the U1000 section by turning in the tournament's only perfect score of 4.0 points in four games.
Joshua Lorenzo, Lee Grover, Zachary Harvey, and Rachel Norment all shared second place with 3.0 points.
Congratulations to all the winners and thanks to all who participated in this tournament including: parents, coaches, drivers, organizers, and directors.

U1000 section winner Miles Kaplan receives congratulations from tournament director Michael Dudley.

Thomas Poole, the winner of the U1500 section, accepts his prize from the director.

White succumbs to a modified Scholar's Mate.

Dan Robbins (left) plays Benjamin Usadi in round one of the Open section.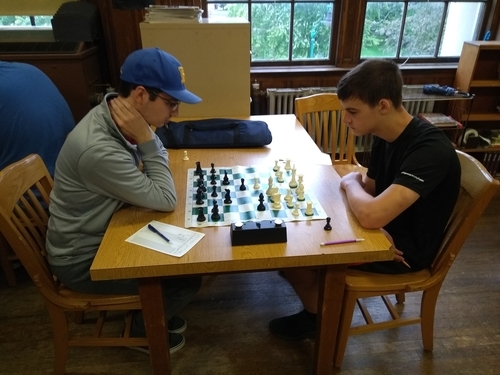 Wyatt Hendrix (left) and Open section winner Benjamin Mock transition out of the opening.

Tala Bayless (left) plays Tobias Coffey.

Action in the U1000 section.

Khayne Cogdell (left) considers his position in the U1000 section.
---