Claude E. Webber Memorial Tournament Report
03.24.19 Sixty-four players came out to compete in the Claude E. Webber Memorial Tournament played at Bonny Eagle Middle School in Buxton on Saturday, March 23rd. Players hailed from: John Bapst, Cheverus, Westbrook, Thornton Academy, Cape Elizabeth, Bonny Eagle, Buxton Center, Windham, Gorham, George E Jack, and Falmouth. Here's the illustrated tournament report and wrap-up courtesy of tournament organizer Oisin O'Searcoid.
These beautiful trophies for the Claude E. Webber Memorial Tournament were hand made by tournament director and organizer Andrew DeMaris.
US Chess crosstable of this event
Thanks to Oisin O'Searcoid and Michale Dudley for contributing to this report.

High School Championship
Winners: John Bapst Memorial High School
Runner-up: Cape Elizabeth High School
High School Reserve
Winners: Westbrook High School
Runner-up: John Bapst Memorial High School
K-8 Championship
Winners: Bonny Eagle Middle School E
Runner-up: Bonny Eagle Middle School B
K-8 Novice
Winners: Windham Middle School
Runner-up: Buxton Center Elementary School
The Rhythm of Chess
By Oisin O'Searcoid
Westbrook's Sebastian Johns made a move, his 23rd, and he started swaying, as if to a symphony only he could hear. His own crescendo was rising in a crucial first-board third round game at the Claude E Webber Memorial Cup in Buxton, ME against Cape Elizabeth's Tyler Rodenberger. He was entering his stride, and was clearly pleased with his position. Johns had a reasonable time advantage and the other games in the section were just finishing. One or two other players joined the Tournament Directors observing the game. Johns had his rhythm. A few moves later, Rosenberger's toes started to tap in his sneakers; a different tune. This one had a faster rhythm, a little like Imagine Dragon's Believer. This game was far from over.
Chess is a highly demanding sport. The mental energy it takes a High School player to play eight hours of chess in one day is likely more demanding than the concentration a Quarterback needs to win a Superbowl. Every game has an ebb and flow, and the music a player plays in his or her mind builds the momentum with which he or she controls games - or loses control. This one scene alone tells the tale of The 2019 Claude Webber Memorial Cup, and one of which the big man would likely have been proud.
Claude Webber was not a chess player. He preferred cribbage. He was a man however who exemplified the concentration it takes to fly 36 missions over Europe during World War II and return home alive, earning the Distinguished Flying Cross for "heroism or extraordinary achievement while participating in an aerial flight" and four Oak Leaf Clusters for "meritorious achievement in heavy bombardment missions". Mr Webber is fondly remember by his past students in Bonny Eagle, where he served for 23 years as the first principal of George E Jack Elementary School, who were represented for the first time in the tournament, in the K-8 Novice Section.
Johns' clock was ticking. He now had just over five minutes left and Rodenberger was under time pressure. Both had stopped the music in their heads. Riveted by the concentration it takes to calculate moves quickly in a pivotal game, both were like statues, eyes flitting around the board, hands darting out as the tongue of a frog might to catch a fly to move a piece and tap the clock before retracting to the safety of each players' focused stance. Looking around the growing crowd, now it was the spectators who held the tune. Perhaps this is how Richard Réti's brother Rudolph got some of his musical ideas. Most of the High School Championship section field surrounded the board, some of them swaying, some of them silently tapping toes to their own beat of the game they were all now becoming a part of in their own heads. Despite the cacophony of spectators' own personal mental boom boxes, one could have heard a pencil drop on the carpeted floor as the tension grew.
The game was drawish, but Johns needed the win. His clock ticked below five minutes and his time advantage started to slip away. Rodenberger was doing well to make his moves within the five-second delay as both players approached their final minute following over two hours of playing this one single game. There was perhaps a breakthrough if either player had more time to calculate it. As the seconds ticked by, the crowd grew stationary, echoing both players' halting of the music several minutes earlier. The tension was palpable. Both players approached 40 seconds, rarely letting a second slip from their clocks and then, all of a sudden, it was over. "Draw?" was muttered, and the players hook hands, and all stood stock still in silence. One Mississippi, two Mississippi, three Mississippi, until the crowd gathered finally caught up with the players on the board, and broke into applause.
Johns played Aidan Thomas of Cheverus, who were boards down, to a draw in the final round, his tension relieved as he shared a few light-hearted moments with his opponent. Rodenberger fell to a determined Benjamin Mock in that final round as John Bapst Memorial High School, seeking to add the Claude Webber Cup to their State Championship triumph, battled their way back into contention to leave Bapst, Cape, and Westbrook needing to have the tournament decided by the tie-break system
Meanwhile, as this symphonic three-way tie section was being played, Elementary and Middle School students from Bonny Eagle, Buxton Center, George E Jack (Standish), Windham, Gorham, Cape Elizabeth, and Falmouth schools battled for the magnificent trophies in the K-8 Novice and Championship sections. Nathan Strout of Windham Middle School scored a perfect 4 points in his first ever tournament as a Novice, and proudly lifted the Bishop traveling trophy that was awarded for that section with his teammate Riley Cirone, who himself had only dropped a point.
Kevin Lin of Bonny Eagle was the only player in the K-8 Championship to also achieve that feat. An 8th grader who accomplished the same perfect score at the Maine State Teams' Championship two weeks prior, he travels to Bangor on March 30th with his teammates, and will attempt a perfect end to an outstanding Scholastic Chess season. Lin and his Bonny Eagle Middle School teammates wrested the K-8 Championship King from the grasp of last year's winners Cape Elizabeth, as that section also finished with a tie-breaker photo finish.
Westbrook took home a first place Bishop in the High School Reserve section, and Sean White achieved a perfect score as he and Gabe Larsen held off John Bapst.
And so, three High School Championship players achieved perfect scores and will look to take this momentum to the State Individual Championships next week: Agata Sloniewska of Thornton Academy, Gavin Worcester of John Bapst, and Luke O'Kelly of Cape Elizabeth all scored 4 points, as Cape Elizabeth took home the Runner-up Pawn trophy. For Johns, however, Individuals next week will be the last hurrah for the senior, while John Bapst Memorial High School's trophy cabinet is bursting at the seams this year: the Claude E Webber Memorial Cup Champions for 2019.
And so the diminuendo follows until November when it all starts up again. Scholastic chess in the State of Maine, following Individuals, will return to the lull of quiet games played in after-school chess clubs whose numbers dwindle as the days get longer and the weather begins to allow for baseball and other outdoor pursuits to blossom. A different tune gets played for a while, until the rhythm of chess returns.

High School Champions John Bapst Memorial High School: Coach Michael Dudley with Benjamin Mock, Prince Wang, Leo Wlodkowski, Tony Huang and Gavin Worcester.

Maine Chess Association President and John Bapst Memorial High School chess coach Michael Dudley (left) accepts the first place trophy on behalf of his team from tournament director and organizer Oisin O'Searcoid.

Westbrook High School Championship and Reserve Team combined: Alec Opacic, Sebastian Johns, Gabe Larsen, Haroon Abid, Cameron Daye, Matt Hutchins. (Sean White also played.)

Bonny Eagle High School: Joshua Barrett, Cameron Boston, Curtis Pierce and Zach Brislin

High School Reserve Runner-up John Bapst Memorial High School: Khanye Cogdell with coach Michael Dudley

High School Reserve Champions Westbrook High School: Sean White and Gabe Larsen

Tyler Rodenberger (left) vs Benjamon Mock: HS Championship Round 4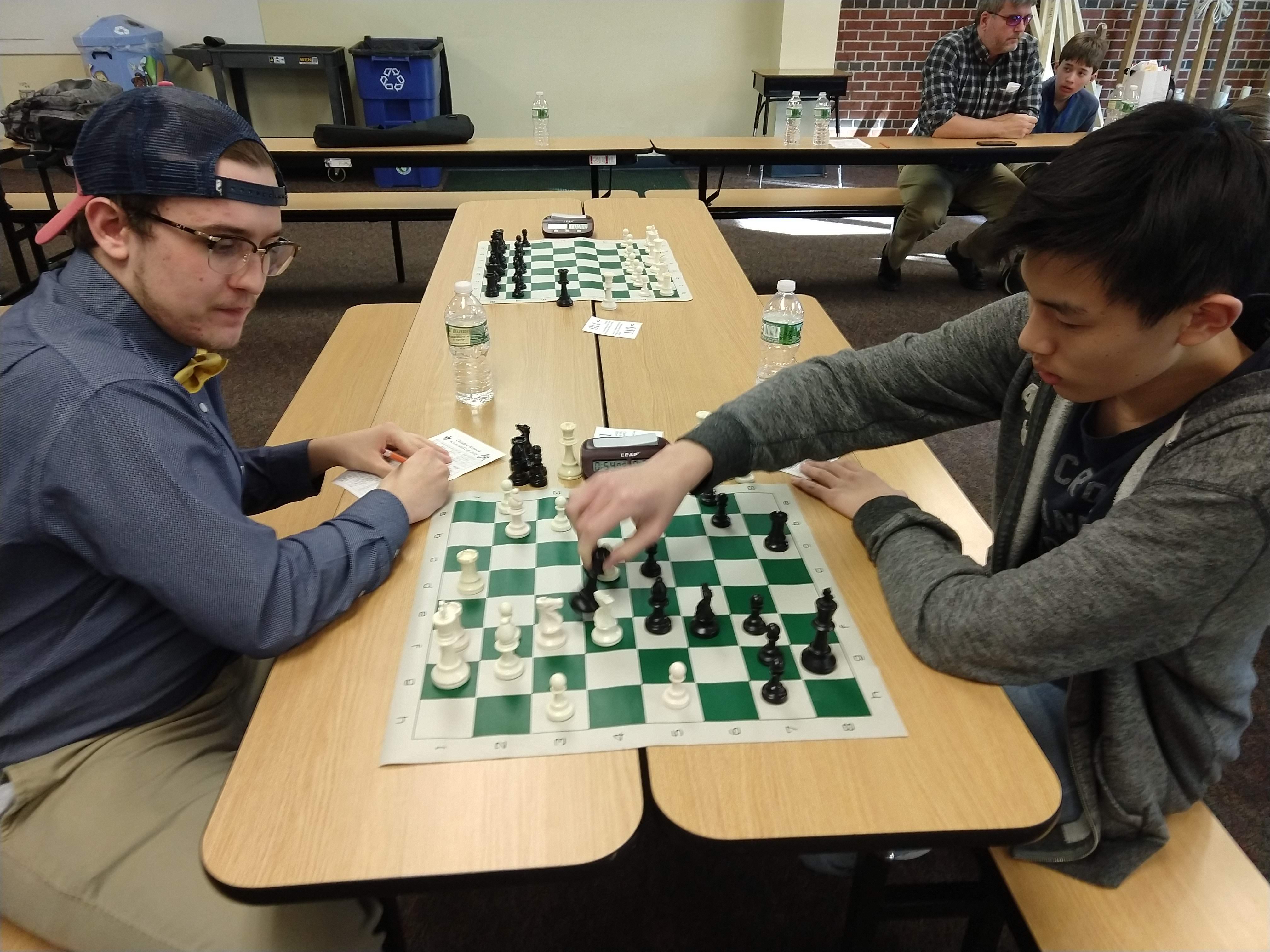 Curtis Pierce (left) vs Yuk Tat Cheng: HS Championship Round 4

Agata Sloniewska (left) vs Declan Thomas: HS Championship Round 4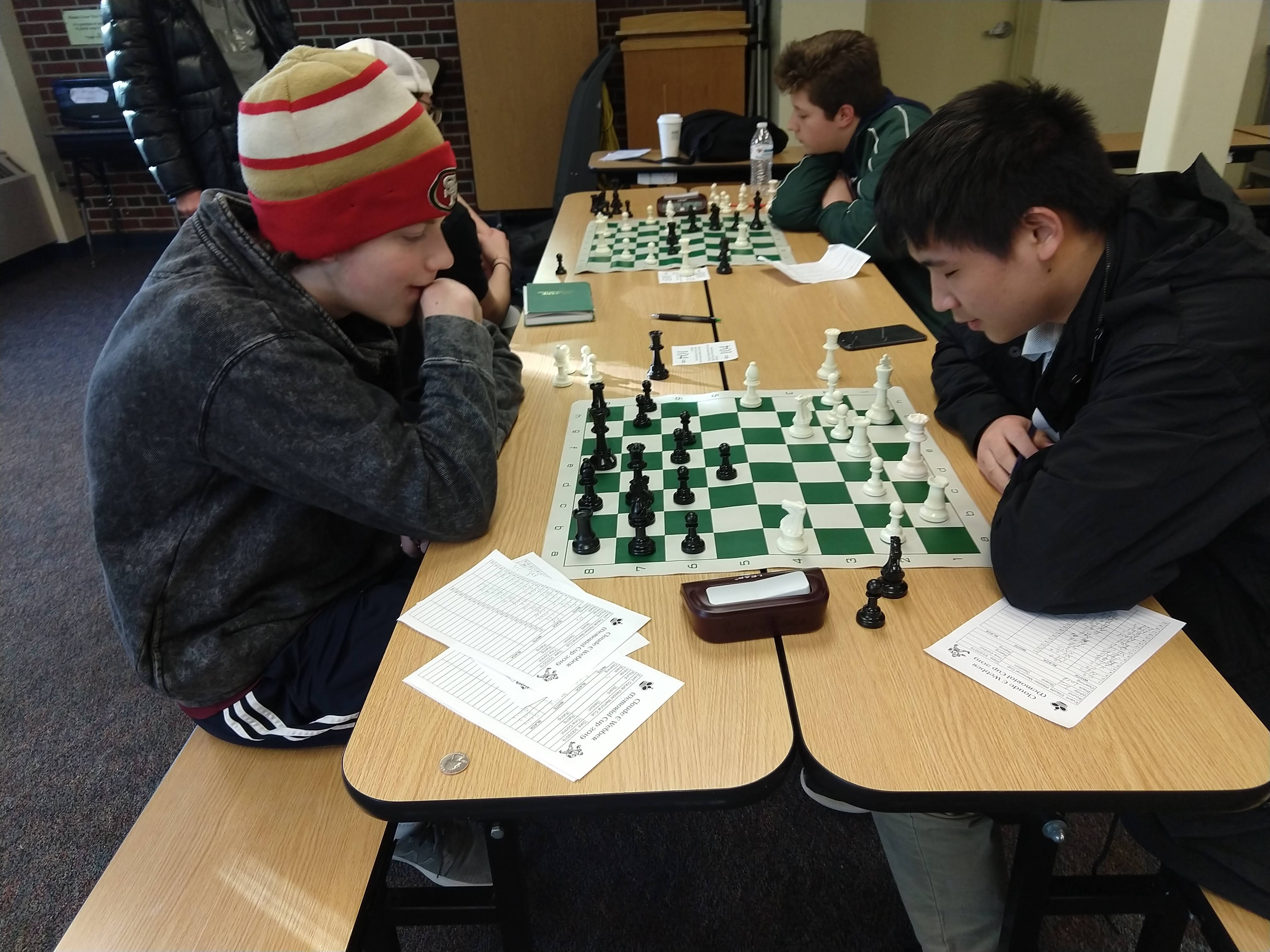 Luke O'Kelly (left) vs Tony Huang: HS Championship Round 4

Leo Wlodkowski (left) vs Marco Hansel: HS Championship Round 4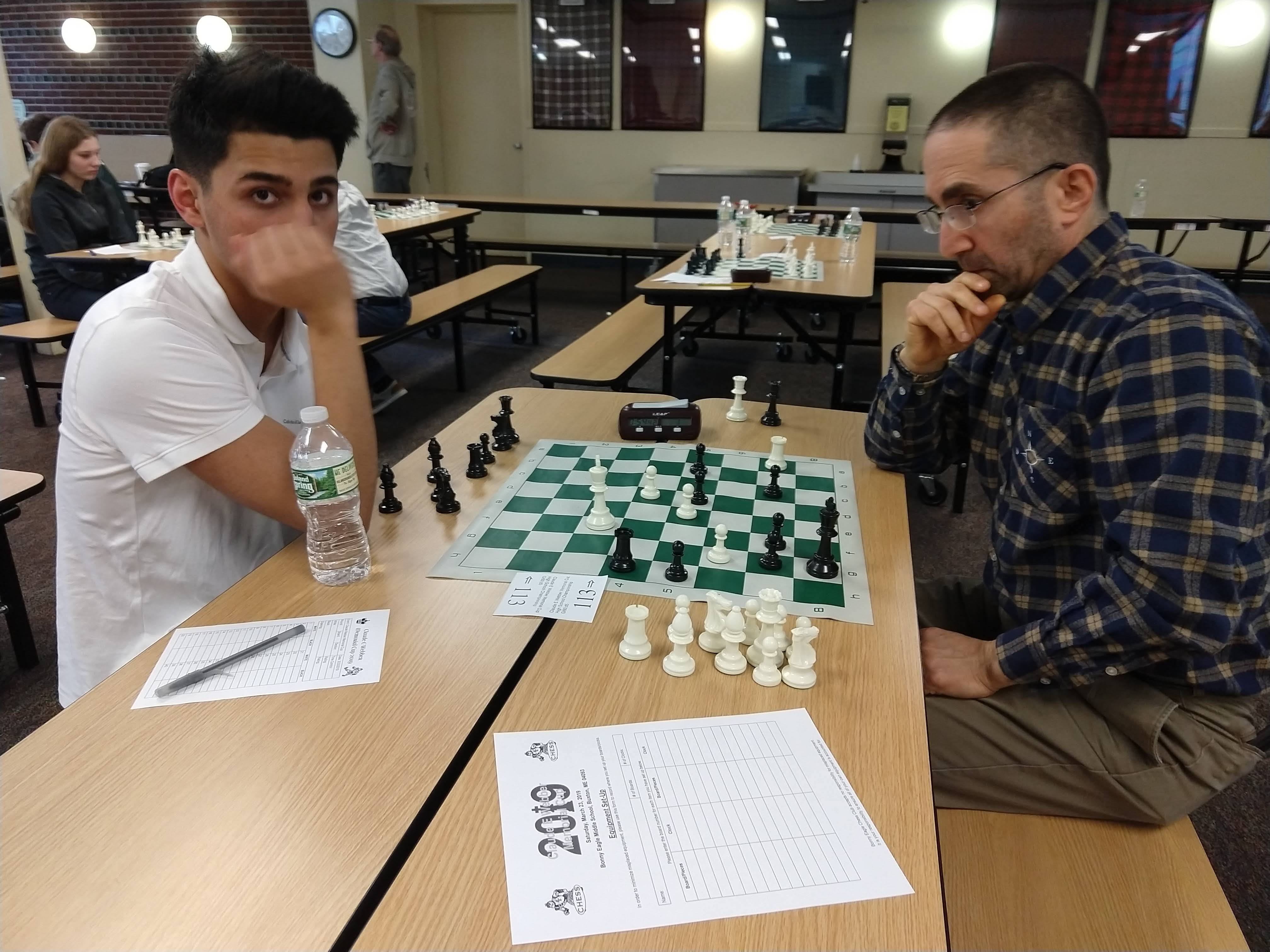 Abid Haroon (left) vs Eric Dinnerstein (House Player): Bye Extra Game, Round 4.

K-8 Championship Champions Bonny Eagle Middle School: Kevin Lin, Max Matthews, Samuel Coldwell, Joseph Vetterline and Emily Jones.

Cape Elizabeth Middle School's Noah Abbott, John Li, and Jacob Robinson

Bonny Eagle Middle School's Julia Andrews and Emily Jones discuss a position in the skittles room

Tournament Chief Director Oisin O'Searcoid working on pairings.

Bonny Eagle Middle School's Joseph Vetterline starts the clock.

Tournament Director Andrew DeMaris introduces the K-8 Novice field to Claude Webber

K-8 Novice Runner-up Buxton Center Elementary School: Brett Libby, Mason Cooper and Mason Kane

There were many learning moments in the K-8 Novice section.

K-8 Novice Champion Nathan Strout went 4-0 to help secure the Bishop for Windham Middle School.

K-8 Novice Champions Nathan Strout and Riley Cirone

Sometimes even the skittles room gets intense!

Thanks to all who helped make this tournament a great success!
---