Panther Open and Scholastic Tournament Report
02.13.19 In recent years there have been many new additions to the Maine chess tournament calendar. In its second year, the Panther Open and Scholastic played on Saturday, February 9th at Medomak Valley High School in Waldoboro attracted thirty players in four sections. Here's the illustrated tournament report with US Chess Crosstables. Our thanks to ChessMaine.net's newest photo contributor Christina Wotton for the outstanding images.
Medomak Valley High School in Waldoboro was the site of the Panther Open abd Scholastic chess tournament played on Saturday, February 9, 2019. images: Christina Wotton
Thanks to Michael Dudley and Christina Wotton for contributing to this report.
US Chess crosstable of this event
The tournament's highest-rated player Stephen Morse took first in the Open section with 2.5 points in three games. Morse's only draw was with Bach Nguyen who scored 1.5 points and finished the Open section in third place. Nathan Gates put up 2.0 points for a second place finish and Frank Hill went scoreless for fourth place.
Maine Chess Association president Michael Dudley showed he can hold his own not only in the board room but also over the board by finishing equal first in the U1600 section with Orono Middle School student Tristan Cousineau. Kaleb Pendleton trailed the leaders with 2.0 points and sole third. Frank Collemer and Ben Penfold shared forth place with 1.0 point and John Jones rounded out the crosstable.
Jeffery Merckens rose to the top of the eight-person U1200 section with a perfect 4.0 points in four games. Tobias Coffey and Prince Wang were close behind the leader with 3.0 points and equal second place. Kenneth Park scored 2.0 points for sole fourth place.
In the tournament's largest section, the U800, a four-way tie for first ensued between Johan Brages, Leo Wlodkowski, Rylee Eaton, and Jordan Fowler all who put up 3.0 points. Tied for fifth with 2.0 points were: Jacob McPhee, David Wilcox, and Ariel, Larrabee.
Thanks to all who made this tournament a great success!

The Open and U1600 sections: Kaleb Pendleton against Ben Penfold (background right), Nathan Gates and Bach Nguyen (background left), John Jones versus Tristan Cousineau (foreground left), and Michael Dudley versus Frank Collemer (foreground right).

The U800 section in Round 1.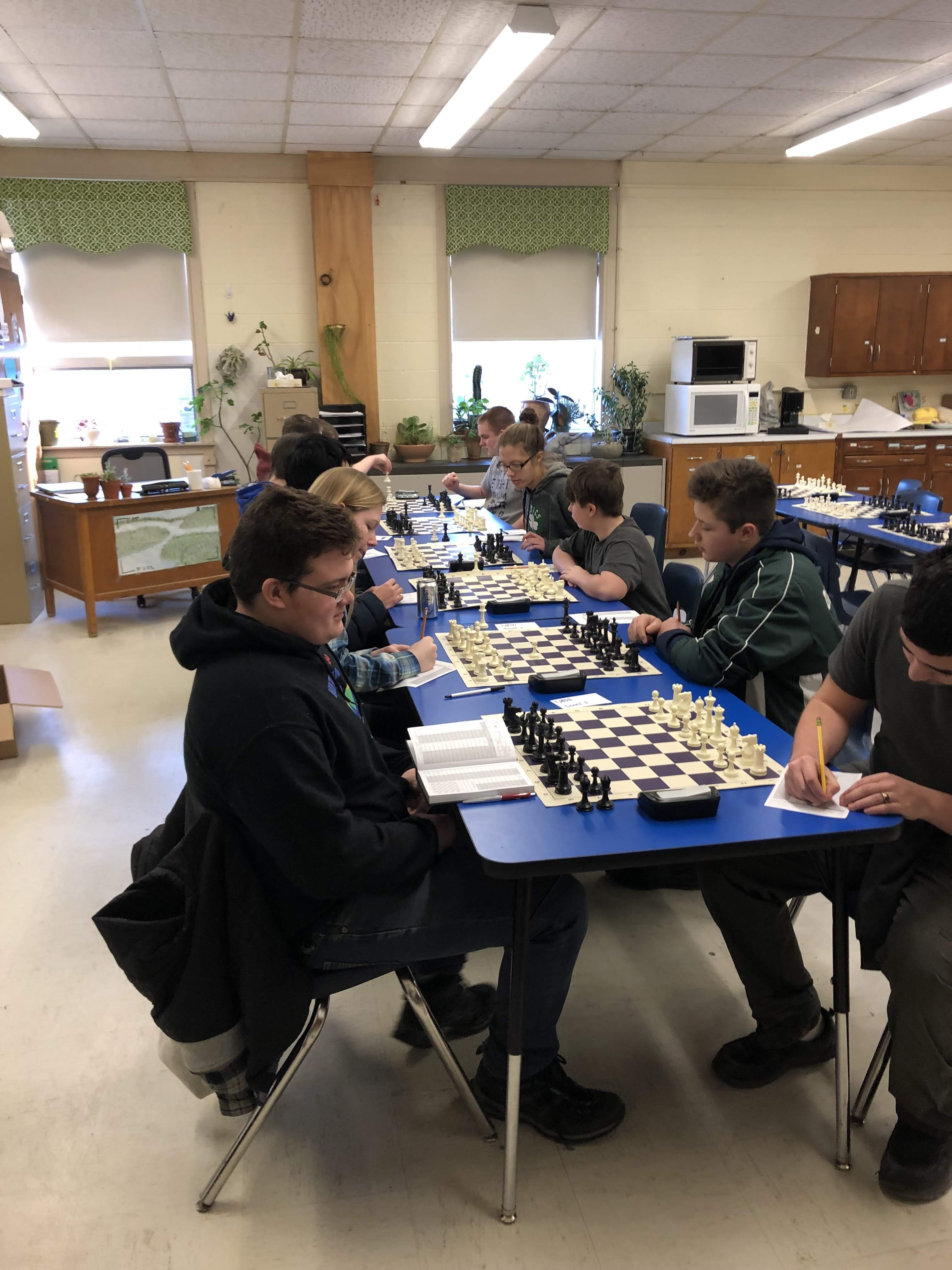 The U800 section

Players in the U800 section begin their Round 2 games.

Keith Hill, MVHS chess coach, looks on as his players compete in the U800 section.

Emily Wotton and Joshua Baker square off in Round 2 of the U800.

Emily Wotton vs Huy Nguyen in Round 3 while Jorden Fowler observes.

Frank Hill (left) and Stephen Morse square off in the Open section.

Tobias Coffey takes on Kenneth Park in the U1200 section.

Dylan Wright and Josh Baker capping the U800 tables!

Leo Wlodkowski (in Dartmouth jacket) faces Jakob McPhee in the U800 section.

John Jones (right) plays Tristan Cousineau in the U1600 section.

Nathan Gates (right) and Bach Nguyen in the Open section.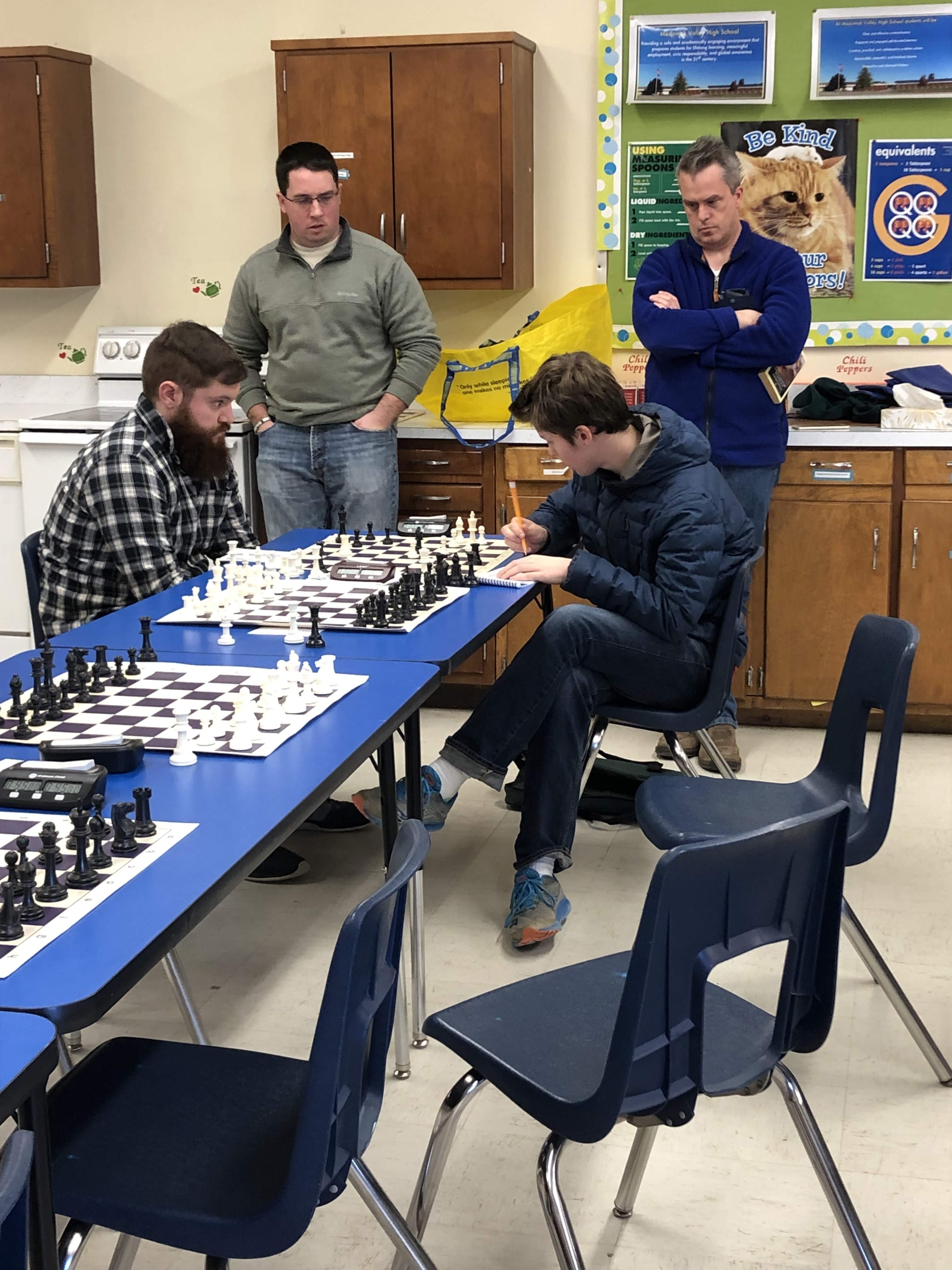 Tobias Coffey (right) and Jeffery Merckens play in the U1200 section under the watchful eye of two tournament spectators.

Kaleb Pendleton (lefy) on his way to an upset victory over Frank Collemer.

Ariel Larrabee waits for her opponent to return to the board in the U800 section.

The Medomak Valley Panther Chess Club, from right to left: Coach Keith Hill, Jorden Fowler, Kaleb Pendleton, Jakob McPhee, Emily Wotton, and Zack Simone.

Leo Wlodkowski of John Bapst Memorial High School (with tournament director Michael Dudley) finished third in the U800 section.

Jorden Fowler of Medomak Valley receives his prize!

Jonah Brages is congratulated by MECA president and tournament director Michael Dudley for his first place victory in the U800 section.

The U800 contingent

Five of the eight U1200 competitors: (from the left) Owen Maguire, Kenneth Park, Tobias Coffey, Jeffrey Merckens, Prince Wang.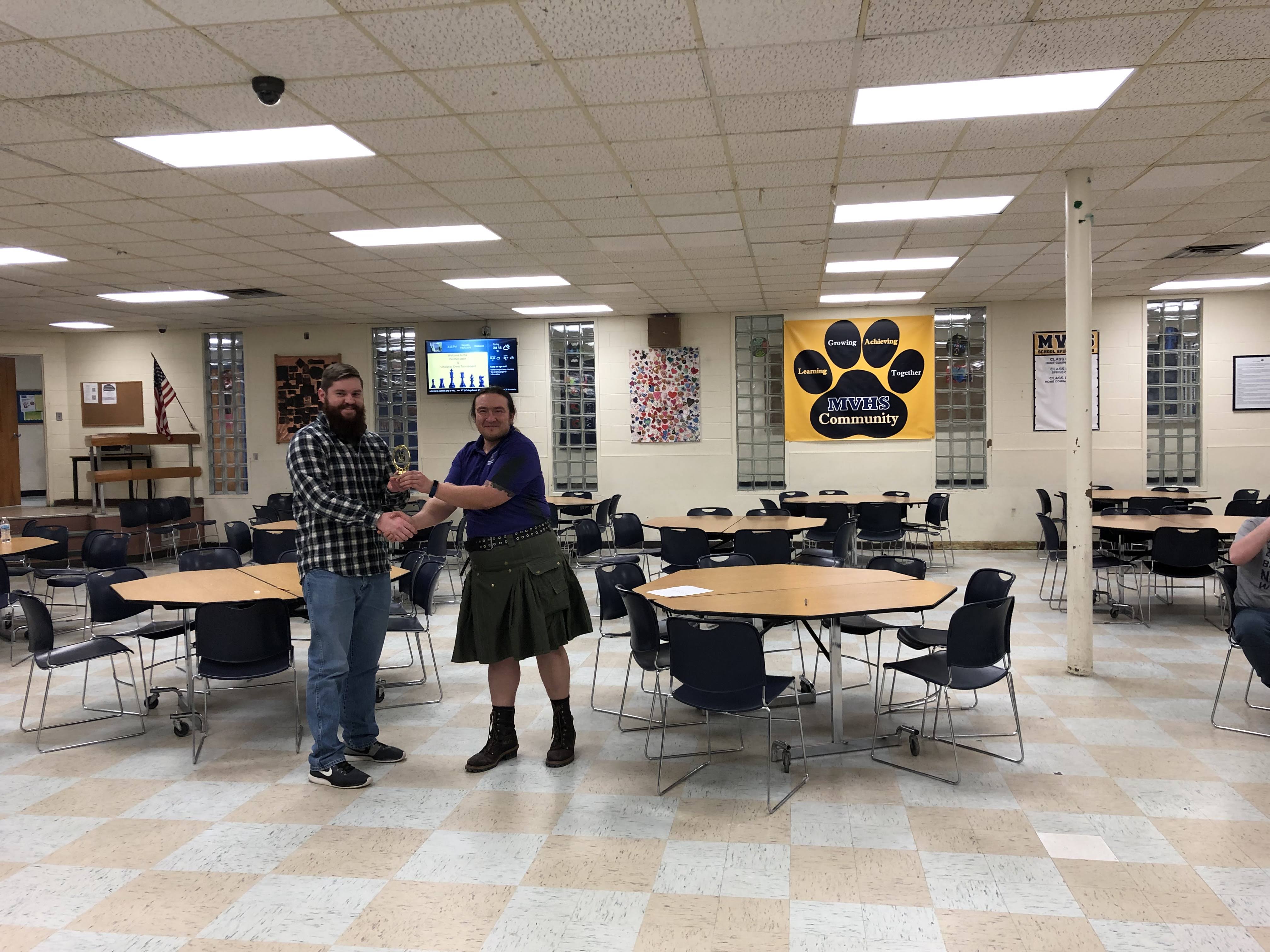 Congratulations to Jeffery Merckens for a perfect score in the U1200 section.

Alexander Alekhine famously had a cat named chess. Do we have any mascot name suggestions for this little creature?
---