Lincolnville Central School Tournament Report
02.10.19 The Second Annual Lincolnville Central School Scholastic Chess Tournament was held on Sunday, February 10th. Thirty-five scholastic players in grades K-6 participated in three sections. Section winners were: Rohan Joseph (K-6), Maggie Harbaugh (K-3), and Oren Hurley (K-1). Here's the illustrated tournament report with US Chess Crosstables.
Thirty-five players participated in the Lincolnville Central School Chess Tournament on Sunday, February 10th.
US Chess crosstable of this event
Thanks to all who participated in this four-round scholastic chess event, their parents, coaches, and drivers. Thanks also to Lincolnville Central School for hosting and to Bruce Haffner for organizing.
Rohan Joseph went four-for-four in the K-6 section to take clear first place. He was trailed by three players who put up 3.0 points: Sawyer Rooney, Benjamin Allen, and Thomas Pickford.
In the K-3 section, Maggie Harbaugh went unbeaten with 3.5 points in four rounds. Jack O'Brien and Miles Kaplan scored 3.0 points to tie for second. Forth place was shared by Lily Fishman, Avery Adams, and Alexander Miller.
Oren Hurley won the K-1 section with 4.0 points. Clara Harbaugh took second with 3.0 points and Devon Skrivanich finished in clear third with 2.0 points.

Rohan Joseph won the K-6 section with 4.0 points.

Sawyer Rooney took equal second in the K-6 section in his first US Chess rated tournament along with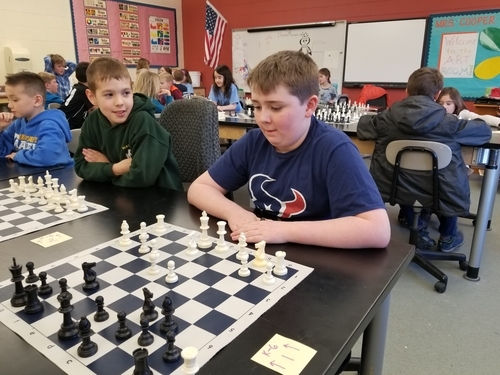 Benjamin Allen and

Thomas Pickford.

Justin Massey scored 2.5 points to share fifth place with

Walter Field.

Zachary Egeland

Sophia Skrivanich

Mason Moody

Reilly Newton

Ward Morrison

Kayden Rogers

Maggie O'Brien

Alana Smith

The K-6 players celebrate after the tournament.

And the K-6 parents document the moment.

A view of the tournament room.

Maggie Harbaugh won the K-3 section with 3.5 points.

Jack O'Brien scored 3.0 points and tied for second place with

Miles Kaplan.

Lily Fishman was in the 2.5 point group with

Avery Adams and

Alexander Miller.

Ray Beach

Grant Morrison

Hector Clayton

Anneka Egeland

Andy O'Brien

Sam Blystone

Evan Senders

Emmett Milliken

The dreaded King and Queen vs King stalemate reared its head many times in this tournament. If you would like to know a fairly simple and straightforward way to teach kids this mate in four steps email me.

The K-3 contingent

Oren Hurley won the K-1 section with 4.0 points.

Clara Harbaugh put up 3.0 points and took sole second.

Devon Skrivanich scored 2.0 points and finished in third place.

Tess Russell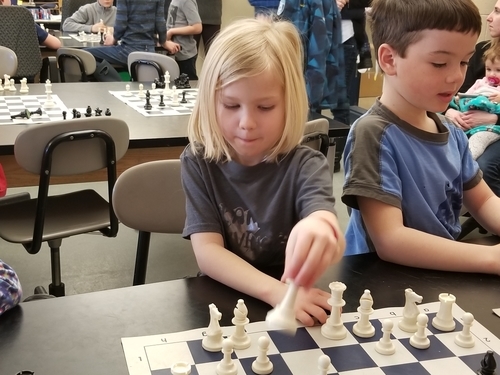 Eva Hurley

William Kaplan

The K-1 players with their awards.

Thanks to all the hard-working parents who assembled trophies!

Thanks also to tournament organizer Bruce Haffner.

We look forward to seeing you back for the Third Annual Lincolnville Central School Chess Tournament.
---