Puerto Rico Travelogue
01.07.19 In the heart of the Caribbean nestled between the Dominican Republic and the British Virgin Islands lies the beautiful Island of Puerto Rico. Over the holidays, we took a break from the Maine winter and visited the Island of Enchantment. A little more than a year after Hurricane Maria wreaked havoc in Puerto Rico, the island is still rebounding.
The Shining Star of the Caribbean, Puerto Rico is back and more beautiful than ever.
Nearly sixteen months after Hurricane Maria, the recovery status accross Puerto Rico has been described as uneven. We stayed on the extreme west coast of the island in the town of Rincon which appeared to be back to almost normal. Some interior section of Puerto Rico, however, are still in the process of rebuilding roads, buildings, and utilities.
The Puerto Rican government is encouraging travelers to visit as a way to bring commerce and assist with recovery efforts. If you have been considering a Caribbean vacation, now is the time. We can highly recommend Puerto Rico, the people, culture, food, and natural resources are all absolutely beautiful.
We made contact with Mr. Christobal Vega, Director of the Puerto Rico Chess Academy in Guaynabo. Unfortunately for us, the Academy was closed for the holiday break. Nevertheless, we scouted out some chess activity and hot spots and made a donation of chess sets, roll-up boards, and bags to the children of Rincon from the children of Maine.
We hope you enjoy this illustrated travelogue of our adventures in Puerto Rico.

Nestled in the heart of the Caribbean is the beautiful Island of Puerto Rico.

A closer look at the island and our base of operations on the west coast: Rincon.

We bypassed the major international airport in San Juan in favor of landing at Rafael Hernandez Airport in Aguadilla, just a short drive from Rincon.

It all starts in Rincon, Puerto Rico, the westernmost town on the island.

Rincon is known for many things, one of which is its status as the surf capital of the Caribbean.

Just up from the beach and adjacent to downtown Rincon is the International Surfing Walk of Fame.

The Walk of Fame honors great surfers of the past including Jose Rodriguez and

Jorge Machuca.

This statue stands in the center of town welcoming visitors to Rincon.

Pristine beaches with aqua-blue water and big surf make Rincon a popular destination.

Route 413, also known as The Road to Happiness, takes you around the peninsula of Rincon to many of the best surf breaks on the island.

At Maria's beach, RD2H (Road 2 Happiness) rents surfboards and paddleboards.

After a quick on-land surf lesson...

it's out to the break to try their luck.

Just south along the coast from Maria's beach is the popular hangout of Steps Beach.

Which has a lunch spot with tables perfect for an outside game of chess.

While waiting for your lunch order or waiting for surf's up you can get a few games in.

One of their specialties is fresh coconut juice.

But you need a machete to get through the shell and at the juice.

North of Maria's beach you will find a great surf beach at the site of a decommissioned nuclear reactor. Surfers have dubbed this beach Domes in honor of the massive nuclear dome that looks like something out of Lost in Space.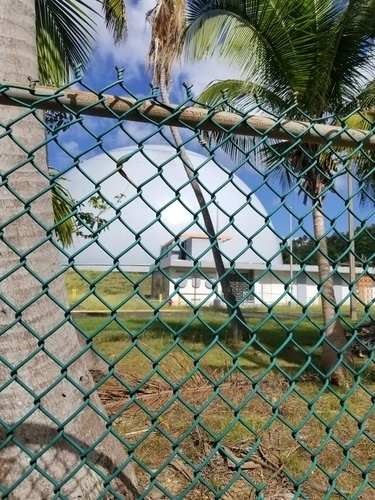 The dome is now fenced off with no admittance.

Further up the coast is the beach town of Aguadilla.

Where snorkeling is very popular as well as

taking a ride in a traditional Puerto Rican boat.

On Thursdays in the central park in Rincon, artists, craftspeople, and musicians come out to display their creations, and to sing, dance, and have a good time.

The Art Walk, as it is called, offers henna tattoos,

creative pieces of art,

natural foods and juices, and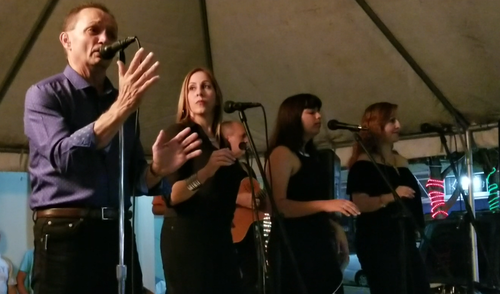 music of all kinds.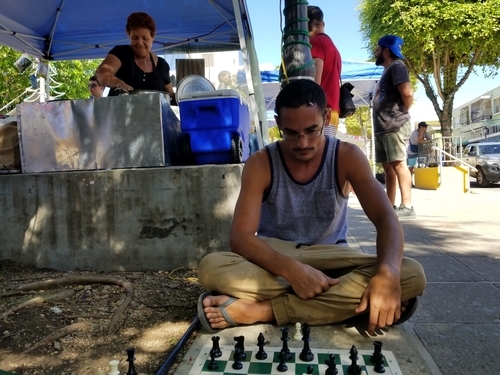 That's where we ran into Eddie, a strong player and organizer who has been trying to get a chess club going at a local church.

Eddie introduced us to Jay Robinson a native of Pittsburg who has been living in Puerto Rico for upwards of three decades. Jay was very grateful and appreciative to receive some new chess equipment for the chess players of Rincon.

Jay, in turn, introduced us to his son Booker a sixteen-year-old homeschooled student with a passion for chess.

After we set up a board in Rincon's Central Park, a la Harvard Square, this curious beginner came over after receiving some encouragement from her mother. My young opponent searched this position for the winning move 1.e6 which she eventually found. When the e-pawn promoted, her smile could have lit up the entire town.

Mr. Christobal Vega is the Director of the Puerto Rico Chess Academy in Guaynabo as well as a FIDE International Arbiter and National Instructor.

Candidate Master Jonathan Torres Santiago, here giving a chess lesson at the San Juan Library, is the Director of Ajedrez Para Todos - APT (Chess for All) in San Juan.

Just two weeks before we arrived, former Puerto Rico Chess Champion and captain of the 2018 Puerto Rican Women's Team at the 43rd World Chess Olympiad in Batumi, Georgia, Donato Rivera gave a lecture in which he highlighted one of his victories over former World Champion Anatoly Karpov.

Jonathan Torres offers classes for children and adults at all levels as part of his work with Ajedrez para Todos.

It's our hope that with continued contact and support the Rincon Chess Club can be established. We will keep you posted.

Venturing into the interior of the island, we embarked on a river cave spelunking expedition. Tamar is a Puerto Rican indigenous language word meaning butterfly or mariposa in Spanish.

One of our guides mentioned that chess was available as an elective at his high school in Utuado, Puerto Rico as well as many other schools accross the island.

After driving to a remote location, we hiked into the wilderness.

Passing wild plantains,

bananas,

papayas,

and grapefruit trees.

We crossed over a river,

and then it was time to enter the cave.

We floated through a 300 meter long cave

with walls made of an interesting collection of minerals.

And passed right through to the other side.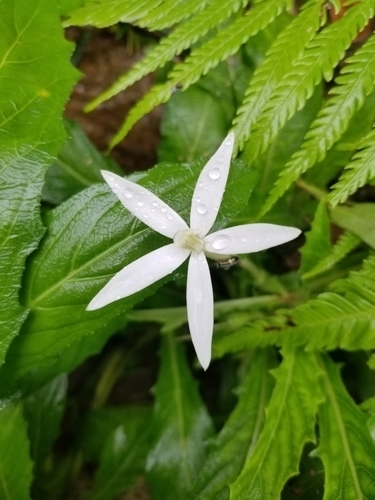 With temperatures in the mid eighties and flowers all around, it was difficult to remember that it was the beginning of January.

The forest was teeming with life. Can you spot the spider?

Returning to Rincon hungry from our wilderness expedition we treated ourselves to some fine local cuisine of fish tacos,

fried plantains,

grilled mahi mahi,

and an interesting traditional Puerto Rican dish called mamposteado.

Looking west at sunrise you can spot Desecheo Island an uninhabited island with a protected marine reserve.

As the sun rises, folks come out for their morning routines of exercise,

yoga,

and drinking good coffee. Hands down the best coffee in Rincon can be found at the outdoor cafe called Cafe 2 Go at the corner of 413 and Cambija Ave.

In addition to great coffee, Cafe 2 Go also offers fresh fruit smoothies, breakfast burritos, and empanadillas.

The atmosphere is very laid back and if there are any issues the staff can offer this response.

Chillin' at Cafe 2 Go we were honored to meet the 1974 Pro Am World Surfing Champion Reno Abellira.

Here's Reno in 1974, the year he won the surfing world championship, riding a massive wave in Waimea Bay on the north shore of Oahu, Hawaii.

On the way to the beach from our Airbnb house we often ran into island critters.

A closer look.

And even closer.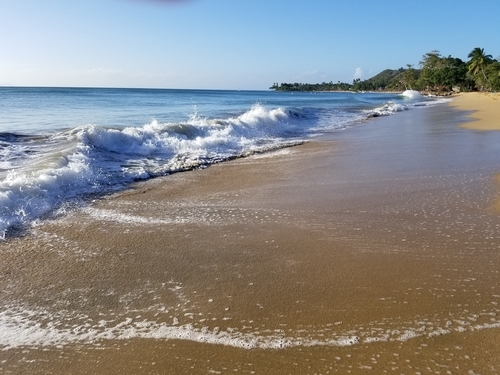 We had a great time in Puerto Rico. When our time was up it was hard to leave.

Adios Puerto Rico!
---