BIS #14 Tournament Report
12.22.18 The fourteenth edition of the Bapst Impromptu Swiss Tournament took place at John Bapst Memorial High School in Bangor on Thursday, December 22, 2018. The three-round, G/25, d5 tournament attracted eleven players. Wyatt Hendrix took clear first with an unbeaten and untied 3.0 points. Trailing the leader were Ben Amar and Nathan Gates who shared second with 2.5 points apiece. Here's the illustrated tournament report with U.S. Chess crosstable.
Tournament winner Wyatt Hendrix (left) plays Ben Mock in the final round of the Bapst Impromptu Tournament #14 played on Thursday, December 20, 2018 at Joh Bapst Memorial High School as Dean Astumian looks on.
Thanks to Mike Dudley for contributing to this report.
US Chess crosstable of this event
Players with U.S. Chess ratings ranging from 1908 to 393 participated in the 14th Bapst Impromptu Swiss, a mid-week opportunity to play rated, rapid chess in the heart of Bangor.
When the dust settled, newly elected Maine Chess Association Treasurer Wyatt Hendrix came away with 3.0 points and clear first place. Just off the winner's pace were Ben Amar and Nathan Gates who put up 2.5 points. Ben Mock and Tobias Coffey shared equal fourth with 2.0 points. The one-point getters included: Dean Astumian, Joseph Astumian, and Minh Nguyen. Elisabeth Mock, Mike Dudley, and Gavin Worcester rounded out the field.
Thanks to MECA president Mike Dudley (who celebrated his 35th birthday on the day of the tournament) for organizing and directing this event and to all who participated.

Action in the second round of the Bapst Impromtu #14 tournament.

Current Maine High School Individual Champion J.J. Astumian (left) plays Wyatt Hendrix in round two.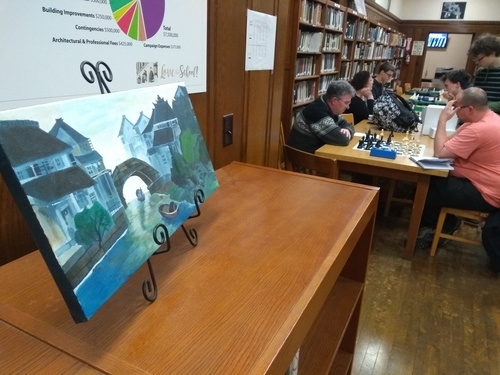 The library at John Bapst Memorial High School is a pleasant place to play chess for many reasons not the least of which is a constant revolving art exhibit.

Nathan Gates (background right) takes on Minh Nguyen while Ben Amar (forground right) plays J.J. Astumian.

---