14th Annual Aurora Winter Solstice Tournament Report
12.08.18 Fifty-nine players competed in five sections at the 14th Annual Aurora Winter Solstice tournament held on Saturday, December 8th at the Airline Community School in Aurora. The winners were: Nathan Gates (Open), Tristan Cousineau (U1600), Ben Penfold (U1200), Kenneth Park (U800), and Jacob Van de Sande (U400). Here's the illustrated tournament report with US Chess crosstables.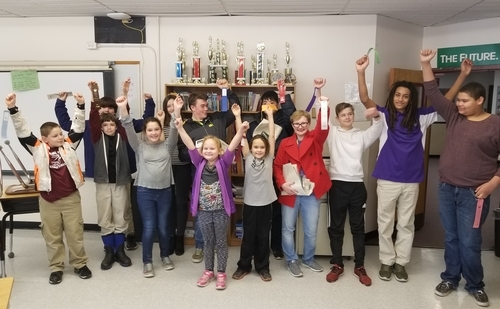 Players in the U400 section celebrate during the prize-giving ceremony at the Aurora Winter Solstice tournament on Saturday, December 8, 2018.
US Chess crosstable of this event
Just three players short of the record participation for this event, which occurred in 2015, fifty-nine intrepid chess players ventured to the tiny hamlet of Aurora, Maine in Hancock County and the Airline Community School on a bright and cold December morning.
Nathan Gates won the Open section with two wins and a draw for 2.5 points. Just off the leader's pace was Wyatt Hendrix who scored 2.0 points for sole second place. Bill Hartt and Dr. Pavel Sulyandziga finished equal third with 1.5 points and Tommy Owen and Michael Dudley rounded out the section with 1.0 and 0.5 points respectively for fifth and sixth.
The up-and-coming and very talented player from Orono Middle School, Tristan Cousineau, won the U1600 with a perfect score of 3.0 points. Eric Dinnerstein (2.0), Tony Freudig (1.0), and Zachary Grindal (0.0) finished second through fourth.
Deer Isle-Stonington talent Ben Penfold led the ten-player U1200 section with 3.5 points. Kaleb Pendleton and William Xu shared equal second place putting up 3.0 points. David Glidden, playing in his first US Chess rated tournament, scored 2.0 points which was good for equal forth with Zachary Breslin.
Kenneth Park blanked all comers in the U800 section, the tournament's largest.. Park scored a perfect 4.0 points in as many games for clear first. Tobias Coffey and Leo Wlodkowski were just half a point behind the leader and shared second with 3.5 points apiece. Ian Villmore, who coaches chess at Maine Central Institute, was one of four players tying for forth place with 3.0 points. The others were: Jonah Brages, Tommy Huang, and Aleksei Sulyandziga.
Hometown favorite and Airline Community School student Jacob Van de Sande took first in the U400 section with 3.5 points. Huy Nguyen and Brooke Laplant split second place with 3.0 points. This section contained many players entering a rated tournament for the first time. Congratulations to them!
We look forward to seeing players back at the 15th Annual Aurora Winter Solstice on December 7th, 2019!
Thanks to all who helped make this tournament a great success.

Out in front: Nathan Gates won the Open section with 2.5 points.

Wyatt Hendrix scored a nice final-round win to finish in sole second.

Predicting a bright future for this young man: Hermon High School Junior Bill Hartt.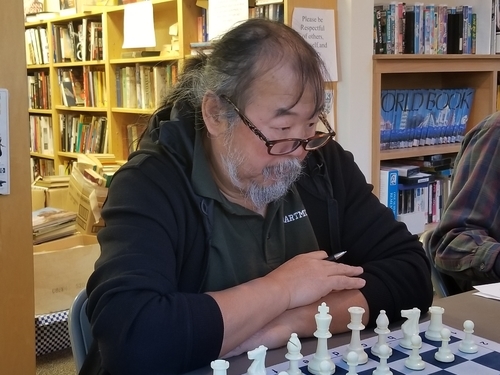 Personal friend of former World Champion Boris Spassky, Dr. Pavel Sulyandziga honored us with his presence.

Playing up: the section's lowest rated player, Tommy Owen, decided to take on the challenge of the Open section.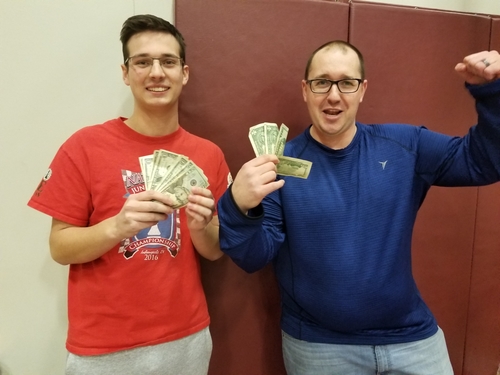 There was some prize money to be had in the Open section as Wyatt Hendrix (left) and Nathan Gates can attest to.

Middle school rising star, and winner of the U1600 section, Tristan Cousineau.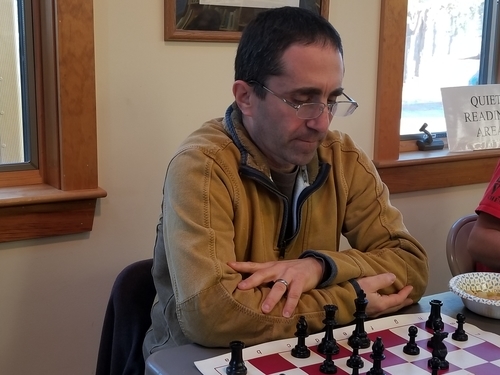 Eric Dinnerstein made the long trek up to Aurora from Cape Elizabeth.

Happy to be playing chess: Tony Freudig

Former Airline Community School student Zachary Grindal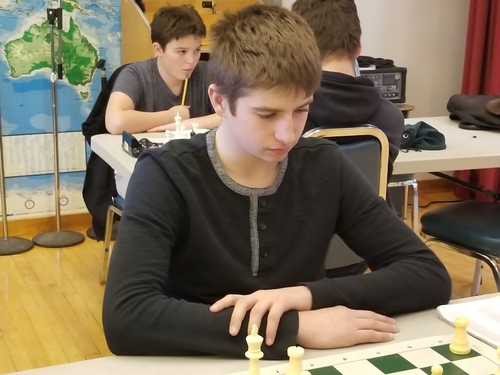 First in the U1200 section: Ben Penfold

Always in the running: Kaleb Pendleton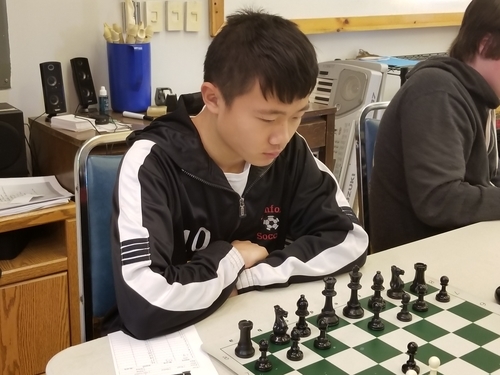 Bangor High School's William Xu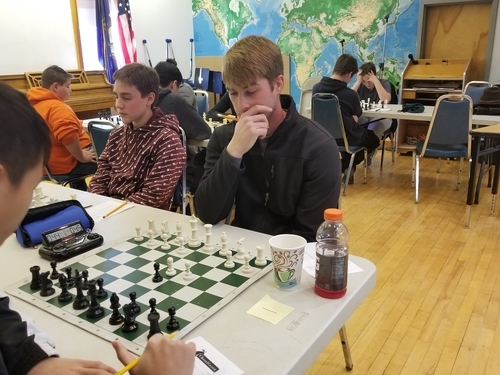 Playing in his first US Chess rated tournament: David Glidden

Zachary Brislin

Isaac Dinnerstein

John Bapst Memorial High School's Minh Nguyen

Henry Abrahamsen

Back to his alma mater: Cyrus Grindal

The U1200 section in action

Maine Chess Association Treasurer Shannon Levesque plays in the U1200 section.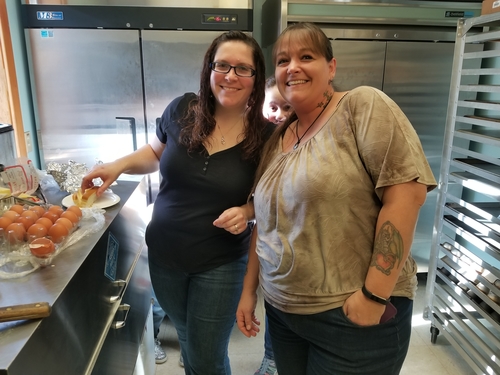 A big thank you to the kitchen crew! Mallory Wells (left) and Samantha Grindal

Just a few of the incredible assortment of homemade goodies available from the snack bar.

The U1200 contingent

First in the U800 section: Kenneth Park

Tobias Coffey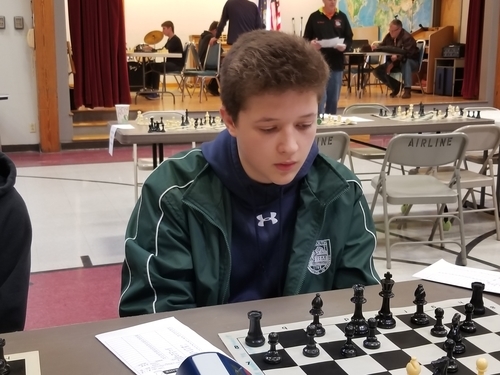 Leonid Wlodkowski

Maine Central Institute chess coach Ian Villmore

Deer Isle-Stonington's Jonah Brages

Tony Huang

Aleksei Sulyandziga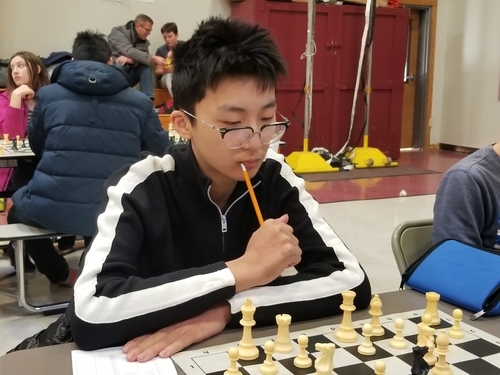 Prince Wang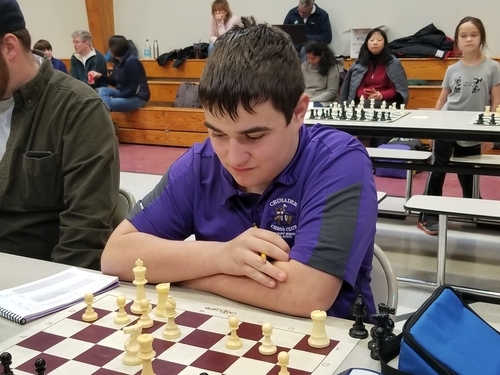 Devon Hunter

Mason Woodman

Zack Simone

Ebba Hidestrand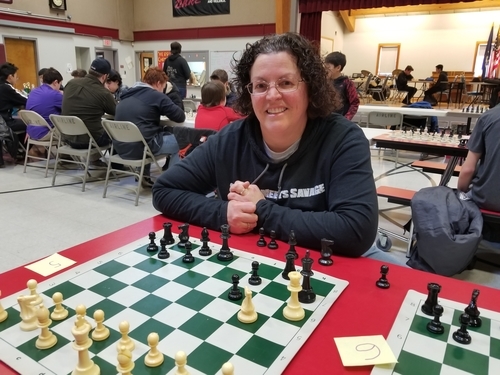 Elisabeth Mock

Airline Community School's Brady Smith

Tommy Hutchinson

Wyatt Eaton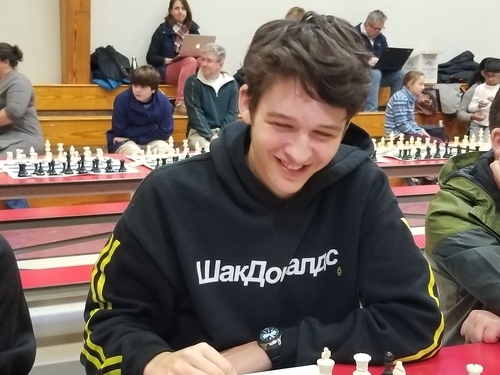 Joseph Moores

Jason Weaver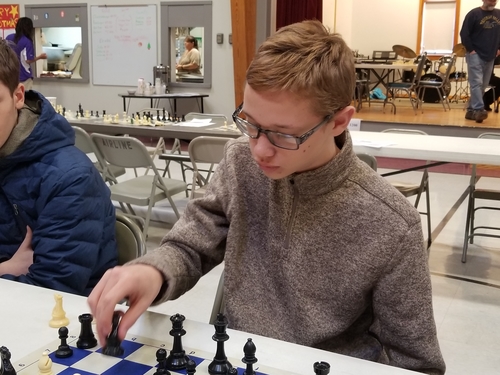 Alexander Keene

Henry Penfold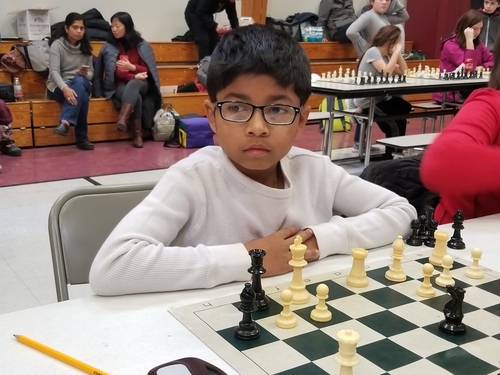 Surya Vel in a tough position but the question remains how did this position come about?

Porter Hubbard representing John Bapst Memorial High School

Dakota Brown

Thomas Ulrickson

Samantha Cox

Alexander Cox

That's a lot of chess!

U800 section players brave the artic temperatures!

Maine Chess Association president Mike Dudley (left) and past president Andy Bryan

Machais Memorial High School chess coach Michael Henry

Check out that cool logo!

Winner of the U400 section: Jacob Van de Sande

Huy Nguyen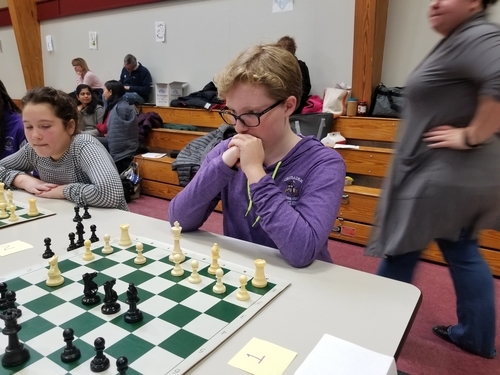 Brook Laplant

Abby Green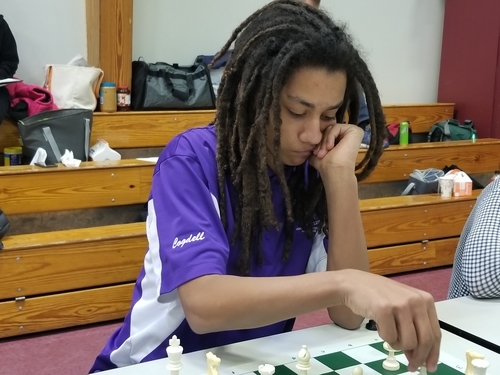 Khanye Cogdell

Hannah Wells

Daniel Green

Santiago Schrunder

Tyler McGoldrick

Alex Green

Ayden Brown

D'lila Grindal

Gabby Grindal

Fun on the big set

Until next time!
---