We Survived! Tournament Report
11.24.18 On the way to the November 2018 Houlton Open, five Bangor-area players drove off an ice and snow covered road in Old Town, Maine. Unable to travel to the tournament but undaunted, they decided to create their own impromptu tournament at John Bapst Memorial High School in Bangor. The tournament was dubbed We Survived! Here's the tournament report with a few photos and US Chess crosstable.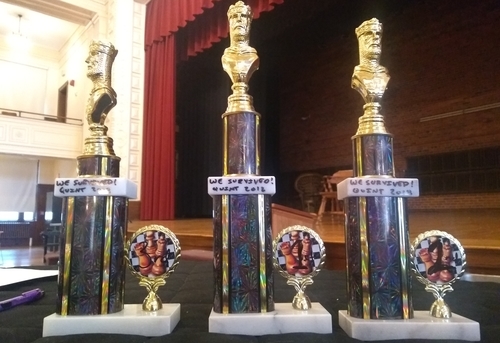 These trophies, hand written on with a Sharpie marker, were offered as prizes at the We Survived! Tournament played in Bangor on Saturday, November 17, 2018.
Thanks to Michael Dudley for contributing to this report.
US Chess crosstable of this event
Replay games from this event here.
Seemingly unaffected by the near miss, Wyatt Hendrix scored a perfect 4.0 points in four games. Trailing the leader was a three-way tie for second place between Ben Mock, Nathan Gates, and Michael Dudley. In fifth was Tristan Cousineau who went scoreless on the day.
With gratitude for the players' safety, we offer heartfelt congratulations to these intrepid warriors of the chessboard--and the road.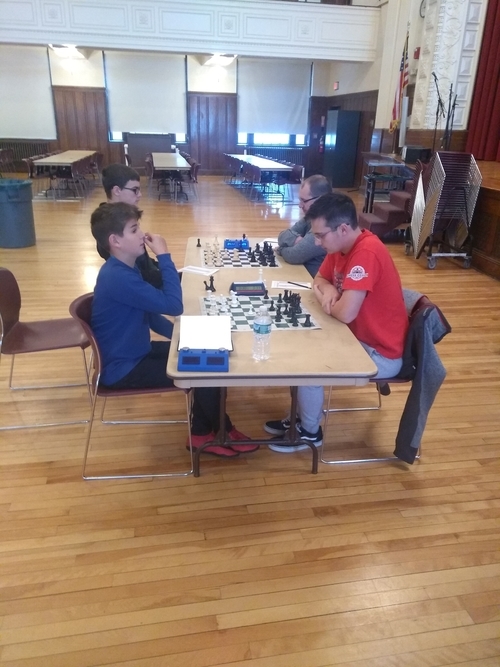 Tristan Cousineau (left) plays Wyatt Hendrix while Ben Mock (left) plays Nathan gates in the background.

Thanks to John Bapst Memorial High School for their continued support of chess in Maine and for their willingness to host this quickly arranged tournament.
---