Remembering Kristallnacht Eighty Years Later
11.09.18 On the night of November 9, 1938 the deliberate persecution against Jews throughout Nazi Germany reached the point of physical beatings, incarceration, and murder. Kristallnacht, or the Night of Broken Glass, is often referred to as the beginning of the Holocaust. On the eightieth anniversary of Kristallnacht, Holocaust survivor and Portland-area chess player Charles Rotmil spoke at the Holocaust and Human Right Center of Maine in Augusta to remember this tragic chapter in human history.
Children of the Holocaust is one of the many educational exhibits at the Holocaust and Human Rights Center of Maine located on the campus of the University of Maine at Augusta.
Shenna Bellows, the executive director of the Holocaust and Human Rights Center of Maine, began the Kristallnacht program by welcoming honored guests Edith Pagelson and Charles Rotmil, and all who were in attendance including many high school students. Bellows described the events of November 9-10, 1938 as a turning point when prejudice and discrimination turned to violence and reminded us of our responsibility to confront discrimination wherever it occurs.
Edith Pagelson was twelve-years-old when her father returned home and told her that she wasn't to go to school that day because her school which was in a synagogue was burned down. Shortly thereafter SS guards entered her house and took her father away. He was sent to Buchenwald concentration camp. She said that these things she will never get out of her mind as they were her first experience of terror. Edith is the author of Against All Odds: A Miracle of Holocaust Survival
Charles Rotmil shared that it took him 30 years to go back to Europe after he escaped during World War II. He retold stories of being questioned by SS guards with a gun pointed in his face and how his father was arrested and sent to Auschwitz concentration camp where he perished. Charles ended his moving presentation with a piece by Beethoven that he played on harmonica.
On Wednesday, November 7th Charles told his story to a group of students at the Holocaust and Human Rights Center of Maine. Maine Public Broadcasting Network did a piece on his presentation that you can read and listen to here:
"The Past Dwells In Me"--Holocaust Survivors Share Their Stories With A New Generation

The exterior of the Holocaust and Human Rights Center of Maine

The Center was filled with visitors for the Kristallnacht presentations.

November 9, 2018 marks the eightieth anniversary of the Night of Broken Glass.

Shenna Bellows, the executive director of the Holocaust and Human Rights Center of Maine speaks about the Pyramid of Hate as not something theoretical but something that is very real.

Shenna Bellows shows news clippings from the Bangor Daily News and Portland Press Herald describing the events of November 9-10, 1938 in Germany.

A high school student shatters a plate of glass in remembrance of Kristallnacht.

And then places broken glass on The Tree of Life.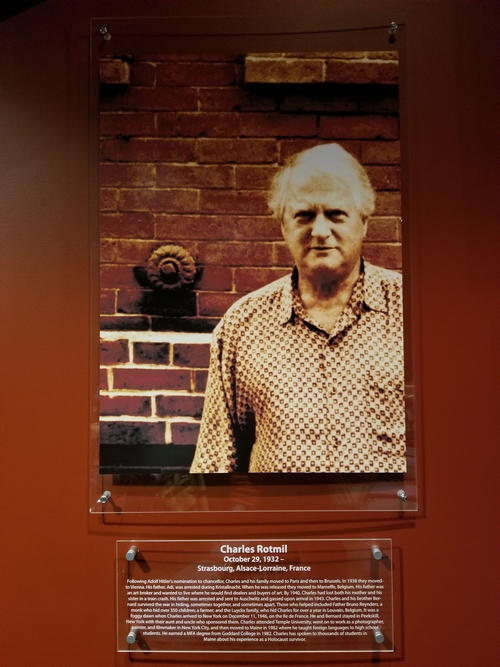 A portrait and description of Charles Rotmil's life hangs in the Holocaust and Human Rights Center of Maine.
The inscription reads:
Charles Rotmil
October 29, 1932--
Strasbourg, Alsace-Lorraine, France
Following Adolph Hitler's nomination to chancellor, Charles and his family moved to France and then to Brussels. In 1938 they moved to Vienna. His father, Adi, was arrested during Kristallnacht. When he was released they moved to Marneffe, Belgium. His father was an art broker and wanted to live where he could find dealers and buyers of art. By 1940, Charles had lost both his mother and his sister in a train crash. His father was arrested and sent to Auschwitz and gassed upon arrival in 1943. Charles and his brother Bernard survived the war in hiding, sometimes together, sometimes apart. Those who helped included Father Bruno Reynders a monk who hid over 350 children, a farmer; and the Luyckx family, who hid Charles for over a year in Louvain, Belgium. It was a foggy dawn when Charles arrived in New York on December 11, 1946, on the Ile de France. He and Bernard stayed in Peekskill, New York with their aunt and uncle who sponsored them. Charles attended Temple University, went on to work as a photographer, printer, and filmmaker in New York City, and then moved to Maine in 1982 where he taught foreign languages to high school students. He earned an MFA degree from Goddard College in 1982. Charles has spoken to thousands of students in Maine about his experience as a Holocaust survivor.

Charles speaking with the press before his talk at the Center.

Edith Pagelson speaks with WGME after her moving presentation.

A visitor listens to the stories of Holocaust survivors.

Another kind of Tree of Life stands at the entrance to the Holocaust and Human Rights Center of Maine.
For more information on the Holocaust and Human Rights Center of Maine please visit their website.
---