2018 Maine Championship Update After Round 2
04.14.18 The Maine Closed Championship is currently underway at the Best Western Plus Grand Hotel in Waterville. After two rounds, five players have a perfect score: Matthew Fishbein, Jarod Bryan, Aaron Spencer, Alan Schalk, and Ben Amar. Here's the latest from the venue including pairings for Round 3 and a surprising upset.
Anything can happen! In Round 2, Elisabeth Mock (273) (here playing Dan Robbins in Round 3), defeated Daniel Michaud (1667) for a 1394 rating point difference upset.
Thanks to Andy Bryan for contributing to this report.
The top five seeded players held true to form in the first two rounds of the 2018 Maine Closed Chess Championship. All five players scored two-for-two.
After two rounds, players with 1.0 point include Elisabeth Mock, Joseph Astumian, Joh Brady, Brian Hurst, Ben Mock, Dan Robbins, Nathan Gates, Wyatt Hendrix (who withdrew after the first round), Bill Hartt, Lance Beloungie, Phil Lowell, and Ray Simmons.

The top twenty seeded players

Players 21-23

Top seeded Matthew Fishbein (left) plays Alan Schalk.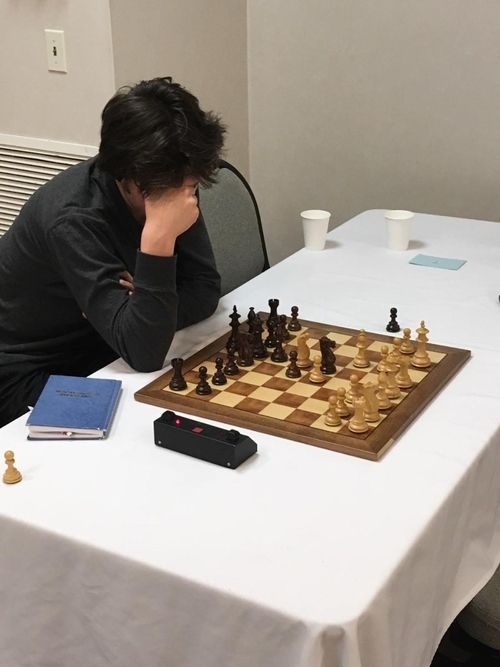 Ben Amar exhibiting a champion's concentration.

Nathan Gates (left) and Brian Hurst face off in Round 3.

Thanks to on-site ChessMaine.net correspondent and Maine Chess Association president Andy Bryan for providing the images for this report.
Round 3 Pairings
Board 1: Fishbein-Schalk
Board 2: Spencer-Amar
Board 3: B. Mock-Beloungie
Board 4: Gates-Hurst
Board 5: J. Astumian-Hartt
Board 6: E. Mock-Robbins
Board 7: D. Astumian-Morse
Board 8: Jones-Michaud
Sunday, April 14, 2018
Round 4 begins at 9:00 a.m.
Round 5 begins at 2:00 p.m.
---