2018 State Scholastic Individuals Tournament Report
03.24.18 One hundred thirteen scholastic players competed in the Maine State Scholastic Individual Championships at the University of Maine in Orono on Saturday, March 24th. The tournament was played in five scholastic sections (K-3, K-6, K-8, High School, and High School U1200) and a companion Open section (the Sidekicks). Here's the illustrated tournament report with US Chess crosstables.
Joseph Astumian, a senior at Orono High School, playing some amazing and inspiring chess, won the High School Championship section with a perfect 4.0 points in four games.
Thanks to Ilianna Kahn for contributing to this report.
US Chess crosstable of this event
We would like to thank everyone who contributed to making this event a very special one including players, parents, coaches, drivers, volunteers, tournament directors, and organizers. We would also like to thank the University of Maine in Orono for their continued support of this tournament.
Unexpected results and upsets in the midst of some great fighting chess and outstanding sportsmanship were the order of the day at the State Scholastic Individual Championships.
In the High School Championship section, Joseph (J.J.) Astumian turned away all challengers to take the Individual High School Champion title. Astumian defeated Nehemiah Brown (974), Ben Amar (1865), Nathan Dunn (1279), and Bill Hartt (1795) on his way to an unbeaten and untied 4.0 points. He displayed incredible poise and clear-headed decision making at the board in the company of very worthy opposition. His chess was simple and direct with a preference for open positions that showcased his sharp tactical acuity. We hope to show some of his games on the ChessMaine.net games link soon.
The final round match-up between Astumian (3.0) with the white pieces and Bill Hartt (2.5) was destined to be a thriller and it did not disappoint. Both players pressed in a close battle that was tense and exciting to watch. Just when it looked like Hartt was pressing an advantage--he was a pawn up in what looked like a very promising position--Astumian managed a Queen sortie that threatened mate in one. Hartt coolly defended. Then came the proverbial bolt from the blue when Astumian played his Knight from c3 to d5. At first, one could not believe the eyes but on further inspection there was no way out of a mate in two.
Just off the lead and tying for the Runner-up position were Ben Amar and Nathan Dunn with 3.0 points. Bill Hartt and Brian Conti put up 2.5 points. The 2.0 point getters were: Aidan Thomas, Kyle Brenneman, and Brendan Penfold. Spencer Krebs, Wyatt Hendrix, Alfred Griffin, and Nehemiah Brown rounded off the twelve-player High School Championship section.
Evan Annis and Ryan Shorette rose to the top of the High School U1200 crosstable and shared equal first with four points in four games. A logjam of players tied for third place with 3.0 points including: Zhikang Xie, Zachary Grindal, Isaac Dinnerstein, Tommasso Wheeler, Catherine Rudnicki, Ben Penfold, and Sean Adams.
In the K-8 Championship section, Airline Community School's Cyrus Grindal threw a curve ball in the second round and defeated top-seeded Ben Mock who outrated him by a steep 747 points. Mock won all of his remaining games for 3.0 points and a tie for third place. Topping the K-8 section were Tommy Owen with 4.0 points and Evan Smith (3.5). Other 3.0 point getters along with Mock were: Cyrus Grindal, Atticus foster, Tristan Cousineau, Parker Black, William Xu, and Eli Slaughter.
Zoe Dinnerstein and Jacob Klien both went perfect on the day to share the top spot in the K-6 Championship section with 4.0 points. John Li topped a long list of 3.0 point getters including: Jonah Dean, Benjamin Gordon, Christopher Taylor, Awnin Oxley, Anthony Clark, and Walker Bayless.
The K-3 Championship section included a three-player K-1 division within it. Stillwater Montessori School's Surya Vel finished first with 4.0 points. He was trailed by Raj Nayak and Ebba Hidestrand who tied for second with 3.0 points. Eli Schaff won the K-1 section with 2.0 points and Lily Fishman and Frances Bayless shared equal second.
There was also an eight-player, three round mini-Swiss played concurrently with the Scholastic Individual Championships. Former John Bapst Memorial High School ace Aaron Spencer went three and 0 to earn bragging rights and a stunning medal. Tom Sandford put up 2.0 points for clear second place and Roger Morin, Brian Hurst, and Dan Robbins finished equal third with a point and a half. Jon Dearing, Tony Freudig, and Dean Astumian (aka J.J.'s Dad) closed out the crosstable.

Last round pairings in the High School Championship section: Jospeh Astumian (foreground right) vs Bill Hartt and Kyle Brenneman (background right) vs Ben Amar.

The final position in the last-round game Astumian-Hartt that clinched victory for the champion.

The draw is nigh in Bill Hartt (left) vs Brian Conti. White has a mate in one on d7 but no time to execute it. In this position, White has moved his King to h2 but has not yet pressed his clock.

A triple-repeat-of-position ensued and the players buried the hatchet.

Top seed and Co-Runner-up Ben Amar

Co-Runner-up Nathan Dunn

Second seed Wyatt Hendrix

Alfred Griffin

Brendan Penfold

Andrew Brenneman

Nehemiah Brown

(Left to right) Nathan Dunn (equal second), Ban Amar (equal second) and Joseph Astumian (first).

Evan Annis shared equal first in the High School U1200 section with

Ryan Shorette.

Zhikang Xie

Isaac Dinnerstein

Tommasso Wheeler

Catherine Rudnicki

Ben Penfold

Sean Adams

Sebastian Johns

Amanda Bustard

Kaleb Pendleton

Colby Tuffley

Devon Hunter

Vojta Filipi

Jordan Donovan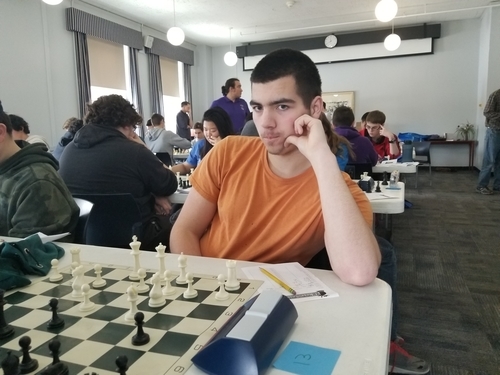 Jakob McPhee

Jason Weaver

Damien Sullivan

Jan Schilling

Tristan Crosby

Huy Nguygen

Benjamin Deschesne

Sean White

Winners in the High School U1200 section

Thanks to High School Championship and High School U1200 tournament director Mike Dudley.

On to the K-8 Championship section!

K-8 State Champion Tommy Owen

Evan Smith took sole second with 3.5 points.

Cyrus Grindal on his way to an upset victory over top-seeded

Ben Mock.

Parker Black

Henry Penfold

Swaroop Handral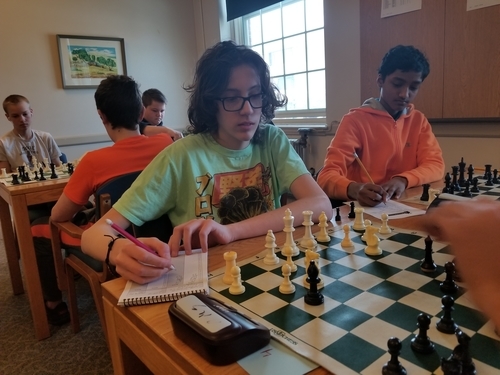 Atticus Foster

Isaiah Brissette Hatch

Eli Slaughter

Declan Thomas

William Xu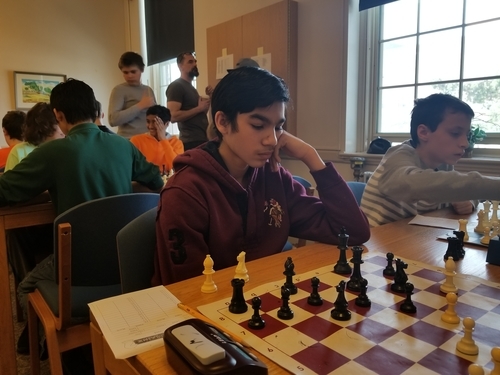 Samuel Brisette Hatch

Magali De Lannee

Tristan Cousineau

Clara Parker

Evan Astbury

Michael York

Jonah Barges

Andrew Young

Jacob Cousins

Peter Clark

K-8 tournament director Phil Lowell prepares to share the results.

The winners in the K-8 Championship section are all smiles: Tommy Owen first and Evan Smith second.

The third place finishers in the K-8 Championship section

Girl power! Zoe Dinnerstein finishes first in the K-6 Championship section with

Jacob Klien and both are Co-Champions!

John Li took home the third place trophy in the K-6 Championship section on tiebreaks. He shared third with:

Jonah Dean,

Benjamin Gordon,

Christopher Taylor,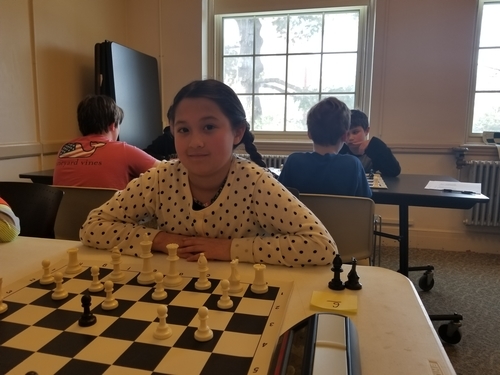 Awnin Oxley,

Anthony Clark, and

Walter Bayless.

Henry Abrahamsen

Thomas Pickford

Tala Bayless

Ben Mlylinski

Dhruv Jain

Zachary Arnold

Michael Hardy

Keven Carpenter

Anthony Mitchell

Clark Abrahamsen

Will Hartt

Connor McPhee

Archer Hansen

Griffith Young

Glen Modrusan

Annie Mitchell

Alexander Kearns

Riley Dill

Anthony Pinkham

K-6 Championship tournament director Isaac Marnik hands out the bling!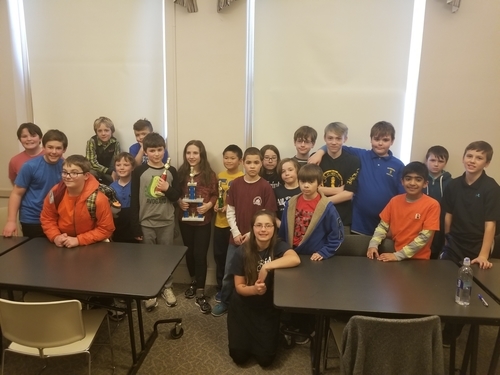 The K-6 contingent

Surya Vel took the top spot in the K-3 Championship section.

Raj Nayak tied for second place with

Ebba Hidestrand.

Gabe Lippman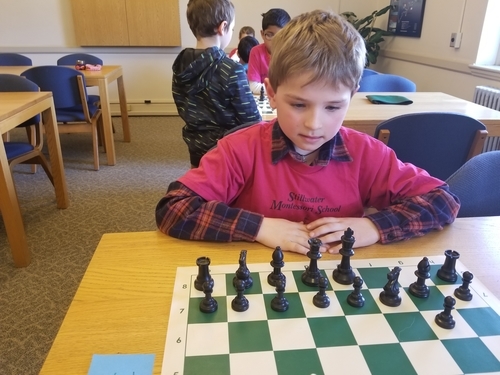 Mikhail Prostatin

Nate Sheldrake

First in the K-1 Championship division: Eli Schaff

Lily Fishman took the second place trophy in the K-1 division tied with

Frances Bayless.

Stillwater Montessori School chess coach Joe Alex checks out the action on board 1 in the K-3 section.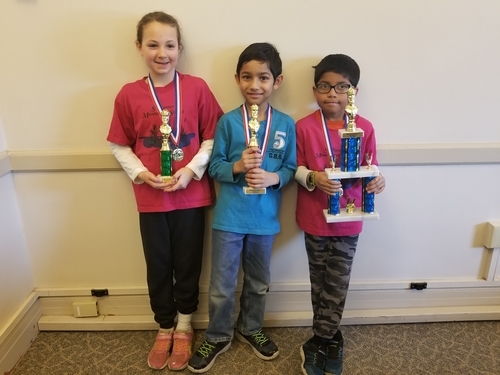 Winners in the K-3 section

Winners in the K-1 division

Winners all!

Steve Wong Round 1 >>Click Here<< for a high resolution image of Steve's shirt.

Steve Wong Round 2

Steve Wong Round 3

Former Maine State Champion Roger Morin gives an impromptu lesson.

Don't mess with the Bulldogs!

High School Championship section player Wyatt Hendrix--notice the pin on his lapel.

A closer look reveals a beautiful historic pin commemorating former World Champion Mikhail Botvinnik.

Aaron Spencer won the companion Sidekick tournament with 3.0 points in three games.

Clear second in the Sidekicks: Tom Sandford

Roger Morin tied for third with

Brian Hurst and

Dan Robbins.

Bangor High School chess coach Jon Dearing

Tony Freudig

Dean Astumian

Thanks again to all who made this a great event! Keep playing chess! See you next time.
---