Panther Scholastic & Open Tournament Report
02.11.18 Thirty-four players competed in the Panther Scholastic & Open Chess Tournament held on Saturday, February 10, 2018 at Medomak Valley High School in Waldoboro, Maine. The event offered four sections: Open, U1600, U1200, and U800. Here is the illustrated tournament report with US Chess crosstables.
The Open and U1600 sections of the Panther Open
US Chess crosstable of this event
Thanks to Michael Dudley and Stephanie Pendleton for contributing to this report.
Wyatt Hendrix continues to impress with his strong play. Hendrix scored 2.5 points in the Open sction to take clear first in a challenging field. Three players finished just half a point out of the lead with 2.0 points: Phil Lowell, Bill Hartt, and Frank Collemer.
Frank Hill put up 2.5 points in the U1600 section to take the top spot in a field of five players. Dan Deschner and Lindsey Montana shared equal second with 2.0 points apiece.
Minh Nguyen and Joshua Batstone finished tied for first in the U1200 section with 3.0 points out of four. Kalen Pendleton and Tyler Rodenburger trailed close behind with 2.5 points apiece and a share of third place.
In the U800 section, Eric Youth and Colby Allen took it down to the final round and a mutual draw. Both players had a perfect 3.0 points in three games and decided to bury the hatched in the last round and agree to a draw which netted them equal first. Noah Frink and Kenneth Park scored 3.0 points for shared third.
Thanks to all players, coaches, parents and volunteers for making this tournament a success and a big thank you to tournament director and organizer Michael Dudley and Medomak Valley High School for hosting.
The tournament director would like to thank Ian Youth, and volunteers Keith and Stephanie for assisting!

Players in action over the board at the 2018 Panther Open & Scholastic Chess Tournament.

Jakob McPhee considers his position during his game vs Joshua Batstone in the U1200 section.

Kaleb Pendleton

Colby Allen (left) plays Eric Youth

Fourth round action (left to right): Amanda Nicholson, Bill Hartt, Leonardo Bintabara, Jakob McPhee, Josh Batstone, and tournament director michael Dudley in the background.

The U1200 players (left to right): Isaac Dinnerstein, Tyler Rodenberger, Marco Hansel, Jakob McPhee, Kaleb Pendleton, Josh Batstone, and Minh Nguyen.

The U800 players (left to right): Amanda Nicholson, Danny He, Raja Muthyam, Eric Youth, Johnny Driscoll, Noah Frink, Jack Lafayette, Colby Allen, Kenneth Park, and Leonardo Bintabara.

Kenneth Park winning third in the U800 section

Colby Allen winning second in the U800 section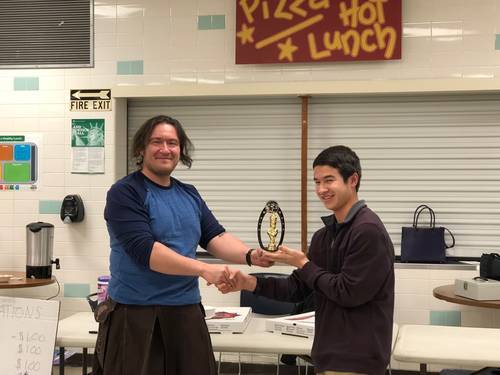 Eric Youth winning first in the U800 section

Kaleb Pendleton winning third in the U1200 section

Josh Batstone winning second in the U1200 section

Minh Nguyen winning first in the U1200 section

This artwork displaying the confluence of human actions hung at the tournament.
---