Bangor Open Tournament Report
10.05.17 Twenty players competed in the 2017 Bangor Open held at the Ramada Inn in Bangor on September 30th - October 1st. GM Alexander Ivanov took first in the Open section with a clean-slate four for four. In the U1750 section, John Brady and Benjamin Mock shared first with 3.5 points apiece. Here's the illustrated tournament report with USCF crosstables.
The new site of the Bangor Open: The Bangor Ramada

GM Alexander Ivanov swept the field with 4.0 points in four games.

Just behind the GM! Arron Spencer put up 3.0 points in the Open section for clear second place.

A fine performance by Wyatt Hendrix earned the scholastic player a third place finish in the Open section.

Ben Amar was one of five players who scored 2.0 points in the Open section, the others were:

Ryan Tripp

William Ravn

Ray Haines and

Nathan Gates.

Lance Belougie scored one draw. As did

Andrew Nevells.

John Brady fished equal first in the U1750 section...

as did Benjamin Mock.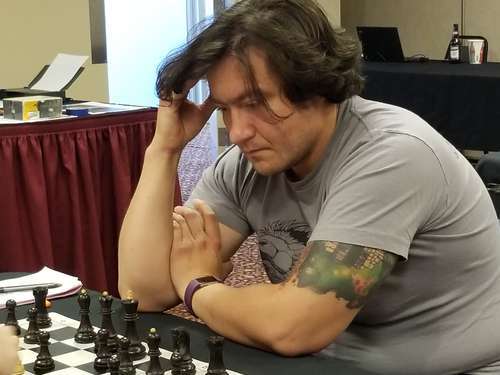 In clear third in the U1750 section with 3.0 points: Michael Dudley.

Brian Hurst put up 2.0 points as did..

Liam Farrell and

Kyle Porter.

Paul Kolojeski

Linh Nguyen

Brian Roderick

Ryunsu Sung

The tournament room

Nathan Gates put up quite a fight against the GM from Massachusetts.

Kyle Porter faces off with Linh Nguyen in the second round.

John Brady (left) plays Liam Farrell.

Andrew Nevells (left) plays Lance Beloungie.

Will Ravn (left) and Ray Haines take a look at the possibilities after their game.

Thanks to tournament directors and organizers Alex Relyea and Nita Patel.
---