Jarod Bryan Wins 2017 Maine Closed Championship
04.14.17 Jarod Bryan added another Maine State Championship title to his growing list of victories. He has won the tournament a total of eight times including three of the last four. Cruising through his first four games, he drew with Sergio Mejia in the last round to clinch the title. Mejia and Dan Hayes tied for Runner-Up with 4.0 points. Here's the illustrated tournament report with USCF crosstables and selected games.
Tournament winner Jarod Bryan (left) with tournament director Phil Lowell.

USCF Crosstables of this event
Thanks to Andy Bryan, Jarod Bryan, and Bill Hartt for contributing to this report.
Thirty-one players competed in the 2017 Maine Closed Chess Championship on the weekend of April 8-9 at the Best Western Plus Waterville Grand Hotel. The tournament was a five-round, G/120 d5 event.
Continuing his dominance at the state championship, Jarod Bryan won the event without being in too much danger at any point. His most challenging game was his last round encounter with Sergio Mejia in which Bryan successfully steered the game to a draw giving him 4.5 points and the title. Congratulation Jarod on another fine win.
Sergio Mejia had an outstanding tournament as week playing all five games undefeated and finishing tied for second place with 4.0 points. Former University of Maine player Daniel Hayes (USCF 1483) came out of nowhere to stun the field and tie for second with a performance rating of 2120! Hayes's only loss was to the champion in round 4.
Five players finished with 3.5 points including: Aaron Spencer, Alan Schalk, Curt Brock, Bill Hartt, and Lance Beloungie. Brock, Hartt, and Beloungie shared the Top Class B prize.
The Top Class C prize went to Lee Doucette who scored 2.0 points.
Ben Mock won the Top U1400 prize with 2.5 points. Mock's only losses were to experts Mejia and Spencer.
This was Roger Morin's 50th Maine Championship!
Thanks to all players for participating in this event and to Andy Bryan for organizing and Phill Lowell for directing.
Here are two interesting games from the tournament.

State Champion Jarod Bryan prepares to face Dan Hayes in round 4.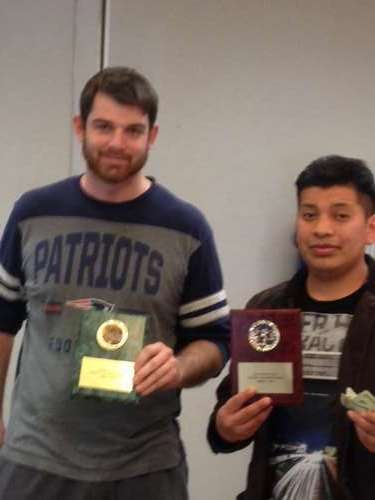 State Champion Runners-Up: Dan Hayes (left) and Sergio Mejia

Aaron Spencer (left) plays Benjamin Mock

Alan Schalk (right) takes on Sergio Mejia in round 4.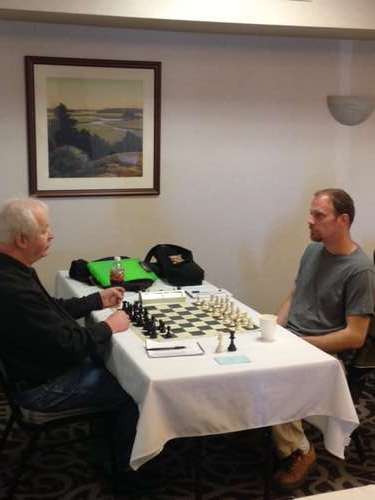 Curt Brock (right) and Ray Haines prepare to do battle.

Curt Brock and Bill Hartt receive their plaques and prize money.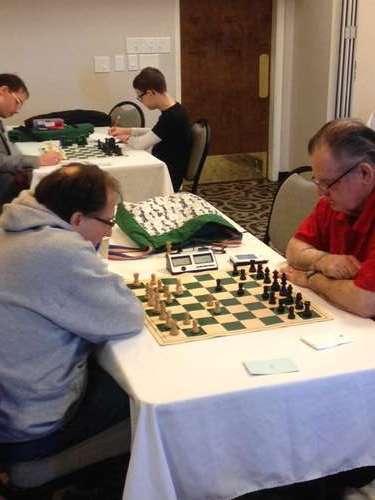 Fifty years of Maine Chess Championships! Roger Morin (right) plays Jon Buxton.

Lee Doucette went home with the Top Class C prize.

Darrell Salisbury (left) and Ed Nevells face each other using a beautiful House of Staunton set and board.

Tom Sandford (left) plays Wyatt Hendrix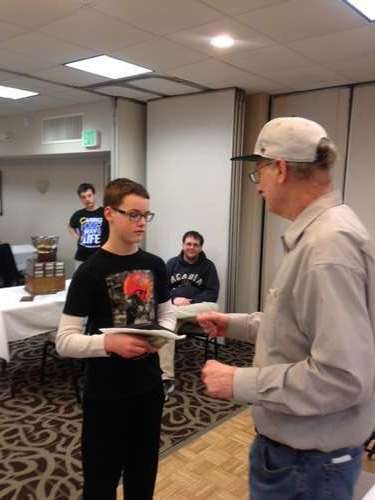 Ben Mock receives his well-deserved prize from tournament director Phil Lowell.

Lance Beloungie (left) faces off against Mike Dudley

Brian Hurst (left) and Richard Judy get ready for action

The long view of the tournament room

Joe Wrba plays Dan Hayes

The C. Stuart Laughlin Trophy

---