Saco Open Tournament Report
03.24.17 Thirty players, including a Grandmaster, an International Master and a FIDE Master, participated in the Saco Open on the weekend of March 18-19, 2017 at the Hampton Inn in Saco, Maine. GM Alexander Ivanov and IM David Vigorito tied for first in the Open section with 3.5 points each. Curt Brock and Ben Amar followed suit in the U1750 section putting up 3.5 and finishing equal first. Here's the illustrated tournament report, USCF crosstables and a fascinating 137-move game annotated by IM Vigorito.

The tournament room at the Saco Open.
images courtesy of Nita Patel
Thanks to Alex Relyea, Nita Patel, and David Vigorito for contributing to this report.
The 2017 Saco Open was held on March 18-19 at the Hampton Inn Saco/Biddeford. The Open section was won by GM Alexander Ivanov and IM David Vigorito. Vigorito had to wait until after the fourth round to clinch his tie because his third round game with Max Berube (1983) had to be adjourned after move 107! FM Jarod Bryan won the Under 2250 prize and Berube and Ryan Tripp split the Under 2000 prize.
The U1750 section was won by Curt Brock and Ben Amar with 3.5/4.0 points each. Mike Dudley and Dan Hayes shared the Under 1500 prize and John Hooper took the Under 1250 prize. The Unrated prize was not awarded as the tournament's only unrated player, Mack Smink, didn't finish the tournament.
Special thanks to Richard Judy and Gabriel Borland for filling in as house players so no one was forced to receive a bye.
Check out this monumental struggle of a game between Max Berube and David Vigorito played in round three. Our thanks to IM Vigorito for taking the time to annotate and submit the game to us.
Berube, Max - Vigorito, David; 0-1

Tournament Co-champion GM Alexander Ivanov (right) plays Darrell Salisbury in the first round.

Tournament Co-champion IM David Vigorito receives his prize money from organizer and tournament director Alex Relyea.

FM Jarod Bryan scored 3.0 points to take third place in the Open section and win the U2250 prize.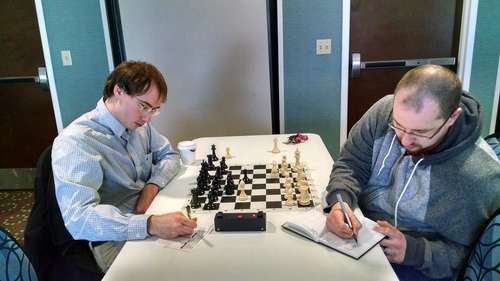 Aaron Spencer (left) scored 2.0 points and tied for equal forth with

Max Berube (left) and

Ryan Tripp.

Curt Brock shared the U1750 prize with

Ben Amar (right).

Jon Buxton (left), here playing Charles Rotmil, put up 3.0 points for sole third in the U1750 section.

John Brady (left) was one of five players finishing with 2.5 points in the U1750 section including

Bradley Workman (left)

Daniel Hayes

Mike Dudley and

John Hooper.

Kudos to Max Berube for hanging tough with the IM in his epic 137-move marathon!

Ramiro Ponce (left) plays John Hooper.

Gabriel Calandri (left) takes on Daniel Hayes.
Thanks to all players for turning up and making this a great event and much gratitude to tournament directors Alex Relyea and Nita Patel for hosting another well-run chess tournament.
---