Fort O'Brien Tournament Report
02.11.17 Sandwiched between two major snow storms and smack dab in the middle of a minor one, the Fort O'Brien Chess Tournament, held in Machiasport, Maine on Saturday, February 11th, 2017, attracted twenty-three brave and resilient chess competitors. Here's the illustrated tournament report with USCF crosstables.


The first USCF-rated tournament in Washington County, Maine in over eight years was played at the Fort O'Brien School in Machiasport on Saturday, February 11th, 2017
USCF Crosstables of this event
Nathan Gates scored an unbeaten and untied 3.0 points in three games to take first in the Open section. He was trailed by Bob Bridgham and Ryan Tripp who each put up 2.0 points. Michael Dudley won the U1600 prize by virtue of being the only player in that group. Benjamin Mock took home the top U1200 prize and Linh Nguyen placed second in the U1200's.
The combined U800/U400 section had 17 players. Drew Thibodeau scored a perfect 4.0 points for first in the U800 group. Taran Evans scored 3.0 points and shared equal second with Elizabeth Mock.
In the U400 group, Luke Campbell netted 3.0 points and the first place trophy. Classmates at Fort O'Brien School, Aiden Espling, Kaiden Wood, and Eli Tremblay tied for second with 2.5 points.
This tournament saw an outpouring of support from the Fort O'Brien School Community. Parents willingly donated their time to staff the kitchen, brought homemade baked goods to sell at the concession window, and in many cases donated extra money over and above the tournament entry fee to help support the tournament, the chess players, and chess returning to Washington County.
A big thank you to all the volunteers who ably assisted with this event and to the Fort O'Brien School staff and principal Sue Almendinger for their unfailing support of scholastic chess. And of course, thanks to the players themselves who braved the less-than-optimal weather conditions to come out in support of Downeast tournament chess!

Tournament winner and Patriots fan Nathan Gates on his way to 3.0 points in three games.

Another Pats fan and recent winner of the George Cunningham Brilliancy Prize, Bob Bridgham, shows off his Brady jersey.

Tied for second in the Open: Ryan Tripp

Eighty percent of life is showing up! Michael Dudley finished first in the U1600 group.

Benjamin Mock scored a fine win over Dudley to take first amongst the U1200 players.

Second in the U1200's: Linh Nguyen

Drew Thibodeau finished at the top of the U800 crosstable with a perfect 4.0 points.

Thibodeau's classmate at John Bapst Memorial High School, Taran Evans, tied for second with...

Elizabeth Mock.

Luke Campbell had a great day, scored 3.0 points, and took first in the U400 group.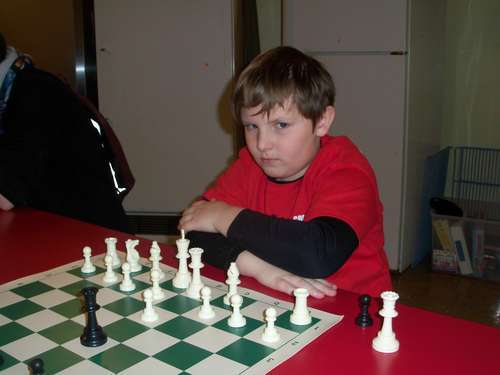 Tied for second in the U400 group was Aiden Espling (with a stare worthy of the great Tigran Petrosian),

Kaiden Wood and...

Eli Tremblay. (Notice the model development of Black's pieces.)

Former World Champion Tigran Petrosian's glare was legendary.

Returning to his alma mater to play chess: Colin Look

Max Ginn

The tournament's youngest participant Carter Murphy, age four, scored 2.0 points.

Donovan Wright (third from the left) at the post-tournament awards giving

Regina Wood-Coffin gets a different angle on her pieces.

Dawson Fielder

Grandmaster-in-training Ryley Ingrish

Jonah Dean

Josie Ingrish considers how best to improve her position.

Alexis Foss chillin' between rounds and...

playing on the big set.

After the tournament games had ended players engaged in...more chess!

The bling!

Linh Nguyen and Ben Mock finished second and first respectively in the U1200 group.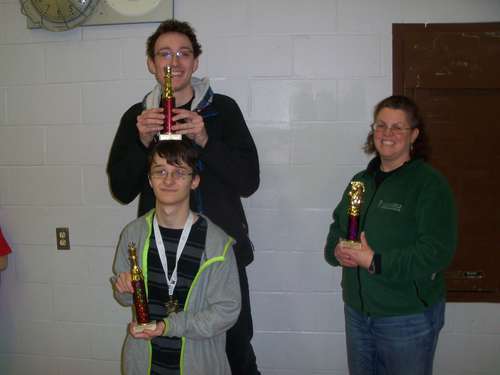 Winners in the U800 section.

Winners all in the U400 section.

The Ingrish siblings play a skittles game in the library.

A closer look at the pieces reveals a very cool set.

Chess-inspired student art

Chess-inspired art my the maestro himself M.C. Escher.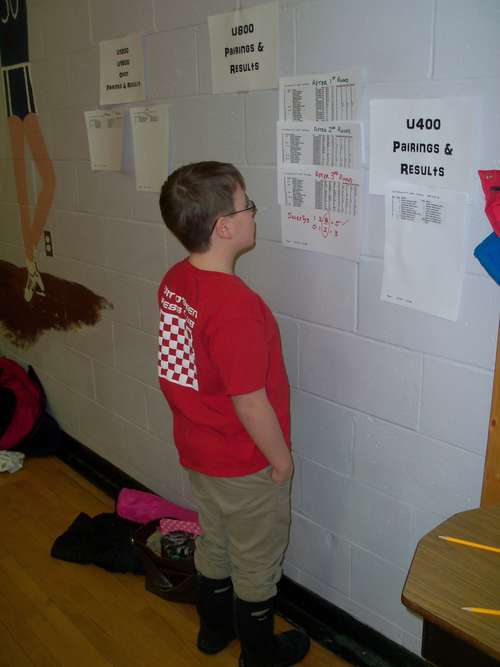 Eli Tremblay checks the standings after finishing a game.

That's a good lookin' kitchen crew! Thanks guys!

Hopefully, this is the first of many USCF-rated tournaments hosted by the Fort O'Brien School.

---