John Bapst New Year's Tournament in Memory of Bob Solinger Report
01.11.17 The John Bapst New Year's Tournament in Memory of Bob Solinger was played on Sunday, January 8, 2017 at John Bapst Memorial High School in Bangor. The four-section tournament attracted forty-one players. Winners were: Tom Sandford (Open), Benjamin Mock (U1200), Jakob McPhee (U800), and Sol Tyler (U400). Here's the illustrated tournament report with USCF crosstables and a selected game.
U1200 player Milo Sanokklis treated us by bringing this beautiful and unique set to the tournament.
USCF Crosstables of this event
Tom Sanford had a fine day turning away all comers to win the Open section with 3.0 points in as many games. Trailing Sandford were three players who posted 2.0 points apiece: Bill Hartt, who has been on an incredible ratings rise in the past 12 months increasing his rating 537 points since last year's Bapst New Year's Tournament!, Greg Wadsworth, and Michael Dudley. Dan Robbins and Wyatt Hendrix scored 1.5 points to tie for fifth. Joseph Powell, Ben Amar and J. Paul Ciarrocchi rounded out the Open with 1.0 point.
Benjamin Mock impressed with a 4-0 sweep of the U1200 section. In clear second was Linh Nguyen followed by Catherine Rudnicki, Liam Farrell, and Nate Reid who tied for third with 2.5 points.
Jacob McPhee duplicated the performance of his chess peers in the top two section by winning the U800 section with a perfect 4.0 points. Evan Chapman took second with 3.0 and Tommy Owen and Andrew Bubar shared equal third with 2.5 points.
No to be outdone, U400 winner Sol Tyler also posted a perfect score of 4.0 points in four rounds. Following Tyler were Simon Shyka-Brown in clear second with 3.0 points and Rachel Curtis-Bowden with 2.5.
This tournament was organized by Andy Bryan, Michael Dudley and Elizabeth Mock and directed by Steve Wong. Thanks to all who participated and to John Bapst Chess for their continued support of this great tournament.

Retirement seems to be treating Tom Sandford well as he notches his first victory of the New Year.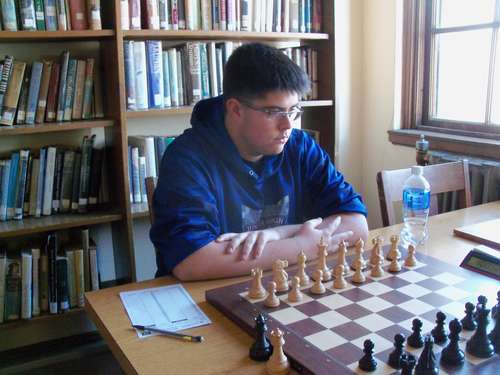 Bill Hartt has experienced a meteoric rise in his rating in the last twelve months.

Greg Wadsworth held his own in a tough field and finished equal second.

John Bapst Chess Coach Michael Dudley (left) with tournament organizer and Maine Chess Association President Andy Bryan tied for second place in the Open as well.

Dan Robbins

Wyatt Hendrix

Rising Freshman at MIT: Joseph Powell

Ben Amar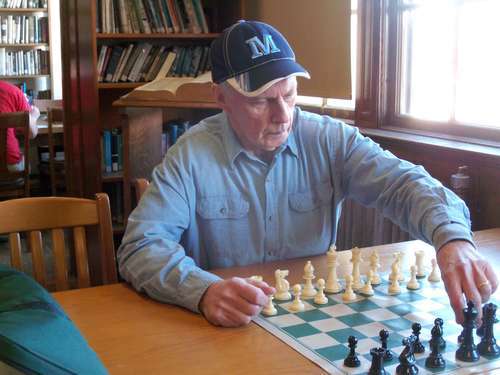 J. Paul Ciarrocchi

Ben Mock finished clear first in the U1200 with a perfect score.

Linh Nguyen finished clear second in the U1200. (file photo)

Catherine Rudnicki tied for third in the U1200 with...

Liam Farrell and

Nate Reid.

Aaron Ben Wilson-McFarlane was in a group of two-point getters that included:

Zack Grindal and

Colby Tuffley.

Kaleb Pendleton

Cole Stewart

Milo Sanokklis

Jakob McPhee won the U800 with 4.0 points.

Evan Chapman took clear second in the U800 section.

Tommy Owen tied for third with...

Andrew Bubar.

Cyrus Grindal

Vetri Vel

George Pitt

Drew Thibodeau

Jordan Fowler

Taran Evans

The U800 section

Sol Tyler won the U400 section with 4.0 points.

Simon Shyka-Brown has played in two USCF-rated tournaments and has won a trophy in each of them.

Rachel Curtis-Bowden

Aiden Espling

Sam Page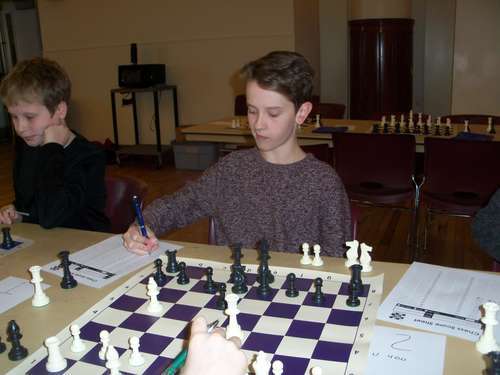 Colby Lacasse

Dylan Richardson

Sarah Means

Surya Vel

Charles Kolisch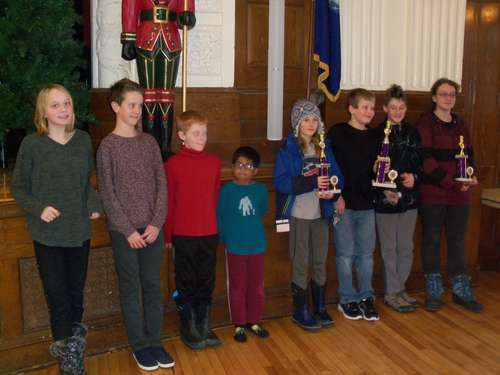 The U400 contingent

Thanks to tournament director Steve Wong.

And thanks to volunteer, chess mom, and the brains behind the new Bangor Area High School Scholastic Chess League Elizabeth Mock.

Thanks to our hosts John Bapst Memorial High School providing an outstanding high school education to students from all over the world!

---