WCC Rest Day: A Walking Chess Tour of Manhattan
11.27.16 We all have our rituals and preferred activities for the rest day. Carlsen said he enjoys getting a massage and going for a walk. Karjakin mentioned that he wanted to take a helicopter tour of the City. For our part, we thought it might be fun to take an illustrated walking chess tour of Manhattan.
On the rest day, we hit the streets to bring you an illustrated walking chess tour of Manhattan.

We started our day sharing an early morning coffee at Oren's Daily Roast on the Upper West Side with Anna Bryan, the 2003-2004 K-3 Individual Maine State Champion and now Columbia University sophomore.

Wishing Anna well with the remainder of the semester we headed downtown for some breakfast at a great little spot called Jack's Wife Freeda on Carmine Street in SoHo.

And a little more coffee.

Chess iconography abounds in the City--in shop windows,

on doors,

on walls, and

in the street.

We stepped into The Uncommons Coffee and Games on Thompson Street and were greeted by hundreds of board games stacked floor to ceiling.

And in the back room, this foresome playing Mahjong.

No trip to the Village is complete without a stop at one of our favorite haunts: The Chess Forum.

This set caught our eye. An amazing wood grain in a plastic set. It's called the Kasparov 4.3 inch plastic set and goes for $90.

Highly recommended!

If this board could talk, of the many chess battles it hosted would it tell.

Wandering over to the East Village Cinema we took in The Queen of Katwe a moving story of a girl's rise to become the Woman's Champion of Uganda while still in her teens.

Only in New York can you find two chess movies on the marquis at the same time! Can you spot the other?

After the show we ducked into Washington Square Park.

The renovation of the southwest corner of the park including new stone chess tables and new restroom facilities that was underway last year has been completed.

Two games go for $5. I took Mufasa up on his offer to play. He asked me, "You master?" I said, "No, patzer!" We split the games 1-1.

The chess playing area of the park is quite literally in the shadow of the hallowed halls of the NYU School of Law.

Leaving the Park on 5th Avenue and banging a left on W 10th brings you to...

the Marshall Chess Club.

In addition to two tournaments, the Club was hosting a photography exhibit by photographer and filmmaker Dora Leticia Martinez.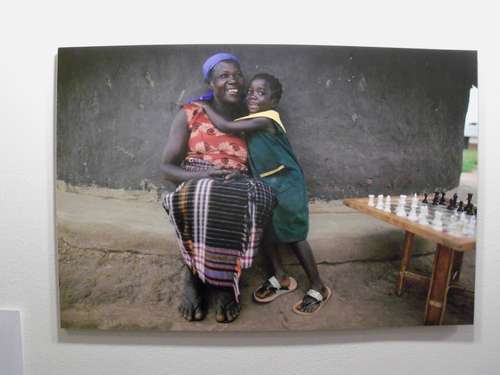 The works were stunning for their aesthetic power and grace.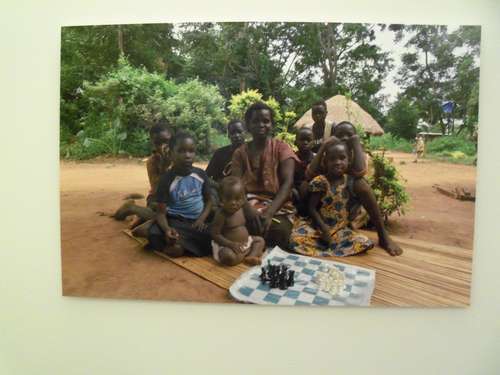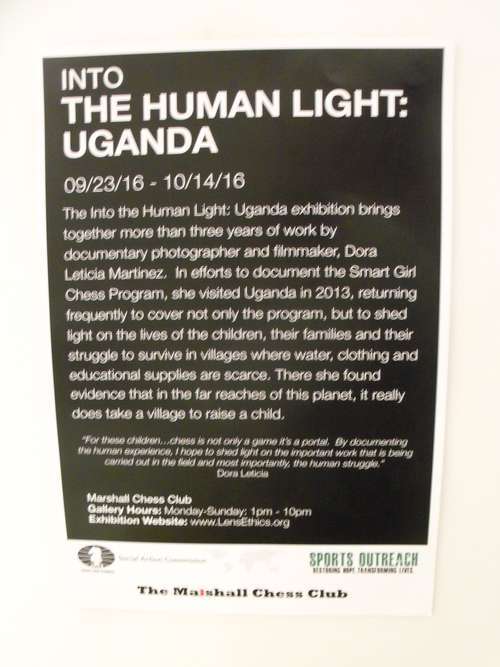 A description of the Into The Human Light: Uganda project

The Marshall was hosting a scholastic tournament...

as well as a four-section open tournament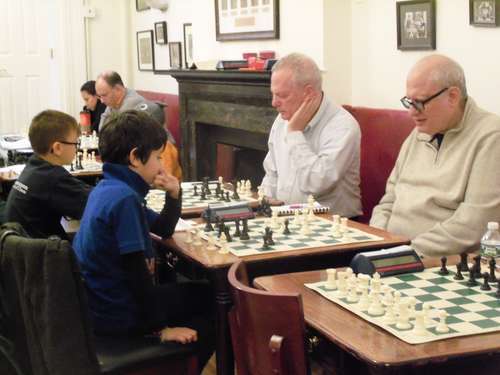 Youth vs Experience!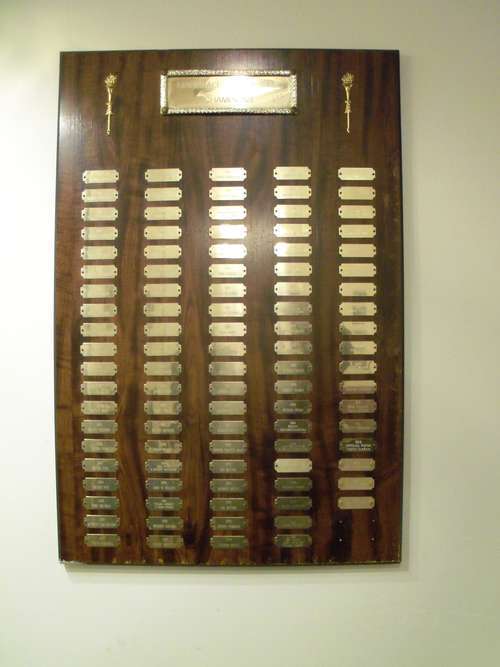 This plaque bearing the names of the Marshall Club Champions reads like a veritable who's who of great American chess player of the twentieth century.

An absolutely classic black-and-white photo of former World Champion Alexander Alekhine giving a simul at the Marshall hangs on the wall in one of the tournament rooms.

In these days of live worldwide streaming of international chess events it's humbling to remember the times when moves of important tournament games were displayed on manual demonstration boards.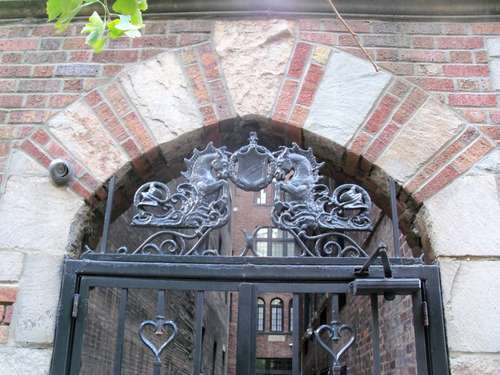 Leaving the Marshall and heading uptown, this entranceway evoked the sense of a chessic battle.

Up at E 14th is Union Square Park.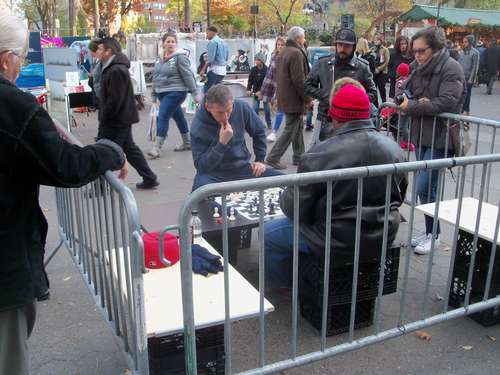 Completion of the chess table project in Washington Square Park has put a damper on the chess action at Union Square Park. In fact, we only came across this single game.

Hoping for better luck and taking a tip from a NYC Parks Department staff we headed up to Bryant Park located on 5th Avenue between 40th and 42nd Streets.

Alas, the scene was even more sparse than at Union Square.

Undaunted, we continued up 5th Avenue towards the Empire State Building...

and St. Patrick's Cathedral...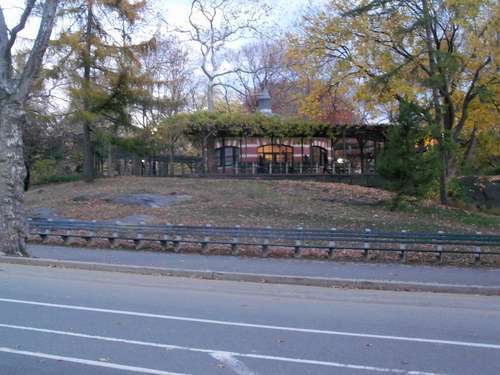 until we came upon the Chess and Checkers House located in Central Park near the E 64th Street entrance.

The Chess and Checkers House is a year-round oasis for chess players of all ages.

Ringing the outside of the Chess and Checkers House are over a dozen stone chess tables.

Inside, the atmosphere is warm and welcoming--and staffed by three Parks Department employees ready to assist you with loaner pieces and boards, information about upcoming tournaments...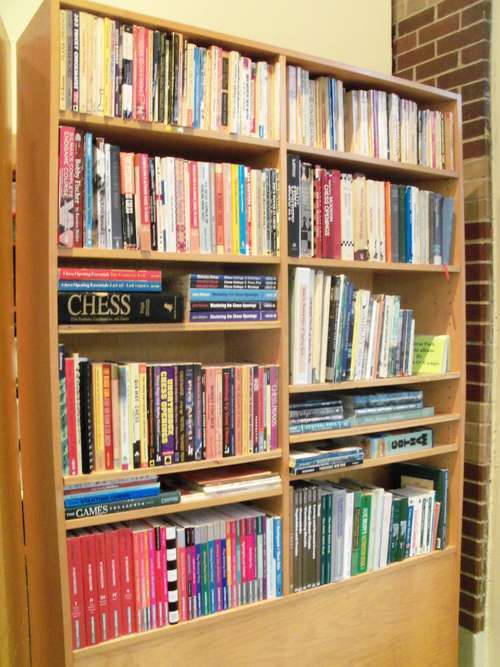 or in finding that book you've been looking for.

Some games underway in the House.

Night was falling as we approached the Alice in Wonderland statue in Central Park at E 76th Street.

'It's a great huge game of chess that's being played--all over the world--if this is the world at all, you know. Oh, what fun it is!"

"How I wish I was one of them! I wouldn't mind being a Pawn, if only I might join - though of course I should like to be a Queen, best."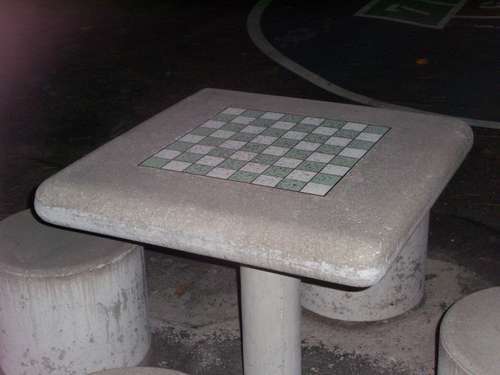 Passing PS 208 on W 111th we spotted one of many chess tables installed in the school's playground.

That was a lot of walking! To rejuvenate, we decided to try a full-on Korean feast at KGB Korean BBQ and Grill just over the George Washington Bridge in New Jersey.

Incredible Korean delicacies cooked right at our table

Until tomorrow and Game 12!
---