WCC R9: Game 9 Drawn
11.23.16 Today the players went seventy-four moves before calling it a draw. The position was very dangerous for Carlsen just before the time control but the Champion was able to save the game and go into the final three games trailing by a point. Carlsen will have to pull himself together and play his best chess to keep the title. Game 10 is scheduled for Thanksgiving Day.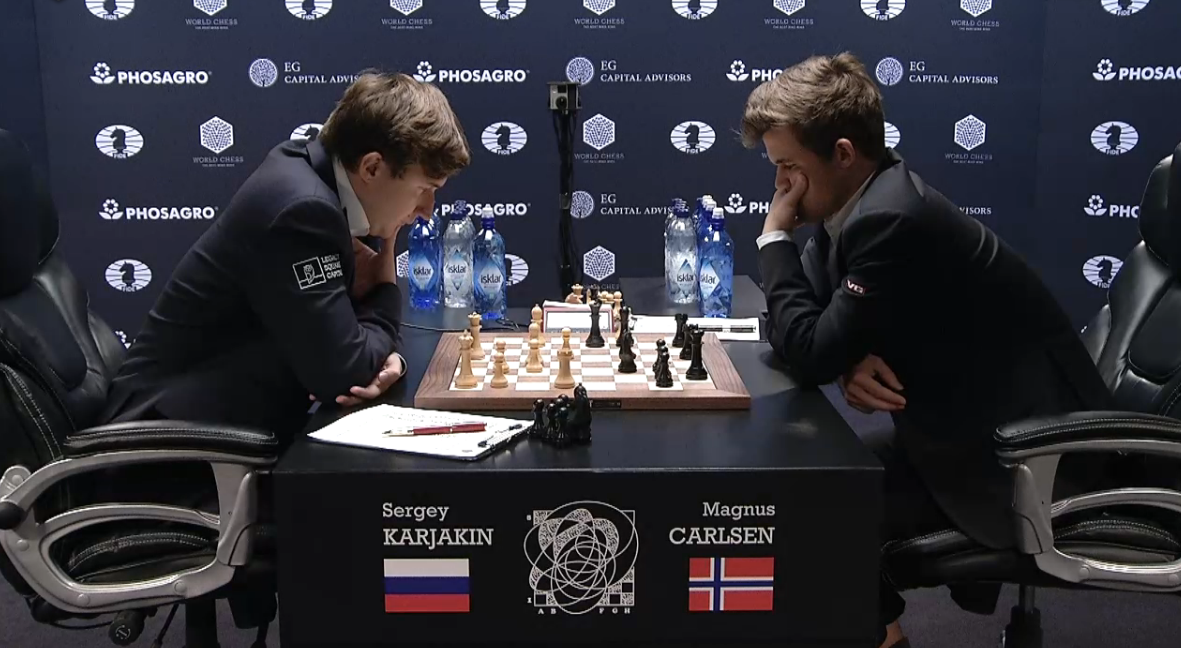 The score is 5.0 - 4.0 in Karjakin's favor going into the last three games.
images courtesy worldchess.com

Magnus has White twice in the final three games.

With this draw, Karjakin moves one step closer to the title.
The match will consist of 12 games. The first player to reach 6.5 points will be declared winner and World Champion. If, after 12 rounds, the score is even, the Match will be decided by a series of tie break games.
Official site of the World Chess Championship
Tickets to attend the Match in person

Schedule
All games begin at 2:00 p.m. New York City time
Thursday, November 10 Opening Ceremony
Friday, November 11 Game 1
Saturday, November 12 Game 2
Sunday, November 13 Rest Day
Monday, November 14 Game 3
Tuesday, November 15 Game 4
Wednesday, November 16 Rest Day
Thursday, November 17 Game 5
Friday, November 18 Game 6
Saturday, November 19 Rest Day
Sunday, November 20 Game 7
Monday, November 21 Game 8
Tuesday, November 22 Rest Day
Wednesday, November 23 Game 9
Thursday, November 24 Game 10
Friday, November 25 Rest Day
Saturday, November 26 Game 11
Sunday, November 27 Rest Day
Monday, November 28 Game 12
Tuesday, November 29 Rest Day
Wednesday, November 30 Tie Breaks/ClosingCeremony
---