WCC R7: It's a Five Game Match
11.20.16 Game 7 ended in a thirty-three move draw. Based on his play and his comments as after press conference six it seemed that Carlsen was playing for a draw to get the White pieces in Game 8 after two consecutive Blacks. Carlsen dropped a pawn on move 22, after which only two results were possible, and held on for the draw. The Match goes into the last five games with Carlsen having the first move in tomorrow's game.
Just after Game 7 the players discussed possibilities and might-have-beens.
images courtesy worldchess.com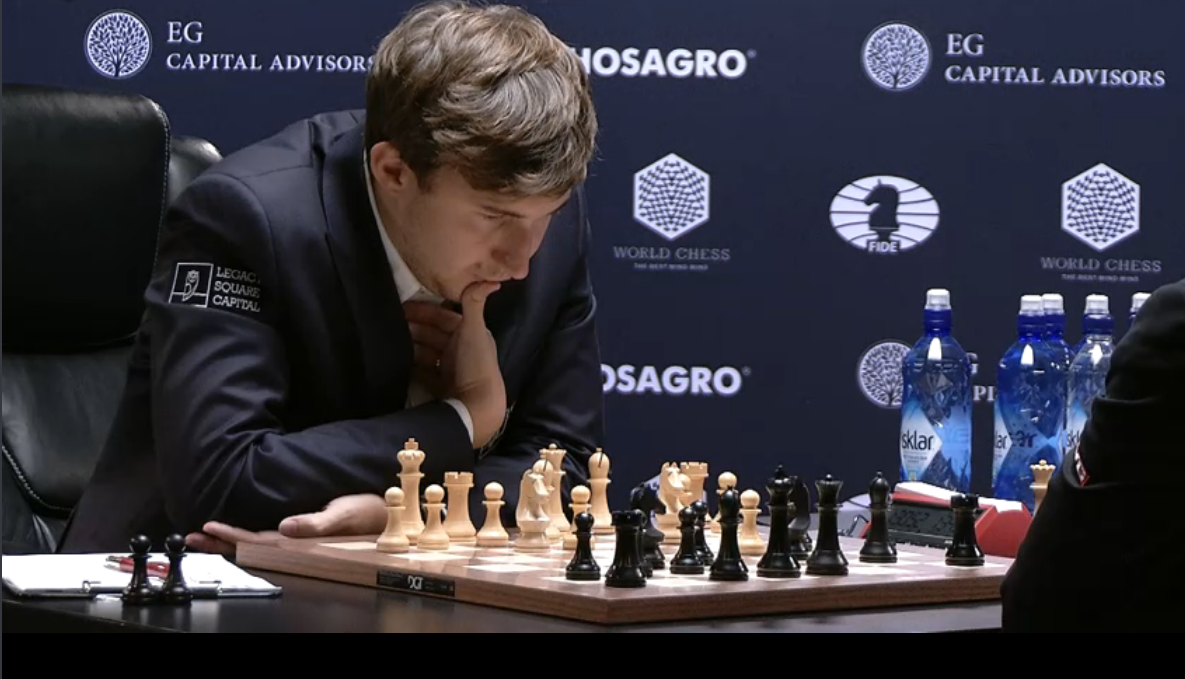 Karjakin was unable to make hay out of his two consecutive Whites.

Was Carlsen sitting back and waiting for the White pieces in Game 8?

Game 8 will take place on Monday, November 21 at 2:00 p.m. eastern.

The match will consist of 12 games. The first player to reach 6.5 points will be declared winner and World Champion. If, after 12 rounds, the score is even, the Match will be decided by a series of tie break games.
Official site of the World Chess Championship
Tickets to attend the Match in person

Schedule
All games begin at 2:00 p.m. New York City time
Thursday, November 10 Opening Ceremony
Friday, November 11 Game 1
Saturday, November 12 Game 2
Sunday, November 13 Rest Day
Monday, November 14 Game 3
Tuesday, November 15 Game 4
Wednesday, November 16 Rest Day
Thursday, November 17 Game 5
Friday, November 18 Game 6
Saturday, November 19 Rest Day
Sunday, November 20 Game 7
Monday, November 21 Game 8
Tuesday, November 22 Rest Day
Wednesday, November 23 Game 9
Thursday, November 24 Game 10
Friday, November 25 Rest Day
Saturday, November 26 Game 11
Sunday, November 27 Rest Day
Monday, November 28 Game 12
Tuesday, November 29 Rest Day
Wednesday, November 30 Tie Breaks/ClosingCeremony
---