National Chess Day in Brewer
10.11.16 National Chess day was celebrated in Brewer with a chess tournament held on October 8, 2016 at Machias Saving Bank that attracted twenty-one players. The tournament ran in three sections--two quads and a U1000 section. Roger Morin topped Quad 1, Joseph Powell took the honors in Quad 2 and Kaleb Pendleton won the U100 section. Here is the illustrated tournament report with USCF crosstables and a selected game.
The conference room at Machias Savings Bank in Brewer turned out to be a very comfortable venue for the tournament.

Thanks to Roger Morin, Steve Wong, and Lisa Powell for contributing to this report.
Here is an exciting and entertaining game from the tournament:
Roger Morin - Will Ravn

Roger Morin won Quad 1 with a perfect 3.0 points in as many games.

Will Ravn mustered one draw in Quad 1 to tie for third.

Joseph Powell (right) blanked his opponents in Quad 2 and took first with 3.0 points. Greg Wadsworth tied for third in Quad three with half a point.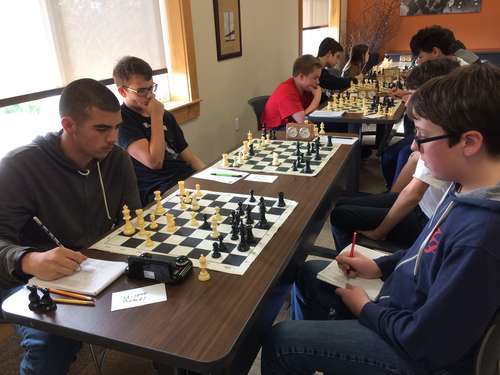 Kaleb Pendleton (right) on his way to a perfect 4.0 points in the U1000 section.

The Medomak Chess Team was well represented at the event!

Winners in the U1000 section from left: Colby Allen (equal second, received medal on tie breaks), Jakob McPhee equal second, received the trophy on tie breaks), and Kaleb Pendleton (first). Not pictured is Nehemiah Brown who tied for second and received a second place medal on tie breaks.

Thanks to tournament organizer and director Steve Wong and all who made this a successful event!
---