Benjamin Mock Competes in the National Elementary (K-6) Championship
05.11.16 Ben Mock made the trek out to Nashville, Tennessee to compete in the National Elementary (K-6) Championship. His mom, Elizabeth, submitted this thoughtful, intimate report of their experience at the tournament. Elizabeth also took some photos while at the event and she was kind enough to share these with us as well. We hope you enjoy this tournament report given from a parent's perspective.
Benjamin Mock about to start a round at the National Elementary (K-6) Championship, May 5-8, 2016 in Nashville, TN.
Thanks to Elizabeth Mock for contributing to this report.
Benjamin Mock and his mom journeyed by car, bus and plane from Holden, Maine to Nashville, Tennessee. Initially, Benjamin did not want to sign up for this tournament because he wanted chess to remain fun for him and this didn't sound like fun. The tournament required seven games over three days and the games were G/120, which means they could last up to 4 hours each. Plus his mom signed him up for the Blitz pre-tournament the day preceding the regular games. He loved chess, but was not sure he loved it this much!
The National Elementary Chess Championship actually had 9 different sections, which meant there was a place for serious chess players of every age and level. Most sections had individual and team awards. The team from Deer Isle-Stonington Elementary School was there, as they are most years. It was held at the Opryland Hotel, which has a quarter-mile long river inside its conservatory garden that even has boat rides. The main tournament room was HUGE! Certainly this was bigger than any chess event Benjamin had experienced in Maine.
Even though Benjamin had never played Blitz (5 minutes for each player) in a tournament, he had enjoyed it at the Queen City Chess Club (Bangor) and at Holbrook School practices (his 'school team' even though he is homeschooled). One hundred seventy-five players participated in Blitz and Benjamin was a little overwhelmed when his first two pairings were rated over 1500! He managed to split them (win one, loose one) and finished with 5 wins out of 12 games. Of the top 100 finishers, 95 were rated over 1000. But what he didn't realize was that there were prizes for less advanced players, with trophies for the top three in U800, U900, U1000, etc. up to U1400. His mom saw later that night that he had won second place for U900! Winning a trophy before the main tournament began was a bonus.
Benjamin's winning ways continued into the tournament. He played in the K-6 U1000 section with 253 entrants. Overall, there were more than 2000 kids participating in the tournament. Imagine a huge ballroom with close to 1000 chess games happening simultaneously. Rounds one and two were on Friday with Benjamin getting a lucky first pairing: W178, followed by W87. (He won against the boy who eventually finished in 178th place, then the boy who finished 87th.) The players were from all over the country and culturally diverse. There were a few girls and lots of events especially for girls. The Grandmaster visiting the tournament was Irina Krush, and she played games with 16 kids at the same time in a "simul."
The second day of the tournament, Saturday, was the longest, with games scheduled at 9am, 2pm and 7pm. Benjamin had success in rounds 3 and 4, W15 (!) and W35. After four rounds, he was a perfect 4.0 and ranked 11th in the tournament! But as most chess players know, the more you win, the harder it gets. Round 5 that night was L5 (loss to the eventual 5th place finisher), a tough pairing, but expected.
Anticipating day three was probably more stressful for Mom than Benjamin. She had reviewed the results from the previous year and checked the rankings and results after every round. Benjamin was enjoying the fact that his 9 and 5 year-old cousins were his hosts for the weekend and he got to visit with his grammy and some aunts and uncles. That held plenty of non-chess distraction for the in-between times. Round six came Sunday morning and the parents (who had to stay in an area way at the back of the competition room) had been too noisy the day before, so they were banished from the tournament hall for the first 30 minutes of the round. Many parents and coaches were already choosing to wait in the several ballroom foyers, where people had blankets on the carpeted floor or were seated in folding camp chairs. There were chess sets and people wearing chess t-shirts everywhere! The Skittles room was in a huge exhibit hall complete with the chess store and a design-your-own-t-shirt booth.
Round six brought another challenging pairing for Benjamin--L8. His mom learned at an Orientation talk that everyone always thinks they have the worst luck in pairings. Usually when you loose, you get an easier pairing the next round, but not necessarily. It all came down to round seven--a win meant another trophy as 5 wins out of 7 seemed to be the standard mark for trophies according to his mom's research. Benjamin was patient with his final opponent--a third grader from New York rated over 150 points higher. It ended as D53 (draw against the 53rd place finisher). That totaled 4.5/7 points, finishing him 47th/253 competitors. Everyone got a participation medal after the last game.
One surprising (and relieving) thing was that the games did not last nearly as long as the potential 4 hours, at least in the 'under' section (the other section was the Championship section with highly rated players, including two over 2000, and those games predictably seemed to last longer). Benjamin's games all lasted less than an hour except for the draw; that took 90 minutes. The first game was only 10 minutes, quite a shock.
Another interesting observation was that although the tournament used the "April supplement" for ratings, Mom was surprised to see that this meant ratings as of March first. Therefore, any change in rating from the two Maine state tournaments in March did not impact the sections, which probably had minimal effect for Benjamin--although he actually had a bit of a net loss in March.
The tournament was a great experience and, as always, losing in chess (and life) might teach you more than winning. After round one, Benjamin played boys rated from 120-165 points higher than him. It was a good blend of playing against more experienced players but not being too overwhelmed. Next year all the scholastic sections will be held concurrently, a "Supernational." Grades K-12 will converge at Opryland Hotel again May 12-14, 2017. They expect over 6,000 players. Maybe we can have a Maine gathering place.
We owe thank yous to Brian Hurst and the Queen City Chess Club, Holbrook coach Colleen Johnson, Dan DeLuca and Andy Bryan, and innumerable other supporters of ChessMaine for amazing levels of encouragement (to both parents and aspiring chess players)!

Scholastic chess players from around the country descended on Nashville to compete for national titles.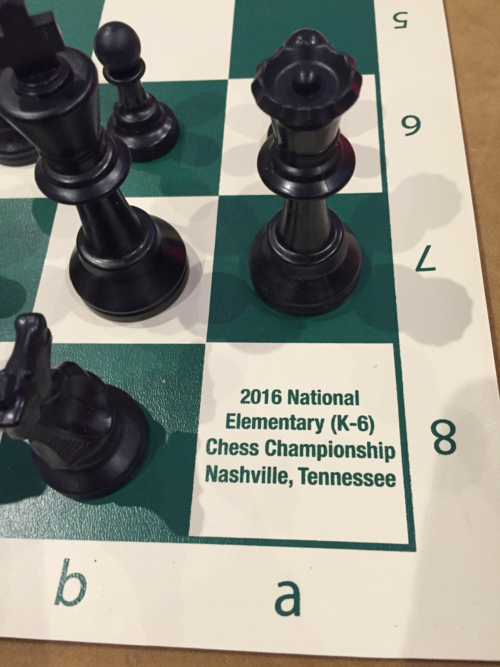 The official board of the competition

The main playing hall

A forest of trophies!

Ben Mock behind the board ready to begin his game..

and when all was said and done. A happy finisher!

All players would do well to keep this in mind.

Thanks to the United States Chess Federation for continuing to make these opportunities available for scholastic players.

---