Fishbein Goes 5/5 to Win Maine Closed Championship!
04.10.16 Matthew Fishbein has won the 2016 Maine Closed Championship and with it the title of 2016 State Champion with a perfect score of 5.0 points in five games. This is Fishbein's third Maine Championship win but the first as sole winner. In 2012 he tied with Jarod Bryan and Aaron Spencer and in 2013 he tied with Ruben Babayan and Joshua Quint. Here's the illustrated tournament report.
2016 Maine State Chess Champion Matthew Fishbein (left) plays Joshua Quint in the last round of the Maine Closed Championship at the Best Western Plus Waterville Grand hotel on April 10, 2016.
Thanks to Andy Bryan and Phil Lowell for contributing to this report.
Twenty-seven chess players competed in the 2016 Maine Closed Chess Championship. The "Closed" title denotes that the tournament was open only to Maine residents, students and military personnel stationed in Maine.
Trailing Matthew Fishbein and his unbeaten and untied perfect score was Sergio Mejia who lost his first round game then came on strong to win his next four for clear second place.
Three players tied for third with 3.5 points. They were: Jarod Bryan, Josh Quint, and Will Ravn.
Darrell Salisbury, Ray Haines, Curt Brock, Brian Hurst, William Bonney, and Frank Collemer put up 3.0 points.
The venue was quiet, comfortable, and well lit and all the feedback we received from players on this note was complimentary.
We would be very interested in publishing games from this event. If you would like to submit your games you can send them to dcdeluca@yahoo.com or use our Submit Your Games link.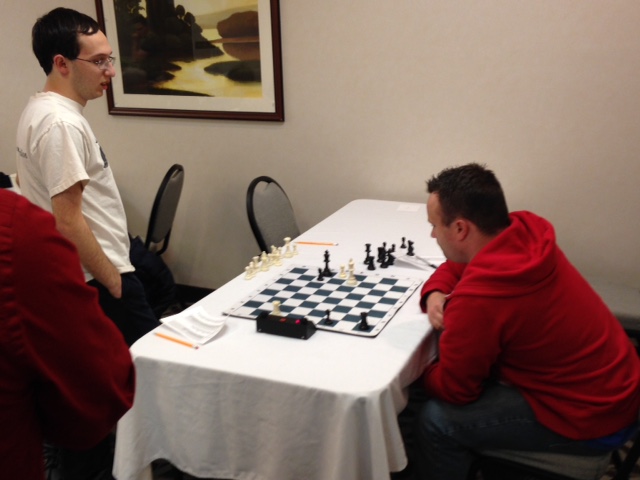 Nearing the end. Fishbein was able to convert his one pawn advantage to take the game and the title.

After the game the players engaged in the traditional post mortem to discuss ideas, plans, and could-have-beens.

State Champion Runner-Up Sergio Mejia (right) plays Darrell Salisbury.

One of the the tournament's youngest competitor, middle schooler and current K-8 State Champion Bill Hartt, (left) plays John Jones.

Greg Wadsworth (left) takes on Cheverus chess coach Dan La Vallee.

Players were competing for the C. Stuart Laughlin trophy and a variety of other bling.

As World Chess Federation president Kirsan Ilyumzhinov is fond of saying, "Chess has the power to unite people." Tournament director Phil Lowell (left) and Waterville Chess Club stalwart Mark McPheters share a smile and handshake before their game.

The calm before the storm. Lance Beloungie (left) and Ed Nevells prepare to do battle over the sixty-four squares.

Frank Collemer (left) and Nathan Gates chat before their last-round encounter.

Wyatt Hendrix (right) decides what he will play against his opponent's (William Bonney) 1.e4.

Brian Hurst (left) vs. John Brady

Ray Haines (left) vs Alex Wallach

Bradley Workman (left) and Will Ravn get ready for action.

Dan Robbins (right) vs Robert Bridgham

Before the deciding game Matthew Fishbein (left) and Josh Quint have a chat.

2016 Maine State Chess Champion Matthew Fishbein receives the C. Stuart Laughlin Trophy from tournament director Phil Lowell (and a few bucks as well). Notice the ChessMaine.net t-shirt the champion is sporting.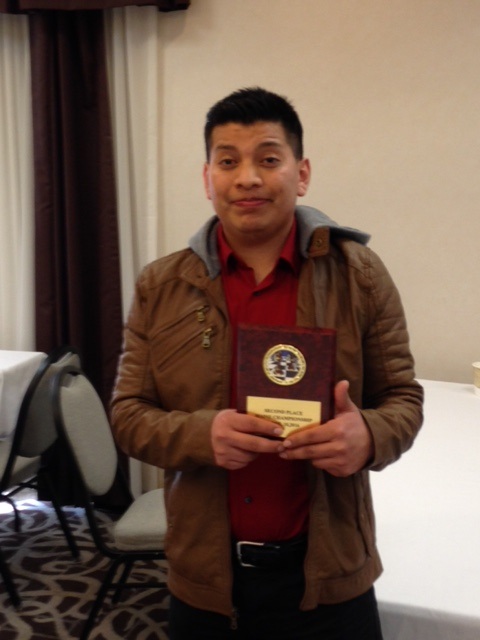 State Champion Runner-Up Sergio Mejia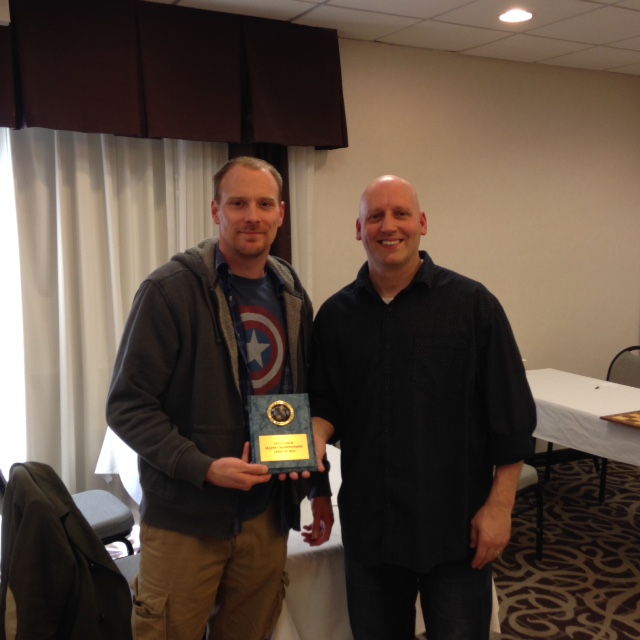 Class B prize winners: Curt Brock (left) and Brian Hurst

Class C prize winners William Bonney (left) and Alex Wallach

Class D winner Dan La Vallee
Thanks to all the players, directors, organizers, and the Best Western Plus Waterville Grand hotel for making this event a great success.
---