Maine's Lois Morin Ranked Second in Nation for Women over 80
02.01.16 At eighty-two years young Lois Morin can still pack a punch. Just ask any of her opponents who have had to record a zero in the results column after playing her. Lois's name appears on four of the USCF's top player lists (Top Women over 65, Top Women over 65 regardless of residence or federation, Top Women (Quick Chess) over 65 and Top Women over 80). We caught up with this chessic dynamo and she graciously granted us this interview.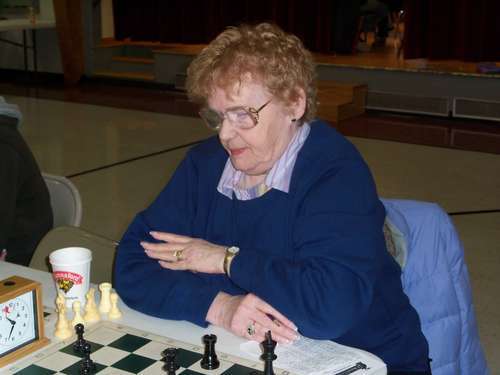 Lois Morin competes in her first of six annual Aurora Winter Solstice Tournaments.
Lois has played in fifty-nine tournaments since she began playing USCF-rated events in 2009. Click >>here<< to view her USCF player page.
Lois is ranked an impressive fourteenth place in the USCF national rankings for active women over the age of sixty-five.
Top Women Age 65 and Over
Lois is tenth in the U.S. on the Quick Chess list for women age 65 and over.
Top Women (Quick Chess) Age 65 and Over
Notice on this list that Lois is ranked second in the nation (!) among active USCF women age eighty and over.
Top Women Age 80 and Over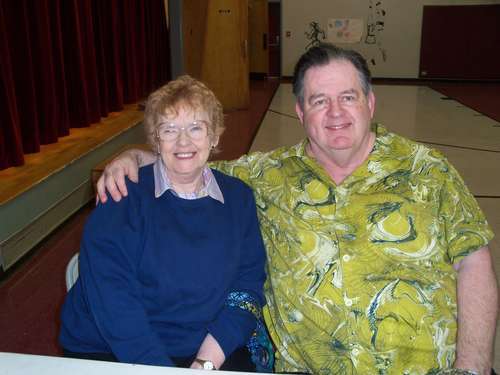 Lois and her coach/significant other Roger Morin.
After noticing her name on many of the USCF's top player lists we asked this fine lady for an interview.
ChessMaine: Congratulations to you Lois for still having the energy and courage to compete in USCF-rated tournaments at the age of eighty-two. Why do you play the game?
Lois Morin: It is an exciting and challenging experience which Roger and I share.
CM: Your name appears on many of the USCF top players lists (Women over 65, Quick Chess Woman over 65, Women over 80). Again congratulations this time for your impressive second place ranking for US women over age eighty. Have you had an opportunity to play chess with some of your peers of the same age?
LM: No I haven't. In fact, I have played very few females.

CM: What part of chess do you find most gratifying? Most frustrating?
LM: It is most gratifying when I win!! It is frustrating when later I realize that if I had found the right move I would have had checkmate in 2-3 moves.
CM: Scholastic chess in Maine seems to be experiencing a bit of a resurgence. What is it about chess that attracts kindergarteners to octogenarians?
LM: I think it is the challenge. Most sports are team oriented, chess is what you make it.
CM: Are there particular time controls or formats you prefer?
LM: I prefer 45 - 60 (minutes per game). The more I learn the longer it takes to find the "best" move. I like the Swiss (tournaments) not so much the quads.
CM: Are there concerns that more senior players have that are lost in the midst of so many children playing in chess tournaments these days?
LM: Where I am such a low rated player, I usually only get to play "children." I wish more seniors would play. Then maybe there would be a seniors tournament with all ratings present.
CM: What do you think are the benefits for seniors who play chess?
LM: It is invigorating. Plus it keeps the brain active and challenges the memory.
CM: Do you have any specific goals for your chess--a certain rating perhaps?
LM: Last December I had a goal to reach 1000. Instead I dropped rating points. Very frustrating but, I guess I'll hang in there.
CM: Are there instructional materials you have found particularly helpful in learning the game?
LM: Right now. I'm reading Weapons of Chess by Bruce Pandolfini. Also, I have found the DVD "ChessMaster 10" valuable.

CM: I wish you continued success in chess and life! You are an inspiration to all of us who play the royal game. Is there anything else you would like to add that we did not cover?
LM: Yes, wish there was a least one tournament a month that I could play in. I think my performance would then improve.

CM: Thank you for the interview!
Here is what Lois considers one of her best games
Rick Perry (585) vs Lois Morin (695) 01/26/13
---