Another Sixty-plus Player Tournament
01.11.16 Less than one month ago, the Aurora Winter Solstice boasted the largest non-state-championship turnout since 2004. That record has already gone by the wayside! Sixty-four players competed in the John Bapst New Year's Tournament in Memory of Bob Solinger played on January 10th at John Bapst Memorial High School in Bangor. There were clear winners in each section: Dan Robbins (Open), Joseph Astumian (U1200), William Xu (U800), and Ben McIntire (U400). Here's the illustrated tournament report with USCF crostables.
The open section was played in the quiet, well-lit, John Bapst Library located on the second floor.
Thanks to Haley DeLuca Lowell for contributing to this report.
Dan Robbins had an impressive day winning the open section with 3.5 points and padding his rating by nearly 200 points. His performance rating for this event was a whopping 2101. Trailing Robbins and sharing second place with 3.0 points were Ed Nevells and Joseph Powell.
In the U1200 section, Joseph Astumian blanked the field with a perfect 4.0 points in four games. Just off the winning pace were Omar Khan with 3.5 points and Brendan Penfold, Zachary Grindal, and Cole Steward who shared equal third with 3.0 points.
William Xu dominated the largest section in the tournament--the twenty-one player U800 section--with 4.0 points. A pack of six players shared equal first scoring 3.0 points apiece: Nehemiah Brown, Cyrus Grindal, Ben Penfold, Henry Penfold, Nick Siebert, and Liam Webb.
Ben McIntire was perfect in the U400 section scoring 4.0 points without a loss or draw. Colin Lacasse and Cody Crummett shared equal second with 3.0 points.
Thanks to all who participated: players, parents, coaches, volunteers, organizers, directors, and to John Bapst Memorial High School for hosting.

Robert Bridgham returned to tournament chess after an almost twenty-four year absence.

Tom Sandford (right) plays Joseph Powell.

Zack Grindal plays Catherine Rudnicki in the U1200 section.

U800 section winner William Xu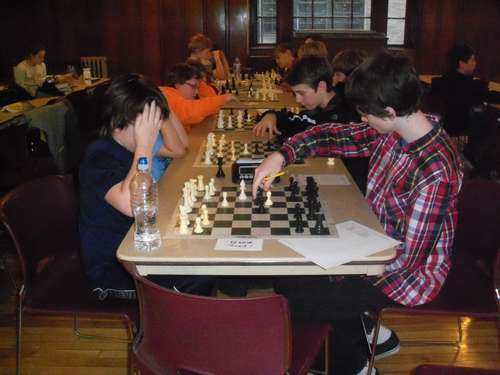 Action in the U400 section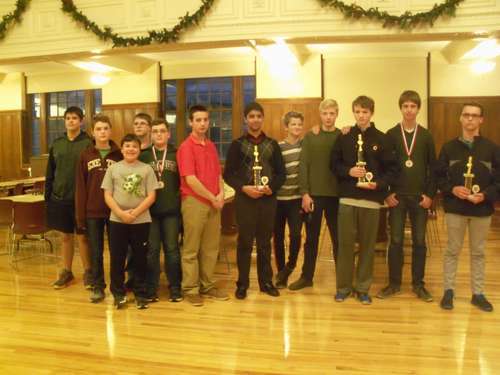 The U1200 players

The U800 squad

The U400 contingent

Plenty of goodies were on hand thanks to the efforts of many volunteers.

Irish scones!

Thanks to tournament directors Steve Wong and...

...Andy Bryan.
---