Chess at Ellsworth Middle School
12.08.15 The first of three informal chess gatherings for students in K-8th grade took place at the Ellsworth Middle School on Tuesday, December 8th from 3:00 - 5:00 p.m. Students, parents, and coaches from Aurora, Bucksport, Deer Isle-Stonington, Ellsworth, and Lamoine attended. These gatherings give students an opportunity to experience and practice in near-tournament conditions in the run up to the state scholastic championships held in March at the University of Maine in Orono.
Chess-themed stained glass on the windows of the Ellsworth Middle School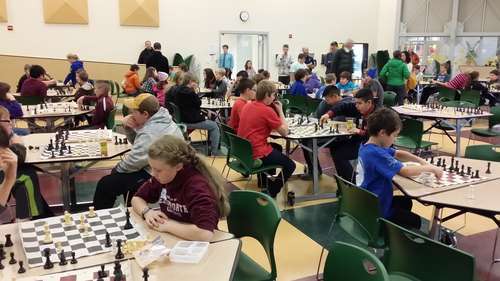 There was a good crowd of players at the first of three informal chess gatherings at Ellsworth Middle School on December 8th.

As players finished their games they would report to the center aisle and be paired with their next opponent.

US Champion Harry Nelson Pillsbury was fond of giving blindfold chess exhibitions while playing whist. Here we have chess while solving a Rubik's Cube.

After this game a coach took the opportunity to explain the method of checkmating with Rook and King vs King.

A great opportunity to get the rust off and...

...fun for all ages.

Some chess bling in the trophy case.

Maine Chess Association President Andy Bryan welcomed players to the venue and announced a list of upcoming scholastic tournaments in the Bangor area. (See the ChessMaine.net events page for more details.)

Thanks to all who organized and participated in this event!

See you next time.
---