July Houlton Open Tournament Report
10.13.15 We're catching up on some tournaments played over the summer when the grass needed mowing, the gardens weeding and the goats milking. Here's one such seven-player tournament from July 25th in which Roger Morin took first and thirteen-year-old Leonardo Cui from Canada got his first USCF rating--a whopping 1823. Here's the illustrated tournament report with USCF crosstables.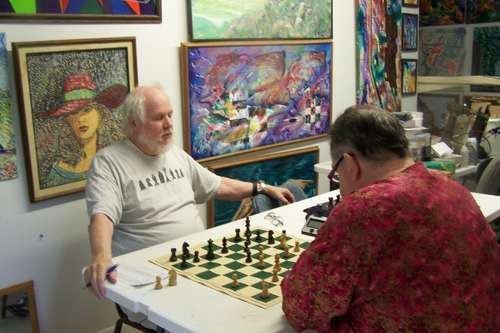 Tournament winner Roger Morin (right) plays Lance Beloungie at the Houlton July Open played on July 25th, 2015 at The Art Studio in Houlton, Maine.
Thanks to Roger Morin for contributing to this report.
Roger Morin topped the crosstable at this seven-player, three-round tournament with a perfect 3.0 points. Morin was trailed by two players scoring 2.0 points: Todd Snyder and Leonardo Cui. The remainder of the group scored: Nathan Gates (1.5), Lance Beloungie (1.0), Ray Haines (0.5) and Roger Hardison (0).

Leonardo Cui (left) plays Lance Beloungie. This game was the only one of the three that Cui played that he did not win.

Roger Hardison (left) plays Todd Snyder.

Nathan Gates (left) goes toe to toe with Ray Haines.
---