Jarod Bryan Wins his Seventh Maine Championship
04.20.15 Jarod Bryan went unbeaten and untied to score a perfect 5.0 points in five games to take the Maine Champion title for the seventh time. Twenty-eight players competed in this year's Maine Championship on April 18-19, in Waterville. William Ravn (Class A winner) and Sergi Mejia tied for second place with 4.0 points apiece. John Brady won the Class B prize, Nathan Gates took the Class C prize, and Frank Collemer, Andy Bryan, and Joe Powell tied for the Class D prize.
2015 Maine State Champion Jarod Bryan received his trophy and prize money from Tournament Director Lee Doucette.
Thanks to Andy Bryan for contributing to this report.
Thanks to Lee Doucette for directing and thanks to the Maine Chess Association for organizing this great event.
Kennebec Journal/Morning Sentinel article on the Maine Championship
Here's a breakdown of the prize winners:
Champion: Jarod Bryan 5.0
2nd: Will Ravn 4.0 Class A, Sergio Mejia 4.0
Class B: John Brady 3.5
Class C: Nathan Gates 3.0
Class D: Frank Collemer 2.5 Plaque Winner on Tiebreaks, Andy Bryan 2.5, Joseph Powell 2.5
The only USCF master in the field, Jarod Bryan, made it look easy as he blanked all five of his opponents for a perfect score of 5.0 to win the title for an impressive seventh time. Sergio Mejia and William Ravn finished a point behind Bryan to share second place.
Class B winner John Brady was the sole 3.5 point getter in the field. He was trailed by a pack with 3.0 points including: Aaron Spencer, Phil Lowell, Ryan Tripp, Bill Burtt, William Bonney, and Nathan Gates.
The two-day event was held at the Best Western Plus Waterville Grand Hotel on April 18-19 and attracted twenty-eight players. Participants played five rounds of chess at a time control of Game in 120 minutes with a five second delay.
Thanks to all who participated and congratulations to all the prize winners especially our seven-peat state champion Jarod Bryan.

Jarod Bryan (right) plays William Ravn who tied for second place and received the Class A prize.

Sergio Mejia (left) also tied for second place overall. Here he is playing Phil Lowell.

Class B winner John Brady (left) plays Class D winner Frank Collemer.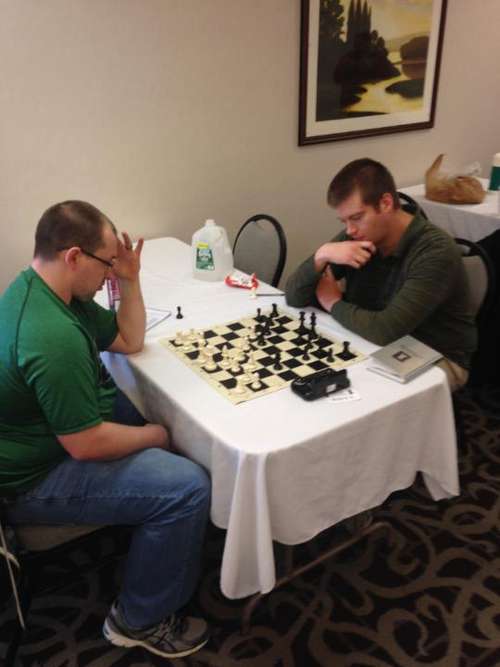 Class C winner Nathan Gates (left) goes head-to-head with William Ravn.

John Bapst Memorial High School Chess Coach Brian Hurst (right) plays John Jones.

Ryan Tripp (left) vs William Burtt

John Engle (left) takes on Bill Hartt.

Aaron Spencer (left) plays Class B winner John Brady.

The C. Stuart Laughlin Trophy for the state champion and plaques for the Class winners.
---