2015 Starts With a Bang! The John Bapst New Year's Tournament Report
01.14.15 A whopping sixty-two players came out to compete in Maine's first USCF event of the year. The John Bapst New Year's Chess Tournament in Memory of Bob Solinger was held on Sunday, January 11th at the school's campus on Broadway in Bangor. If this event is any indication, 2015 will be a great year for chess in Maine! Here's the illustrated tournament report with USCF crosstables and a selected game.
A bird's-eye view of the U1200 and U800 sections at the 2015 John Bapst New Year's Tournament in Memory of Bob Solinger.
Thanks to Ruby DeLuca Lowell for contributing to this report
This tournament was organized by Maine Chess Association President Andy Bryan and was directed by Steve Wong.
Ten players competed in the Open section which was held in the school's well-lit and comfortable library. Top-rated Ed Nevells scored 3.0 points in four games and shared first place with John Bapst chess coach Brian Hurst. Tom Sandford and Ryan Tripp both put up 2.5 points to share third. A three-way tie for fifth ensued between Dean Astumian, Dan DeLuca and Cameron Wendell and Joseph Powell, Steve Wong and Joseph Astumian rounded out the field with a point apiece.
In the U1200 section, Ben Amar continued his winning ways with a perfect 4.0 points in as many games.He was trailed by a cadre of players who scored 3.0 points including: Nathan Shemwell, Brendan Penfold, Haley DeLuca Lowell, Aaron Wilson-McFarlane and Zack Grindal.
The twenty-four-player U800 section was the tournament's largest. Isaac Dinnerstein and Wyatt Hendrix shared the top spot each scoring a perfect 4.0 points. Karter Whitman, Ben Penfold, and Liam Farrell were in the second tier with 3.0 points. Four players shared sixth place with 2.5 points: Sam Parrott, Bill Hartt, Grayson Eaton, and Danyon Parsons.
Henry Penfold was the only U400 player to score an unbeaten and untied 4.0 points to pad his rating with a neat 152 points. Trailing Penfold were Kai Diel in second with 3.0 points and Garrett Parker in third with 2.5.
Thanks to all who made this event happen: organizers, directors, parents, coaches, players, snack bar staff, and John Bapst Memorial High School!

Tied for first in the Open section was Ed Nevells (left) here playing Joseph Powell and

Brian Hurst (left) preparing to enter the vortex with Dan DeLuca.

Steve Wong (left) plays Tom Sandford

Ryan Tripp (right) and his former student Joseph Astumian fill out their scoresheets before the start of round one.

Dean Astumian (left) plays Cameron Wendell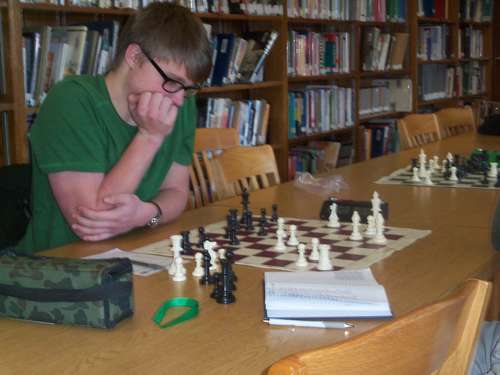 Future Grandmaster Cameron Wendell!

Plenty of tough games were had in the U1200 section. Here Haley DeLuca Lowell (right) plays John Jewell in round one.

Players in the U800 section do their best to squeeze and advantage out of their positions.

As do players in the U400 section: here Brady Smith (left) plays U400 section winner Henry Penfold.

Tournament organizer Andy Bryan hands out the hardware after four rounds of exciting chess.

The U400 squad

Players in the U800 section await their results.

Winners in the U1200 section



---