Jarod Bryan Wins Sixth Maine Championship
04.13.14 Jarod Bryan won his sixth Maine Chess Championship this weekend at the Best Western Plus Grand Hotel in Waterville. Clear second was taken by Joseph Powell a Medomak High School freshman who turned in a stunning performance to post 4.0 points. His only loss was to the tournament's highest rated player Matthew Fishbein who shared third with Max Berube and John Brady. Here's the illustrated tournament report with USCF crosstables and selected games.
2014 Maine State Champion Jarod Bryan with tournament director Phil Lowell.
The title was in the balance until late in the final round of the Maine State Chess Championship played this weekend at the Best Western Plus Grand Hotel in Watervlle. The two leading players, Matthew Fishbein and Jarod Bryan (both with 3.5 points) were paired and two players with 3.0 points (Joseph Powell and Jon Buxton) were also paired. There were a number of possible scenarios including a three-way tie for first between Fishbein, Bryan and Joseph Powell (USCF 1223).
After each player on the top board offered a draw which was, in turn, declined, Bryan, who was two pawns down, found a pretty exchange sac that opened the position and created a mating net around Fishbein's king. That maneuver won not only the game but the state championship title as well.
Meanwhile on board 2, Joseph Powell managed to pull off yet another upset in this tournament by beating Jon Buxton who had 488 rating points on him.
Max Berube beat Lance Beloungie on board 3 to stake his claim on third place as did John Brady who beat Curt Brock with two connected passed pawns vs. rook in a very interesting endgame.
The Kennebec Journal's coverage of the event

The game that decided the title: Matthew Fishbein (left) and Jarod Bryan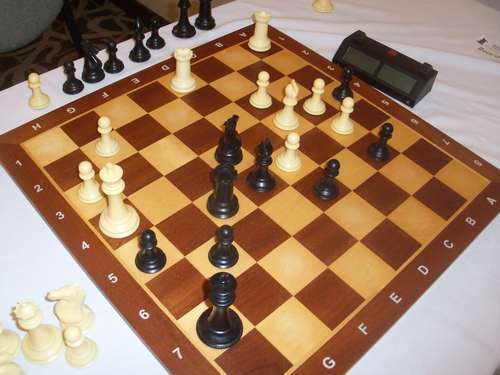 The final position in the game Fishbein-Bryan. White to move can't stop the double mate threat of 44...Bg3 and 44...Bf6.
Here's the final round game between Fishbein and Bryan: (More games coming soon.)




Joseph Powell took clear second on a spectacular 4-1 performance.

The game Buxton-Powell generated much interest.

Matthew Fishbein scored 3.5 points to tie for third with...

Max Berube and

John Brady

Winners at the state championship (left to right): Jarod Bryan, Joseph Powell, John Brady, Matthew Fishbein and Max Berube.

After the game, the top two players take a look at some possibilities.

As do Max Berube (left) and Lance Beloungie.

The press was on hand and interviewed...

The Champ and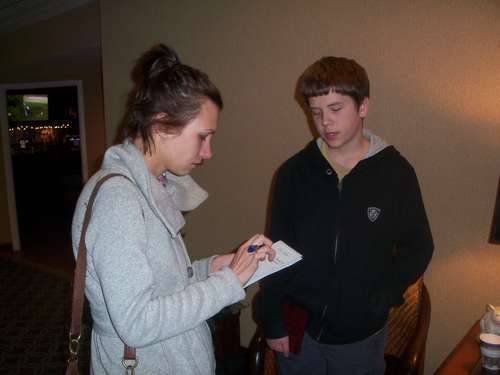 The Runner-Up.

The lowest rated Maine State Champion Runner-Up in history: Joseph Powell

Playing for third: John Brady (left) and Curt Brock

Boards 1 (Matthew Fishbein background left and Jarod Bryan and 2 (Jon Buxton left and Joseph Powell) play in the final round.

Glenn Snyder (left) plays tournament director Phil Lowell.

The C. Stuart Laughlin Trophy

Jon Buxton

Lance Beloungie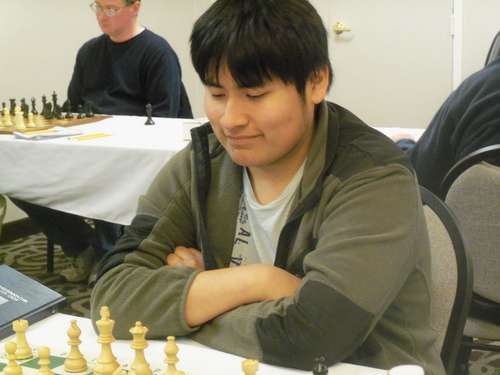 Gabe Borland

Dmitry Albin

Curt Brock

Tom Sandford

Frank Collemer

Glenn Snyder

Phil Lowell

Dan Lavallee

Gregory Shields

Lee Doucette

Darrell Butler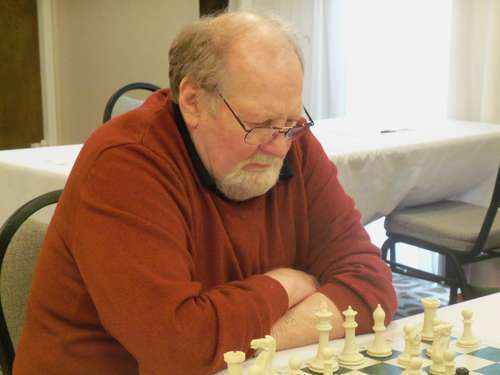 John Jones

Mark McPheters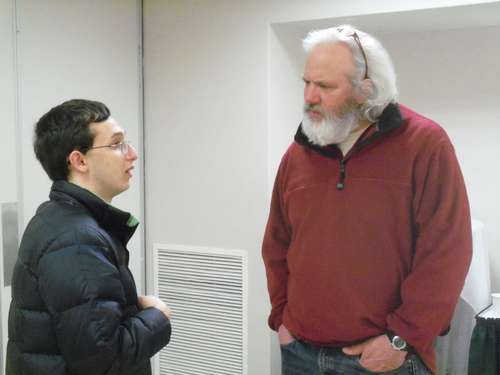 Maine Chess Association president Andy Bryan speaks with Matthew Fishbein after his last round game.

Thanks to the Best Western Plus Grand Hotel in Waterville for hosting this event.
---