Mainers at the World Amateur Team East
03.01.14 The world's largest team chess tournament--the 44th Annual World Amateur Team East--was played at the Parsippany, New Jersey Hilton on February 15-17, 2014. Of the 1,173 players in 278 teams five were from the great state of Maine! As far as we know, this represented the first time in the history of the tournament that Maine had fielded a team. The Maine team consisted of four players: Aaron Spencer, Troy Franklin, Jim DuBois and Gabe Borland. Matthew Fishbein played on a mixed team with his coach IM David Vigorito.
The Maine contingent at the World Amateur Team East in Parsippany, New Jersey (left to right) Matthew Fishbein, Jim Dubois, Aaron Spencer, Gabe Borland and Troy Franklin.
USCF crosstable of this event

Thanks to Dan Fishbein for contributing to this report.
A chess festival like no other, the World Amateur Team East attracted numerous Grandmasters, International Masters and chess celebrities including former World Champion Garry Kasparov, former US Women's Champion and GM Irina Krush and Massachusetts IM David Vigorito to name a few.
For the first time in the 44 year history of the tournament, there was an all-Maine team. In board order: Aaron Spencer, Troy Franklin, Jim DuBois and Gabe Borland had a solid result with a score of 3.0 points in six rounds.
Aaron Spencer had a very strong tournament, with 4.5 points, including a win in the final round over Evan Rabin of Massachusetts, (USCF 2206) that stoked his rating to 2100. (Rabin was an instructor at the USA Chess Camp in Cape Elizabeth a few years ago.) Troy Franklin on board 2 scored 2.5 points, Jim Dubois on board 3 put up 2.5 points and Gabe Borland on board 4 finished with 3.0 points
.
Matthew Fishbein played for the third straight year on a team anchored by his coach IM David Vigorito of Massachusetts. Board 2 was Nate Resika, of New York (he's an opera singer, who opened the tournament with a stirring rendition of the National Anthem), Fishbein was on Board 3 and Mark Fins of Massachusetts was on Board 4. With Matthew the only player under 40, the team's name was "3 1/2 men."
Fishbein scored 4.5 points, and with that increased his USCF rating from 2195 to 2205, reaching the level of Master and earning the official USCF title "National Master." He also became, for the moment at least, the highest rated player in Maine, edging out Jarod Bryan by 3 points.
Congratulations to all of Maine's representatives for upholding the state motto "Dirigo." (I lead.)

Action at the Amateur Team East: Matthew Fishbein's team "3 1/2 men" play at foreground left.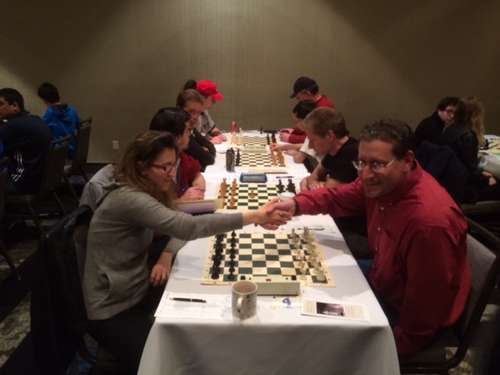 Board 1 for "3 1/2 men" IM David Vigorito (right) plays GM and former US Women's Champion Irina Krush.

The two get down to business with 1. Nf3.

Aaron Spencer (standing) watches his teammates (from left to right) Jim DuBois, Troy Franklin, and Gabe Borland.

Dan Fishbein (left) with arguably the best chess player of all time: Garry Kasparov.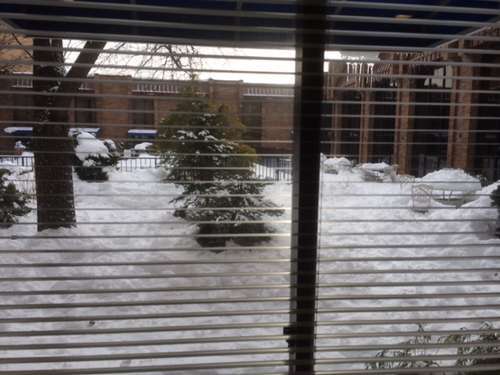 With lots of snow on the ground it was a great weekend for chess!
---