All Saints Winter Warm-Up Tournament Report
03.01.14 A whopping sixty-two players competed in the All Saints Winter Warm-Up tournament played at All Saints School in Bangor on Saturday, February 22, 2014. This event serves as a dry run for the upcoming scholastic state championships coming up on March 8th (teams) and March 22nd (individuals). Here's the illustrated tournament report with USCF crosstables and a selected game from the Open section.
Students compete in the K-8 section at the All Saints Winter Warm-Up tournament played in Bangor.
USCF crosstable of this event

Thanks to Brian Hurst for contributing to this report.
Benjaman Freudig and Ben Penfold shared first in the K-6 section with 4.0 points in five rounds. They were closely followed by William Xu just a half point off the lead with 3.5 points and Cam Stewart and Ben MacIntire with 3.0 points.
In the K-8 section, Ben Amar started the tournament with a draw and then did not look back winning his next three straight and taking first place with 3.5 points. Four players tied for second with 3.0 points: Nathan Shemwell, Brendan Penfold, Joseph Astumian and Milo Sanokklis.
The top spot in the K-12 section went to the section's highest rated player Joseph Powell who scored a perfect 4-0. Nicholas Kawamura took clear second with 3.0 points and six players tied for the third place spot: Greg Wadsworth, Omar Khan, Patrick White, Nick Charalambous, Jacob Cote and Lee Walsh.Logan Severance rounded out the K-12 crosstable.
Bangor's Brock MacDougal outpaced the field in the U1500 section scoring an unbeaten and untied 4.0 points. His closest rivals, Anthony Freudig, Ezra Briggs and Alba Briggs were a full two points behind scoring 2.0 points on the day.
Roger Morin topped the Open section with 3.5 points. He was followed by Josh Audibert (3.0 points) and three players with 2.5 points: Aaron Spencer, Chester Young and Brian Hurst.
Thanks to all who made this tournament a great success and we'll see you at the scholastic state championships on March 8th!

Ben Penfold tied for first in the K-6 section with...

Ben Freudig

Willian Xu

Cole Stewart

Henry Penfold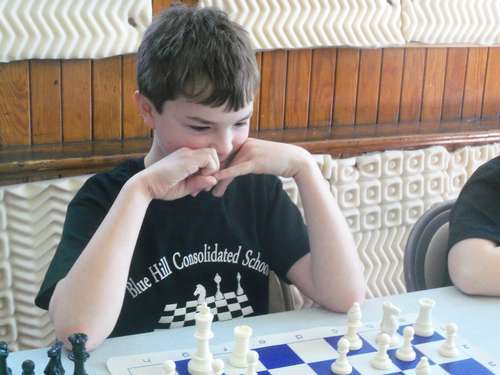 Cam Stewart

Parker Allen

Liam Bishop

Cody Ross

Ben MacIntire

Skyler Riley

Cameron Parlee

Players in the K-6 non-rated section included: Marcus Cesar

Caleb Thibodeau

Aiden Stearns

Sam Parrott

Evan Astburt

Cole Thibodeau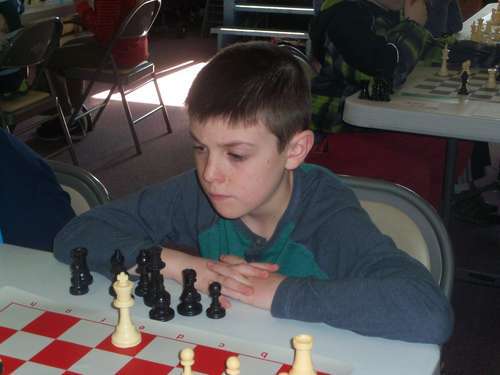 Luke Hymans

Hannahlore Sanokklis

Deer Isle-Stonington chess coach Dick Powell watches action in the K-6 section.

A game in the K-8 section draws some interest.

Osage Crie (left) plays Vetri Vel

K-12 winner Joseph Powell

Nick Charlambous

Greg Wadsworth

Nicholas Kawamura

Brock MacDougal won the U1500 section.

Alba Briggs

Ezra Briggs

John Jewel

He makes it look easy. Roger Morin took the top spot in the open section.

Ryan Tripp

Chester Young

Tom Sandford

Maine School of Science and Mathematics student George Spahn.

Roger Hardison

Josh Audibert scored a nice 557-point upset over the top rated player in the tournament Aaron Spencer.

Aaron Spencer (left) and Brian Hurst hoping for a little divine intervention in their games.

Thanks to tournament director Steve Wong for hosting this event.
---